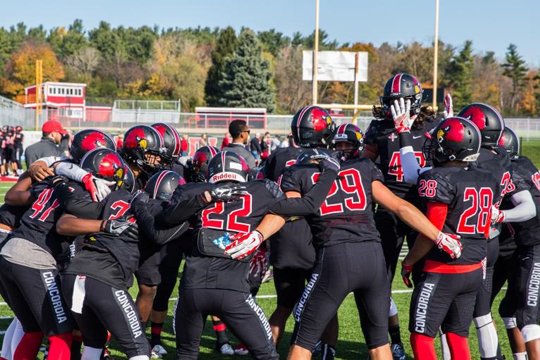 Earlier this week at the American Football Coaches Association Convention in Nashville, TN, the National Association of Intercollegiate Athletics (NAIA) announced Concordia University Ann Arbor Football as the recipient of The Buffalo Funds Five Star Championships of Character Team Award.
---
Upon the completion of every competitive season, the NAIA recognizes teams within the 23 championship sports that embody the NAIA's five core values of integrity, respect, responsibility, sportsmanship, and servant leadership.
In his fourth year as Athletic Director for CUAA, Lonnie Pries has consistently emphasized community service and the core values of the NAIA across the Athletic Department.
"Serving others is a core value of both our Athletic Department and our football program," said Pries. "It supports our mission as we strive to serve one other as teammates, coaches, and staff, but we also want to give our student athletes opportunities to impact our campus and surrounding community."
Pries recently transferred his head football coaching responsibilities, held in addition to his role as Athletic Director, to Joshua Schumacher. Schumacher came to Concordia with Pries at the time of his hiring in December 2012. Schumacher has served as the Cardinals Defensive Coordinator for the last four seasons and played a vital role in the team's community outreach initiatives.
"Our football team makes the values of Concordia and the NAIA a daily priority," said Schumacher. "We serve for the benefit of our neighbor, and we serve because we know that our righteousness is assured through faith in Christ."
Some of the football program's recent service involvement in the community includes classroom reading to grade school students at St. Paul's Lutheran School and Saline Community Schools, adopting a park through the Ann Arbor Parks and Recreation Department, making blankets with Fleece & Thank You for C.S. Mott Children's Hospital, adopting a player through Team Impact, and various campground upgrades at Camp Concordia in Gowen, MI.
"The time spent serving provides an opportunity to shift the focus from our own desires to the needs of those around us," said Schumacher.
Schumacher believes that while the transfer of job responsibilities shifted within the football program, one can be certain that the focus will not change.
"It is an honor to continue the pattern of service that Coach Pries has laid out for the Concordia football team," said Schumacher.
Together with Pries' leadership and the values of the Cardinals Athletic Department, Concordia has been honored with the Champions of Character Award from the NAIA in seasons past. While this is the first time for the football program, Concordia's volleyball team received the award in 2014 and 2015.
"We are very excited to be recognized nationally for this prestigious award," said Pries. "We look forward to seeing Coach Schumacher and his staff, along with all of our coaches and student athletes, continue to make service an integral part of our Athletic Department at Concordia."
— Rachel Thoms served on Concordia University's Strategic Communications team from 2015-2022. Any inquiries about this story can be sent to news@cuaa.edu.
If this story has inspired you, why not explore how you can help further Concordia's mission through giving.