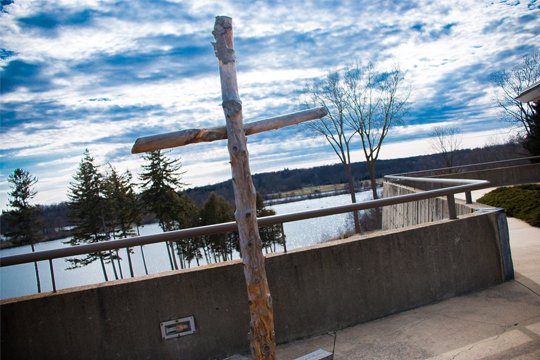 Concordia University Ann Arbor will host Trinity Time on July 30-31, an overnight retreat for high school students to spend time with Concordia faculty and students and explore church work callings.
---
Along with mentorship from Concordia faculty and students, Trinity Time will include a servant event in Detroit, a canoe trip down the Huron River, and Bible studies that reflect on the works of God – Father, Son, and Holy Spirit – as He is active in our creation, redemption, and sanctification.
"For over fifty years, the Lord has used Concordia to raise up church workers for His Kingdom work," said Charles Schulz, assistant professor of theology and pre-seminary director. "We are first-hand witnesses to the ways God leads young people to make them faithful servants of the Word in church work vocations, and we want to serve future church workers as they pursue these same callings."
Along with the activities of the retreat, the $25 registration fee includes all meals and housing in the CUAA residence halls, available for boys, girls, and parents who are also welcome to participate.
"From childhood, we are asked, 'What do you want to do when you get older?' This question becomes more serious for students in high school as they're making decisions about their future," said Schulz. "We want to come alongside high school students in these decisions, helping them feel prepared and supported."
To learn more and register for Trinity Time, visit www.cuaa.edu/trinitytime. Space is limited. For questions, contact Rev. Charles Schulz at Charles.Schulz@cuaa.edu.
— Rachel Thoms served on Concordia University's Strategic Communications team from 2015-2022. Any inquiries about this story can be sent to news@cuaa.edu.
If this story has inspired you, why not explore how you can help further Concordia's mission through giving.