'Concordia Student Diversity Conference 2020: Overcoming Barriers' was hosted by Concordia University Wisconsin, in Mequon, on Friday, February 28 and Saturday, February 29.
---
The conference brought together students and faculty members from Concordia University Nebraska, Concordia University Chicago, Concordia University Wisconsin and Concordia University Ann Arbor.
Participants discussed overcoming barriers college students face in the university setting and community. Presentations on diversity and programs which each university runs to support diverse communities on campus were also given, allowing each university to share what has been successful and areas for growth.
This conference has been held for the past few years and has been hosted by Concordia Nebraska and Concordia Bronxville in New York. It has served as a place to have open discussions and allowing students to work through concerns and questions.
Concordia University Ann Arbor student Aiyana McCoy ('23) spoke about her experience at the conference. "I think the conference was a good way to get to know what diversity is like at our sister schools and it was a great learning experience. Also it was useful to learn how we can overcome barriers."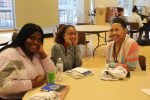 After arrival on Friday participants gathered in the Terrace Room to meet each other, and following a welcome from Concordia University Wisconsin and Ann Arbor President Rev. Dr. Patrick Ferry, the group received a preview of what Saturday would bring.
Saturday included updates from each campus, a presentation on Diversity Advocates at Concordia Wisconsin and time spent answering important questions about campus life. The keynote speaker, Trila Pitchford, shared her story of overcoming barriers, and then Wisconsin's Dr. Steve Gerner spoke about the Center for Urban Education Ministries. To conclude the convention, during dinner the group heard a series of poems, talks and presentations given by student participants.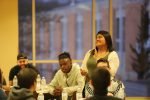 Participation at this conference is a part of an increased effort for intentional conversations and events celebrating diversity, brought on by the Office of Multicultural Engagement at Concordia University Ann Arbor.
—Photography by Madelyne Arrigoni is a sophomore studying English and Mass Communications at CUW. She plans to graduate in 2022.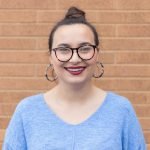 — Esther Schulze is pursuing her bachelor's degree in Marketing and Art. She will graduate in 2020.
If this story has inspired you, why not explore how you can help further Concordia's mission through giving.