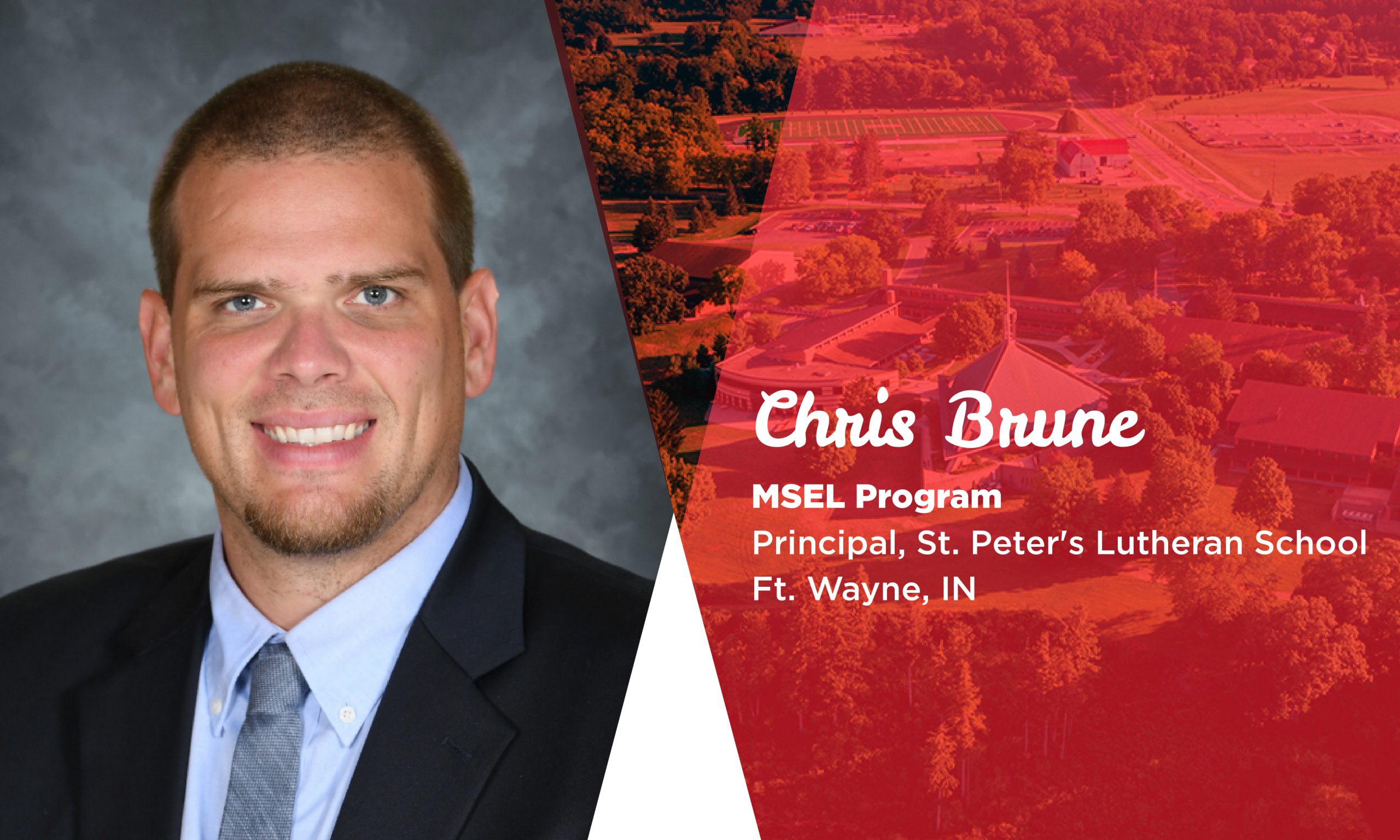 Principal Chris Brune recently earned his educational leadership master's degree. Read about his experience below.
---
Educational leadership master's: Chris Brune's experience
Concordia University Ann Arbor offers an exceptional online educational leadership master's degree. You'll gain a deeper understanding of the fundamental principles of educational leadership. Recent graduate Chris Brune from St. Peter's Lutheran School in Fort Wayne, IN, shared about his experience in Concordia's Master of Science in Educational Leadership program. Check out his responses below.
Tell us about yourself.
My name is Chris Brune. My wife Brittany and I have three children; Kamden (7), Wyatt (4) and Emery (2). I grew up in Fort Wayne, IN, and currently serve at St. Peter's here in Fort Wayne. I spent five years at the high school level before transition into my current position. I've served here as principal for three years. I enjoy activities with my family, such as going to the zoo as well as most sports and any area of service to others.
What inspired you to pursue the MSEL program?
Currently, I'm the principal at St. Peter's Lutheran School in Fort Wayne, IN. I heard about the MSEL program through a coworker who completed the program and enjoyed it a couple of years ago. In my goal to be an administrator, I decided to pursue my degree through CUAA after graduating from another Concordia because of the reputation and recommendation from my coworker.
RELATED: Should you pursue educational leadership?
How has the MSEL program helped you in your current position?
Being a current principal, the MSEL program both solidified things I already know as well as allowed me to explore some of the less used but vitally important parts of being an administrator. Working towards my building level administrators license is extremely important and this program helping lead me to that was extremely important. I enjoyed being able to also express my experiences, opinions, and love for our Lutheran schools as a Lutheran school principal in an open setting. Our schools are unique and even though my professors and fellow classmates may not have been in a similar position always, they were supportive and open to dialog which was so key for growth.
What drew you to Concordia for graduate education?
I always figured I would go to a Concordia for my graduate work however knowing people who serve at CUAA along with a strong recommendation from a friend convinced me to pursue what options CUAA had.
What is one piece of advice you'd give to someone who is unsure about enrolling in the MSEL program?
Make sure you have the time and dedication to put into the program because you will get out of it what you put into it. Professors will be more than willing to work with you and be flexible as long as you approach the classes as a professional and as if you are already in a leadership position. I pursued the program in 2016 and then again when I was ready in 2019 and I wish I would have made the commitment in 2016 when I first explored it.
Also, I want to thank the professors who were patience with a new principal leading a school through a pandemic and pursuing this degree. They held me accountable but were also gracious in working with my unique schedule. Thank you!
Do you want to know more?
Our online educational leadership master's will give you an understanding of the fundamental principles of educational leadership. Further, you'll explore the legal, ethical, and spiritual issues arising in today's school environments. Additionally, you'll learn about policies and regulations so that you can navigate the educational structure and system. Some of the topics you'll cover include student rights, liability, negligence, and disciplinary policies.
Grow as a decision-maker and in your organizational development skills. Our educational leadership master's will help you prepare to lead improvement initiatives within your school or district. Are interested in a path of elementary, middle, or high school administration? No matter where you want to lead, we offer more than just an advanced administrative degree. At Concordia, we are dedicated to your intellectual, social, and spiritual growth.
— Vanessa Lane is the Content Marketing Lead at Concordia University and can be reached at vanessa.lane@cuaa.edu. When she's not at work, she can be found playing with her kids or watching NBA basketball with her husband.
If this story has inspired you, why not explore how you can help further Concordia's mission through giving.