While months of sheltering-in-place caused many to slow down, Evan Daldin ('22) was inspired to spring into action with a class project that ultimately led to the opportunity to present at the American Psychological Association Convention 2021, August 12-14.
---
The Concordia University Ann Arbor psychology student was looking for a topic to delve into for the final project of his research methods class when the pandemic hit during the Spring 2020 semester. Daldin and his peers quarantined from their homes and the remaining duration of spring semester courses were held online.
His research topic? COVID-19 and its influence on college students' well-being.
"This timeframe, specifically the early months of the pandemic, was extremely different from what we all are used to as college students," said Daldin. "I thought, well hey, maybe I can turn this difficult time into something positive not only for my class project but also for my future as a psychologist."
Working closely with psychology mentors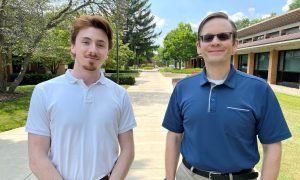 Daldin is well on his way to a career in psychology, a personal passion first stirred during childhood as he witnessed his dad's experiences as a psychologist. Both his father and his CUAA psychology professor, Dr. Christopher Stark, played integral roles in mentoring Daldin as he continued advancing his research beyond the class requirements.
"It's very helpful to have knowledgeable people helping me out. Both Dr. Stark and my dad are very supportive, and I always had someone to ask my questions to whether it was about new types of information systems, making my graphs, communicating with different people throughout the project, or using the software to analyze the data," said Daldin. "I never felt like I was alone during any of the process."
Realizing a love for research
Daldin tried submitting his research to multiple peer-reviewed journals, learning the tedious process of editing the formatting and discussing the results based on the preferences of each journal. He then tried submitting his research to the APA Convention 2021 in a research poster format. His application was due in fall 2020, and he found out in April 2021 that he was selected to present.
"It didn't feel real—it was the coolest feeling to be accepted," said Daldin. "It took so long to find out and I was really anxious. It was very worth it, though, because being selected has already opened up so many doors for me and I've realized how much I love to research."
Daldin's class project has continued to provide opportunities to pad his research-driven resume.
Shortly after his acceptance to present at the conference, Daldin scored a position as a volunteer research assistant with a neuropsychologist at University of Michigan. He was also selected to help with a psychology research project taking place at Eastern Michigan University. In the evenings, Daldin works as an ABA therapy technician at the Autism Spectrum Therapy Center in Ann Arbor.
Daldin hopes his research experiences will support his admittance into a PhD program for neuropsychology following his CUAA graduation in spring 2022.
"Evan is going places. He has so much initiative," said Dr. Christopher Stark, psychology professor at CUAA. "He proposed his idea to me during our research methods class and it struck me as ironic that his research helped him combat the very topic he was exploring: loneliness and lack of initiative. He's always looking for opportunities to use his skills and develop new skills."
Looking forward to senior year
As he begins his senior year at CUAA, Daldin is most excited about forming new research for his senior psychology project. He will graduate with minors in management and English in addition to his major in psychology.
Daldin looks forward to continuing his volunteer research, ABA therapy work, putting together his doctoral program applications.
He also still finds time to fulfill his role on the Cardinals ice hockey team, sharing that he was the first committed recruit when the program launched in 2018 and has been a dedicated teammate ever since.
"I like to have a routine, it really motivates me. I'm so thankful for the support of Dr. Stark, my dad, and a small group of friends that help me to stay busy and active, both now and during the pandemic, so that I can be both mentally and physically healthy."
---
Want in?
Learn more about CUAA's psychology program.
— Rachel Thoms served on Concordia University's Strategic Communications team from 2015-2022. Any inquiries about this story can be sent to news@cuaa.edu.
If this story has inspired you, why not explore how you can help further Concordia's mission through giving.