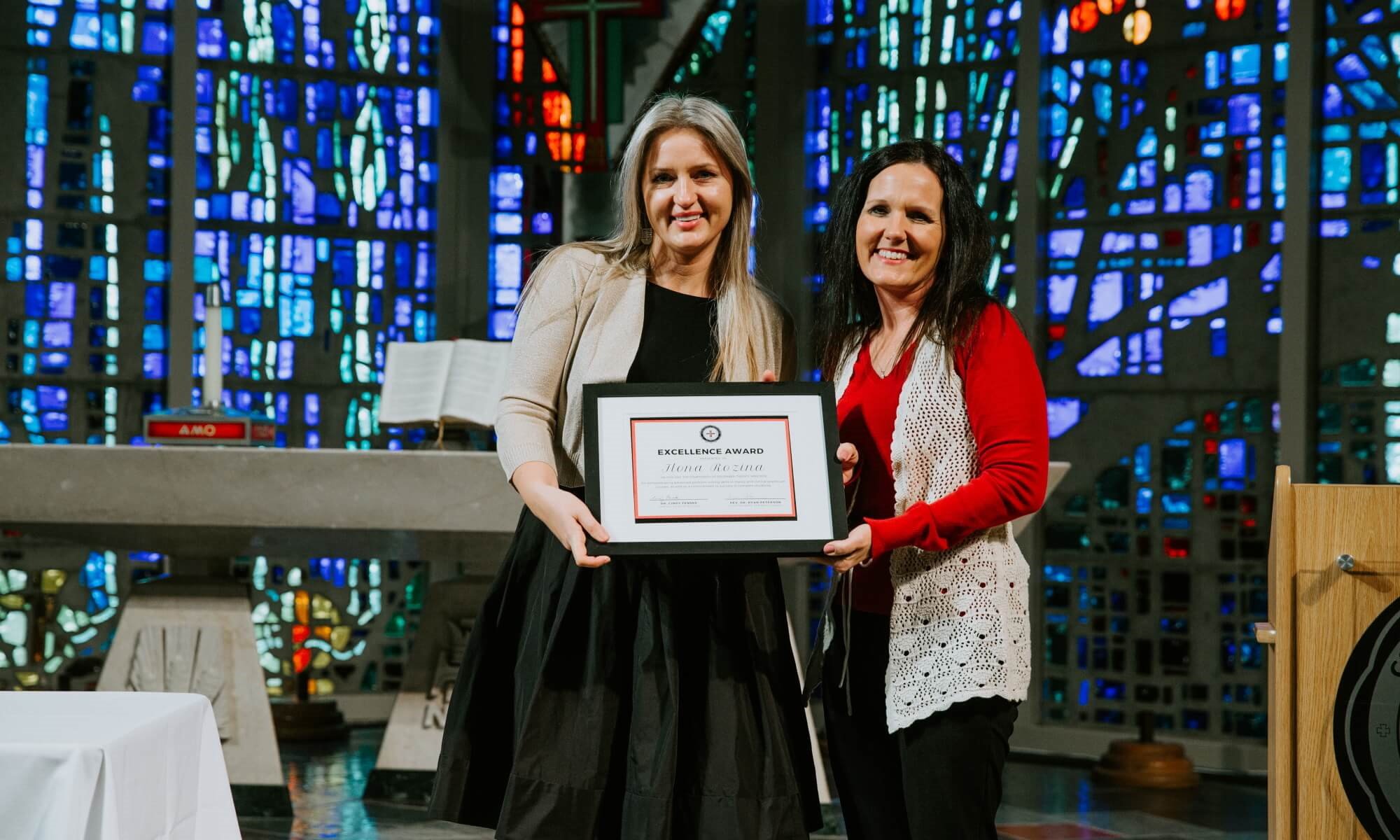 On Saturday, December 14, Concordia University Ann Arbor School of Nursing celebrated the Pinning Ceremony for the Delta Class, the third co-hort to graduate from CUAA's school of nursing.
---
Each semester, Concordia's nursing faculty and staff nominate students from the graduating cohort who best represent the core values of the nursing program: service, excellence, compassion, and integrity. An additional award, the Nightingale Award, was created as a tribute to Florence Nightingale who embodied nursing as her life's vocation. The recipient of this award exemplifies that same character and calling.
Click here to see all of the Fall 2019 School of Nursing award recipients.
Excellence Award: Ilona Rozina ('19)
Presented by Anita Simmons
The award I am giving today is for a student who exemplifies Excellence.
Excellence is one of our program's cornerstone virtues.  It is defined as the demonstration of actions and character that show merit or greatness that are above the expected level. The excellence award is for a nursing student who demonstrated advanced problem-solving skills in theory and clinical practicum courses, as well as a commitment to success in complex situations.
The student we are recognizing today has demonstrated excellence through preparedness, hard work, and perseverance- both academically and clinically.
In compiling a list of this student's attributes, I spoke with my fellow colleagues who had nothing but high praise for this individual. Instructors describe this student as always prepared and never looking to take any shortcuts. In simulation, she wasn't afraid to question a perplexing or incomplete patient report, asking "Why?" and "What if?" in order to connect all the dots. Clinical instructors describe her using words like team player, flexible, cheerful, passionate, and dedicated regardless of the circumstances.  Theory instructors call her a top student, a leader in her class, always submitting high quality work and leading the way academically.
This student experienced a few hurdles early in her academic career- including passing her first nursing skills class one-handed- literally- as she overcame a wrist injury. She expanded her family and had a baby while in the program. She always found her balance, pushed through, and never let family changes, health problems or her job to be an excuse for completing schoolwork that was anything less than excellent.
For these reasons and more, it is my honor to present the Excellence award to Ilona Rozina.
Previous Excellence Awardees:
Courtney Deyarmond (Beta class, Spring 2019)
Desiree Reyes (Alpha class, Fall 2018)
Click here to learn more about Concordia's School of Nursing.
—
If this story has inspired you, why not explore how you can help further Concordia's mission through giving.