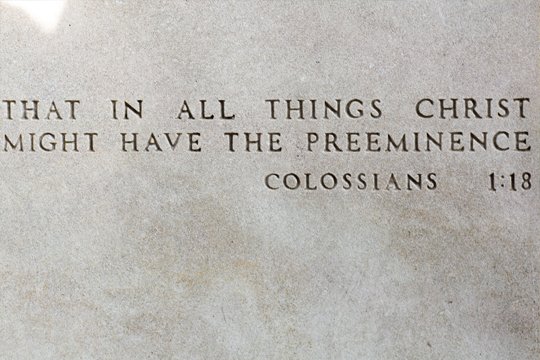 On September 30, 1962, Concordia University Ann Arbor installed a cornerstone at the campus groundbreaking with the inscribed motto, "That in All Things Christ Might Have Preeminence."
---
Approximately 10,000 people were present to see the cornerstone fitted into place. Named Concordia Lutheran Junior College at the time, the school began its first academic year the following fall, holding its first class in the gymnasium.
On Monday, August 28, 2017, CUAA will commence its 55th academic year. The cornerstone remains at the center of campus and its inscription is a physical representation of the guiding principle that steers daily life at Concordia and the university's mission to develop students in mind, body, and spirit for service to Christ in the Church and the world.
"For over fifty years, the words of the Apostle Paul in Colossians 1:18 have defined the Christ-centeredness of our university. As we begin another academic year, we do so trusting that Christ is first in everything," said Campus Pastor Ryan Peterson.
The theme for the 2017-18 academic year is All Things New, chosen by students and campus ministry leaders last April. Based off chapter 21 in Revelation, the theme verse reads:
"And he who was seated on the throne said, 'Behold, I am making all things new.' Also he said, 'Write this down, for these words are trustworthy and true.'"Revelation 21:5 ESV
"Christians live in the 'now, not yet.' Because of Jesus' life, death, and resurrection, we live forgiven and free, even in our broken world. We have not yet experienced the fullness of Christ's second coming, and the promise of the new heaven and new earth to come," said Peterson. "In this new academic year, we will look with hope towards that promise that God is indeed making all things new."
Opening Service will begin at 10:30 a.m. in The Chapel of The Holy Trinity on Monday, August 28.Preaching the message will be Concordia University's President, Rev. Patrick T. Ferry, Ph.D.
Undergraduate students attending CUAA can select from over 60 majors in four schools of study. CUAA also offers dual enrollment options for high school students and graduate degrees in education, business, computer science, and athletic training.
Concordia continues to build off of last year's milestones and celebrations, including the fall 2016 census report declaring record enrollment, the addition of men's and women's hockey programs, the announcement of CUAA's first-ever marching band, and new program offerings such as social work.
Students travelled to The Holy Land, worked at the best events in sports, and are pursuing terminal degrees in Biology.
This 55th academic year, CUAA looks forward to celebrating Homecoming on September 30, continuing recognition of the 500th anniversary of the Reformation, and will rekindle a beloved university event to take place during the 40th annual Boar's Head Festival weekend, December 1-3.
— Rachel Thoms served on Concordia University's Strategic Communications team from 2015-2022. Any inquiries about this story can be sent to news@cuaa.edu.
If this story has inspired you, why not explore how you can help further Concordia's mission through giving.