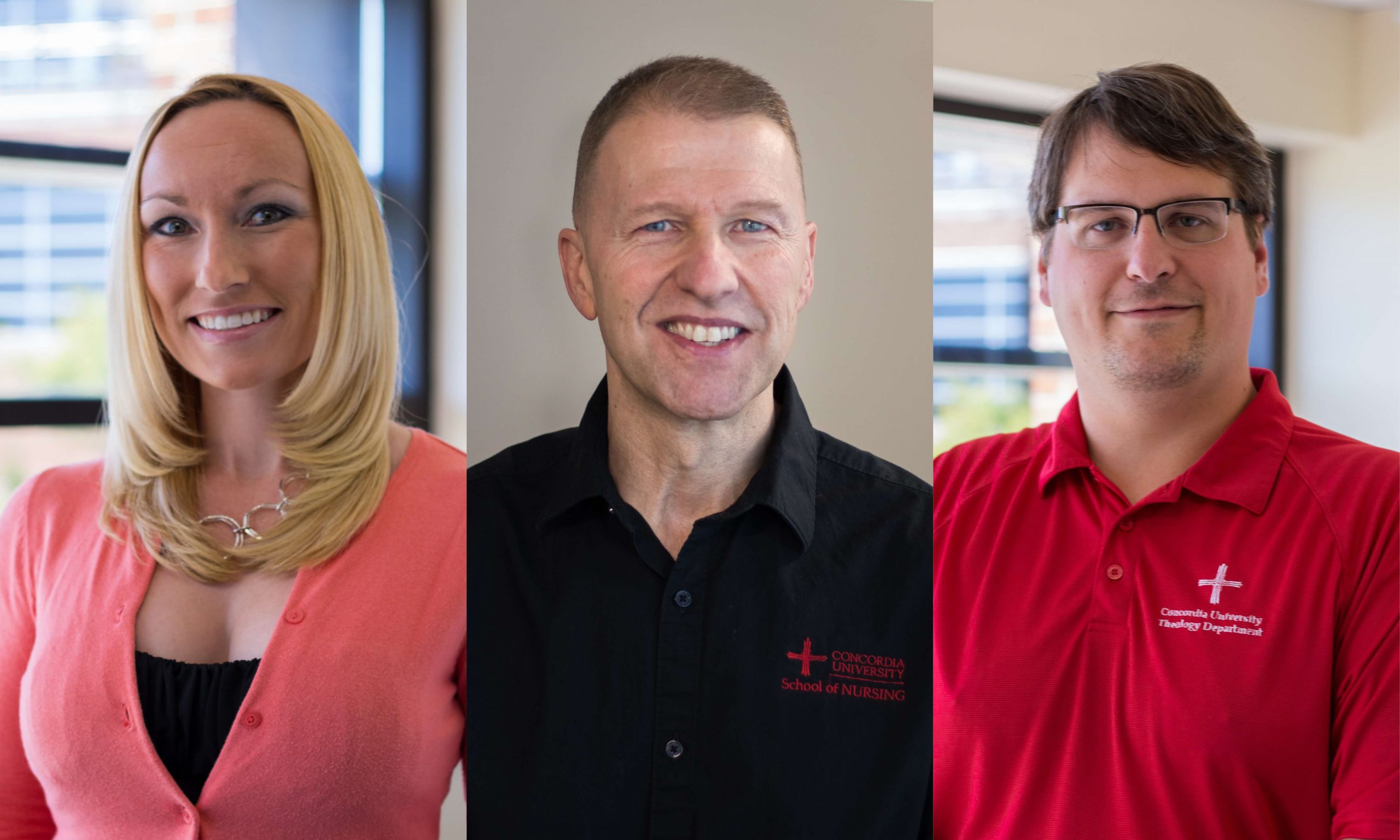 Each spring, Concordia University Ann Arbor faculty are chosen for the Excellence in Teaching and Leadership award and the Outstanding Scholarship award. A staff member is also selected for Employee of the Year.
---
Normally celebrated and congratulated at the annual employee appreciation dinner, this year's honorees were announced and uplifted during an all-employee Zoom celebration at the end of the April.
Congratulations to this year's award recipients!

Amber Giacomazzi, MS, AT, ATC, CAT(C)
Excellence in Teaching and Leadership
The recipient of this year's award for Excellence in Teaching and Leadership has been recognized for her outstanding teaching and for her classroom focus on Concordia's mission. She has served as a key developer of the program for which she teaches and contributor to its accreditation process.  She serves as her program's Clinical Education Coordinator and has applied innovative methods in preceptor education and clinical site evaluation.  The recipient of this year's award for Excellence in Teaching and Leadership is Ms. Amber Giacomazzi.
Click here to learn more about CUAA's Athletic Training program.
---

Rev. Ted Hopkins, PhD, MDiv
Outstanding Scholarship
The recipient of this year's award for outstanding scholarship has served at CUAA since 2015.  He serves as co-editor of the Concordia Theological Journal, in which he has published numerous articles and book reviews.  After obtaining a Concordia Intramural Research Grant, he revised his dissertation into a book manuscript which has been contracted by a publisher. His forthcoming book will be titled Christ, Church, and World: Bonhoeffer and an Ecclesiology after Christendom.  Congratulations to the recipient of our award for Outstanding Scholarship, Dr. Ted Hopkins.
Click here to learn more about CUAA's theology department.
---
Ben Oliver, BS, AEMT-P I/C
Employee of the Year
Our Concordia Employee of the Year is described as the backbone of one of our teams. It is noted that this individual is the first one to arrive in the morning and one of the last to leave at the end of the day. This team member is frequently seen taking care of issues or problems in order to help take the load of others.  In other words, our Employee of the Year creates an Uncommon experience for students, faculty, and staff.
This individual is a devout Christian who wears his faith on his sleeve. His office is always open and it acts as a magnet that draws in many. It is apparent that he has a servant's heart and cares a great deal for the students. He goes the extra mile with students to help them be successful. He makes himself available to anyone in need on a moment's notice, selflessly putting their needs ahead of his own.
His nomination for this award reads as follows:
"He quietly and humbly ensures that so many aspects of the nursing program run without a hitch. This includes trouble shooting and monitoring much of the nursing technology, and procuring and management of simulation supplies and equipment. He manages these things all while stretching the budget miraculously. He is our front man for problem solving numerous nursing software products and he does it with such kindness, excellence and finesse, that vendors have invited him to act as a consultant or educator for their products."
Ben's mind is continually thinking and planning for new initiatives. Big or small, he will figure out a way to fix it, design it, reconfigure it, or get a discount on it. He is truly amazing.
Ben Oliver has been and will continue to be a true gift and blessing to CUAA. He is a vital member of the nursing team and has contributed greatly to their success. Please join me in congratulating our Employee of the Year, Ben Oliver!
Click here to learn more about CUAA's school of nursing.
— Rachel Thoms served on Concordia University's Strategic Communications team from 2015-2022. Any inquiries about this story can be sent to news@cuaa.edu.
If this story has inspired you, why not explore how you can help further Concordia's mission through giving.