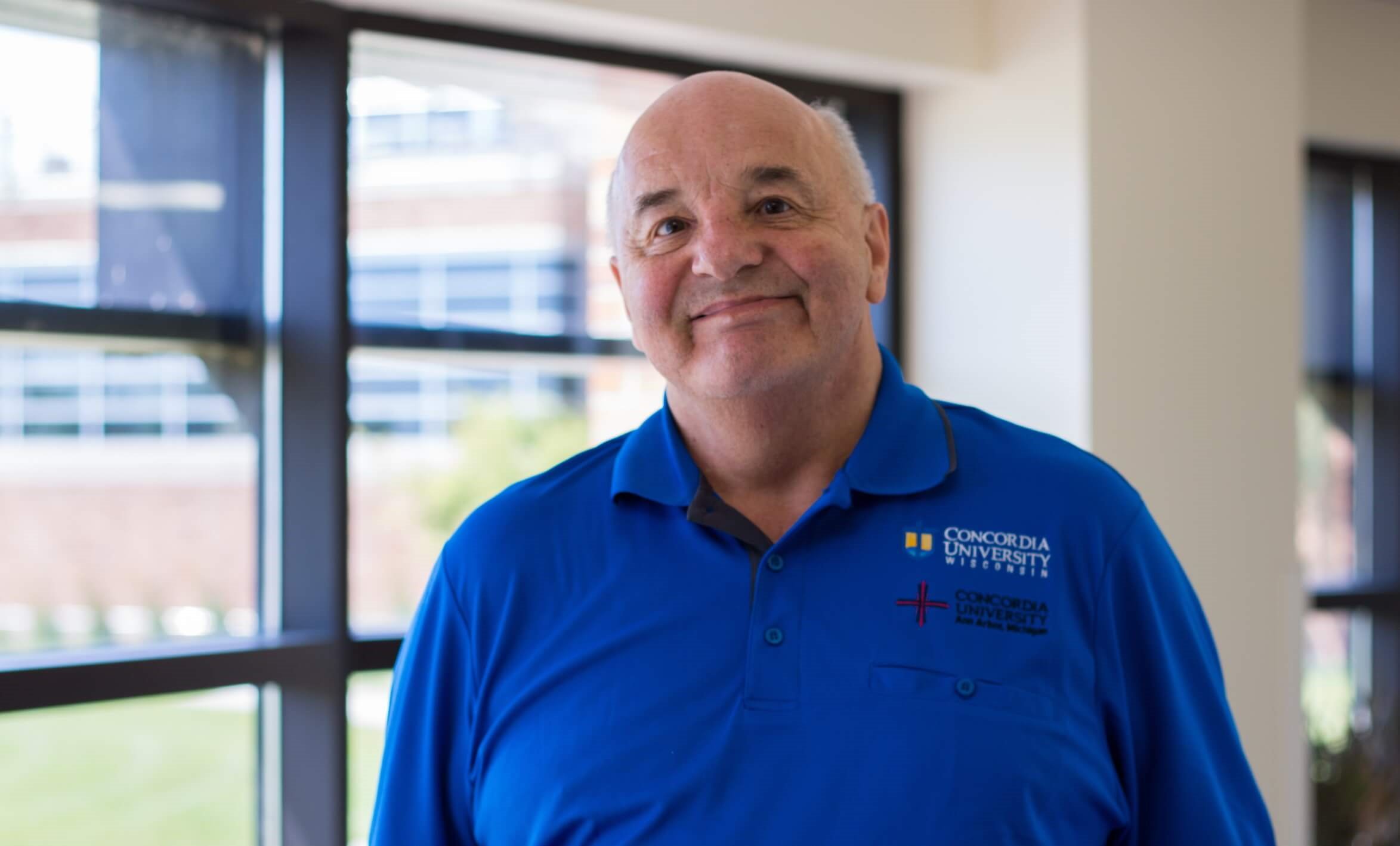 The Lord bless you and keep you; the Lord make his face to shine upon you and be gracious to you; the Lord lift up his countenance upon you and give you peace. Numbers 6:24-26
---
Gary Sanborn served as an assistant professor in the Haab School of Business since 2014 teaching courses in the accounting, finance, and economics department.
Written by Vice President of Advancement Rev. Dr. Ryan Peterson:
Please join me in celebrating and congratulating, Gary Sanborn!
Gary was born in Flint, MI and attended 12 years at St. Agnes School before continuing his education at Flint Junior College and subsequently graduating from University of Michigan – Flint.
Gary married and has been blessed with two children, Scott and Stephanie. He furthered his education and eventually became a Certified Public Accountant in the State of Michigan.
During his career, he practiced as a CPA and managing partner for thirty years and, eventually, his firm merged with another local firm. During this period, life's changes surfaced as his wife, Linda, was killed in an automobile accident on her way to work. Tragically, Scott, Stephanie and I had to learn from this event. Scott was in college and Stephanie, age nine, became my sole responsibility, as a parent.
His relationship with his son and daughter, their families including three grandchildren, have blossomed with a strong relationship that I never could have perceived. Faith was the real provider that shined the guiding light.
Clearly Gary loves our students.  He has always loved students. He began instruction as an adjunct faculty member at Northwestern Michigan College for 15 years, and then the Lord brought him to Concordia University –Ann Arbor as a full-time instructor and eventually, Assistant Professor – Accounting.
In the evenings or on the weekends, you can find Gary in the Cardinal Fieldhouse about 2/3 of the way up in the bleachers.  Or, you will find him at Cardinal Stadium in the bucket seats or out at the baseball or softball fields.  To say he is Concordia's greatest athletics fan is an understatement.
Gary absolutely loves this university along with the students, fellow instructors, staff personnel, and Cardinal family who provide faith in God on a daily basis.
Gary: thank YOU for loving our students, for cheering them on, and for always being present and supportive of them.  We are so grateful for you, your heart, and your commitment to all that being a Concordia Cardinal entails. God bless you, dear friend.
---
Well-wishes for Professor Gary Sanborn
Concordia University Ann Arbor students, alumni, faculty, and staff share memories and messages of encouragement, appreciation, and blessings to Concordia University Ann Arbor's retiring professors upon the completion of the Spring 2020 semester.
Gary, your were my orientation buddy and I always love getting a chance to chat with you. You are always so positive and I will miss those little chats. I hope retirement treats you well! —Liz Peckham
Professor Sanborn is one of the sweetest professors I have had the privilege to learn from!! Whether its his friendly hellos at EVERY Concordia sporting event or the countless office hours he spent teaching me accounting, he is greatly appreciated!! You can tell how much he loves his students, and his love for us makes it that much easier to learn!! CUAA will miss you, Professor Sanborn! —Lauren Drinane ('21)
As fellow staff/faculty, I have been inspired by his concern and care for our students, going the extra mile to make sure they succeed!  I will miss his attention to detail in their development, and wish Gary the best! —John Rathje ('88)
Congrats on your retirement! I will miss seeing you and chatting with you on campus. Thank you for your work with CUAA students and fellow faculty. —Christopher Stark
Thank you for everything and the constant support during the accounting classes I took with you. Always had an open door policy to help us through the class. Thank you very much for always being cheerful and congratulations on retirement! —Brayden Bennett ('17)
Take care, Gary! I wish you the best in retirement! —Thomas Rothenhauser ('17)
Gary, congratulations on your retirement. —Ken Gaschk
Hi, Professor Sanborn! Congratulations on retirement! You blessed me and my time at Concordia with your presence! Your joy and support impacted me greatly. Every time I saw you in the halls you made my day, and I still am thankful for you coming to volleyball games to support me and Alisha! That meant more than you know. Thank you for everything. ❤️ —Mackenzie Schill ('19)
While I worked in the registrar's office you made sure to say hi to me almost every day. It really made my day sometimes. Thank you. —Zane Simon ('21)
One of the nicest guys you will ever meet, always had a smile on his face, stayed late working hard, sometimes being the only person in the building. Congratulations on retirement and enjoy! Thank you for the dedication. —Brandon Moore
I have never taken a class from you, but I get the beautiful opportunity of seeing you on occasion in passing. Your ministry of teaching is one of the most beautiful things I've witnessed. Thank you for understanding and appreciating the gifts of your students. You nurture the future generations just by saying hello sometimes. I am forever grateful for your hello. —Jess Russ ('20)
Professor Sanborn, what a guy!!! Made Accounting very fun and interesting. I loved having off the clock conversations with you and hearing about your real life experiences. You're probably the most positive and friendly professor I have ever had the pleasure of learning from! Congrats on your retirement and I wish you all the best in your future endeavors!!! 🙂 —Amal Singh ('17)
Professor Sanborn was a great mentor throughout my time at CUAA. He always was open to help with anything when needed and brought smiles to a lot of students including mine. His compassion and motivation to help is something us students remember and truly appreciate. Whether it be supporting us at games or in the classroom, he was a great asset to CUAA and will be missed!! —Anna Smith ('17)
Dear Gary, How do I even begin to thank you… for being an incredible colleague for the past six years, for your dedication to our students- as whole people. You are there for them in your class to encourage and guide them in learning a challenging academic subject, you are there for them outside of class to help support and tutor and watch them play their beloved sports and you are there for them as Christian souls to pray for them and support them in their journey through life. Thank you for being such a generous and caring colleague to our Haab team, you are always part of our team and you are so appreciated and valued. Gary- on behalf of the Haab School of Business I want to thank you for your years of dedicated, professional, and Christ-like service to your students, our school and our campus. We wish you the very best, you will continue in our prayers and you will continue to be connected to our community and to all of us. God Bless you and thank you Professor Gary Sanborn!!! —Suzy Siegle
— Rachel Thoms served on Concordia University's Strategic Communications team from 2015-2022. Any inquiries about this story can be sent to news@cuaa.edu.
If this story has inspired you, why not explore how you can help further Concordia's mission through giving.