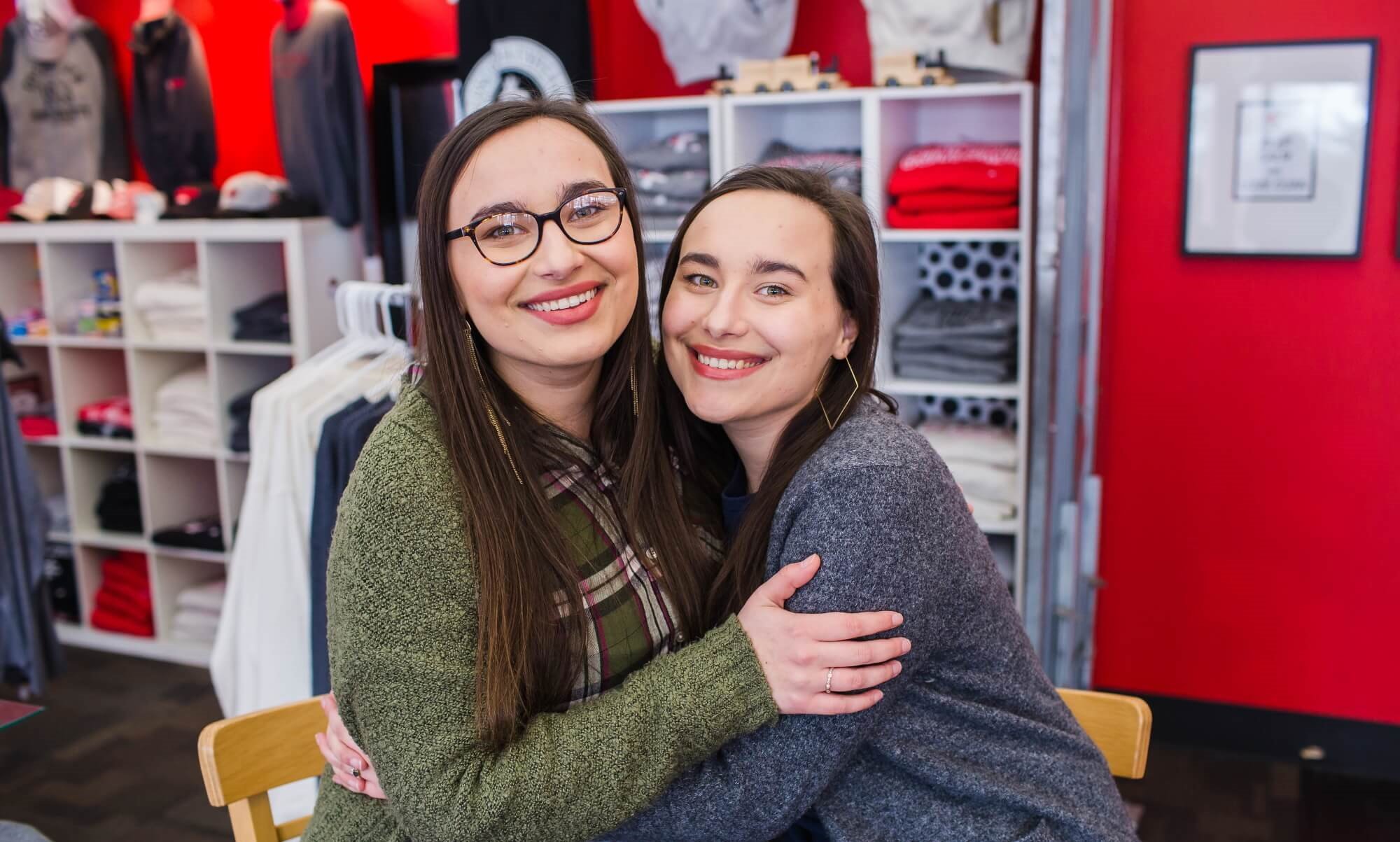 CUAA's May 2020 graduation candidates are students who have spent their years at CUAA developing in mind, body, and spirit for uncommon lives of service and impact.
---
Editor's note: This is one in a series of stories highlighting Concordia's May 2020 graduates.
For twin sisters Esther Schulze and Emmi (Schulze) Forbes, their four years at Concordia University Ann Arbor flew by in a flash.
Together with their immediate family, Emmi and Esther celebrated the completion of their degrees from their home in Brooklyn, New York last weekend.
As they look ahead to a new season, they reflect on how faith led them to Concordia and how faith continues to lead them as they move on from Concordia.
Emmi (Schulze) Forbes ('20)
As a Secondary Education English major with a Lutheran Teaching Diploma, Emmi will move to St. Louis, Missouri this summer with her husband, Conner Forbes ('19). Conner will begin his pastoral studies at Concordia Seminary St. Louis and Emmi is designated to teach at Grace Chapel.
Less worried about friendships and moving far from home, Emmi started freshman year concerned about the rigor of college classes and assignments.
"I wish I could go back and tell myself, 'Enjoy that class.' If I could give Concordia students advice, it would be to go to Chapel every day and take a class with Professor Migan," said Emmi.
Related: The uncommon go-getter embodying courage and determination
Eventually, around junior year, she worried less and learned to enjoy her classes. One class she enjoyed so much, she took it twice. The class was Shakespeare with Professor Neal Migan, and Emmi learned so much from the plays they read that she signed up for the class again.
Forbes says that Concordia is the connection between so many of the people, experiences, and lessons she has learned to become the person she is today. From lightbulb moments in class that changed her life, to lifelong friendships, meeting her husband, Emmi says she feels prepared for her vocation as a teacher.
"God wants me to be a teacher. At times I thought about doing something else, but this is my call," said Forbes. "During the ups and downs, I would say, 'God, I know you're going to work this out because this is what you called me to do.' He always worked it out, every single time."
Esther Schulze ('20)
Reminiscing on her thoughts when entering college four years ago, Esther said that it felt daunting to pick a college when there were so many to choose from. Prayer and advice from mentors was how she felt the Lord was leading her to CUAA.
"It's hard to come from a family of church workers and you don't feel called to church work specifically. But I recognized that the Lord will work through me in whatever position I have, and He will use the talents he's given me wherever I go," said Esther, who double majored in Art and Marketing.
One of her favorite things about her Concordia education was that she could take advanced theology classes, like Lutheran Confessions, and while also pursing her passions in marketing and art.
Related: The uncommon champion inspiring others along the way
She said being surrounded by Christ's love at such a formative time in her life is something that she is very thankful for. Professors praying before classes, the opportunity to attend Chapel daily, worshiping at Tuesday Night Worship, seeking Christian mentors on campus, and building friendships with people who have strong faith backgrounds were all a huge part of her faith formation.
"I'll never forget the end of freshman year, sitting in the last Chapel service for the semester and thinking, 'How am I going to get through the whole summer without Chapel?' and then I thought, 'One day, when I graduate, I won't have daily Chapel at all,' and now that day is here. That prospective helped me to be thankful for the gift while I had it," said Esther.
Her college experience may have flown by, but Esther feels that she did everything she could to take advantage of what being a student at CUAA had to offer. Leading Tool Time, helping with Fall Welcome Weekends, taking theology electives, going to CIT every January, working on campus jobs in Theater and Communications, soaking in the knowledge from her art professors, and founding The Lighthouse Club on campus solely focused on spreading joy and random acts of kindness.
Esther is back home in Brooklyn, applying for jobs in content management, digital marketing, and social media marketing. She's eager to reconnect to her home church and spend quality time with her family during this transitional phase.
"I have put it all in God's hands. He has given me what He's given me and put me in this place at this time, so I'm trusting in His will."
Emmi, Esther, and their 2020 classmates were honored with a virtual degree conferral ceremony on Sunday, May 17. They will be celebrated in person at the December commencement celebration. These changes are in response to the Coronavirus. To learn more about Concordia's response visit here.
— Rachel Thoms served on Concordia University's Strategic Communications team from 2015-2022. Any inquiries about this story can be sent to news@cuaa.edu.
If this story has inspired you, why not explore how you can help further Concordia's mission through giving.