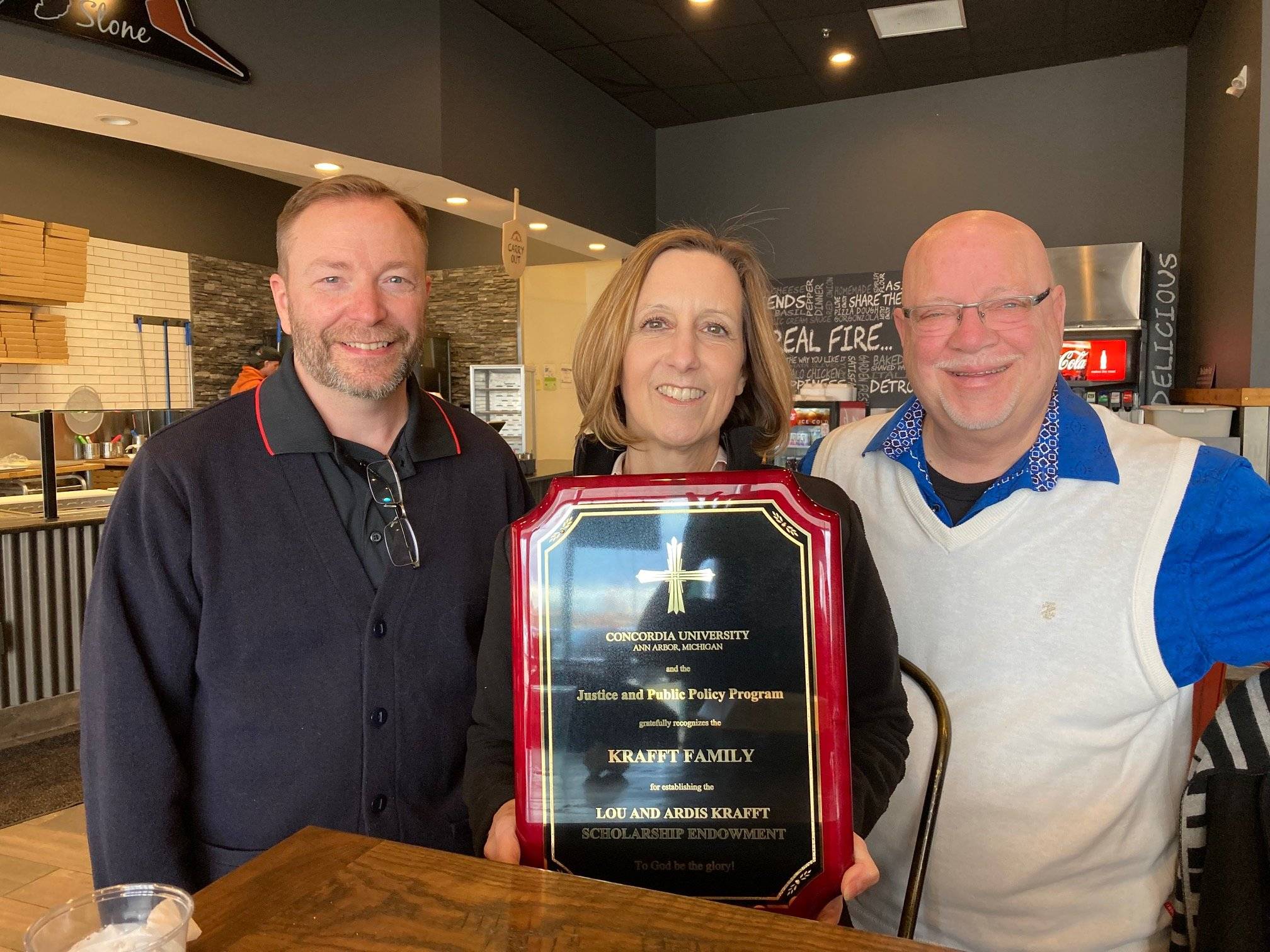 Concordia University Ann Arbor has a new endowment that seeks to support justice and public policy students and raise up future law enforcement officials who will serve their communities with Christian integrity.
---
Laura (Krafft) Thomas, a former employee of Concordia University Ann Arbor, said she and her brothers made the decision to establish the Lou and Ardis Krafft Scholarship Endowment in honor of their parents, who both worked for the federal government. Lou Krafft served a majority of his career as an ATF special agent – a highly trained, elite law enforcement officer who investigated violations of federal laws related to alcohol, tobacco, firearms, and explosives. In the latter part of her career, Ardis Krafft worked as an office manager for the United States Secret Service and even helped to set up the clerical aspects of the federal office that still exists in Saginaw, Michigan.
Lou and Ardis were called to their heavenly rest in October 2021 and December 2018, respectively. Even in the face of evil or, at times, life-threatening situations as a result of their work, they lived lives of integrity, said Thomas.
"My mom was a prayer warrior and my dad was a church warrior. They never missed a Sunday church service," said Thomas. "The faith that they built in our household was very important to them and helped them remain steadfast in their work. They set the tone for my brothers and me."
Thomas and her brothers hope that Lou and Ardis' example will set the tone for students at Concordia as well. The scholarship endowment will help support undergraduate students at CUAA who choose to enroll in the Bachelor of Science in Justice and Public Policy program.
CUAA's BS in justice and public policy degree prepares learners for a variety of careers committed to upholding local, state, or national ordinances through correctional, enforcement, or legal means. Possible career options could include becoming an attorney, court administrator, intelligence officer, local and federal law enforcement officers, or warden.
A hallmark of the CUAA program is its focus on real-world, immersive learning, says Dan Chlebos, who oversees the program and has more than 45 years of law enforcement experience under his belt. Like, Chlebos, all instructors have at least a decade of experience in the field, so lessons are taught from an informed lens. The program curriculum also includes a great deal of simulation training. In tandem with CUAA's nursing and social work programs, CUAA JPP students will engage in scenarios involving actors and real-life, yet hypothetical story lines in order to help students engage in decision-making processes. Unique to the CUAA program, students also engage in a semesterly "cold case" exercise.
Beyond the practicality of the program, CUAA's JPP students receive a firm foundation of Christian instruction, which is something Thomas said she and her brothers especially appreciate.
"We, as a nation, have seen firsthand how things can get out of hand very quickly when it comes to law enforcement and societal order," said Thomas. "Underlying that is the devil's natural ability to suck people into sin. We appreciate that CUAA's professors are standing firm in their faith and teaching students to do the same."
Interested in the JPP program? Click here to learn more!
— This story is written by Kali Thiel, director of university communications for Concordia University Ann Arbor and Wisconsin. She may be reached at kali.thiel@cuw.edu or 262-243-2149.
If this story has inspired you, why not explore how you can help further Concordia's mission through giving.