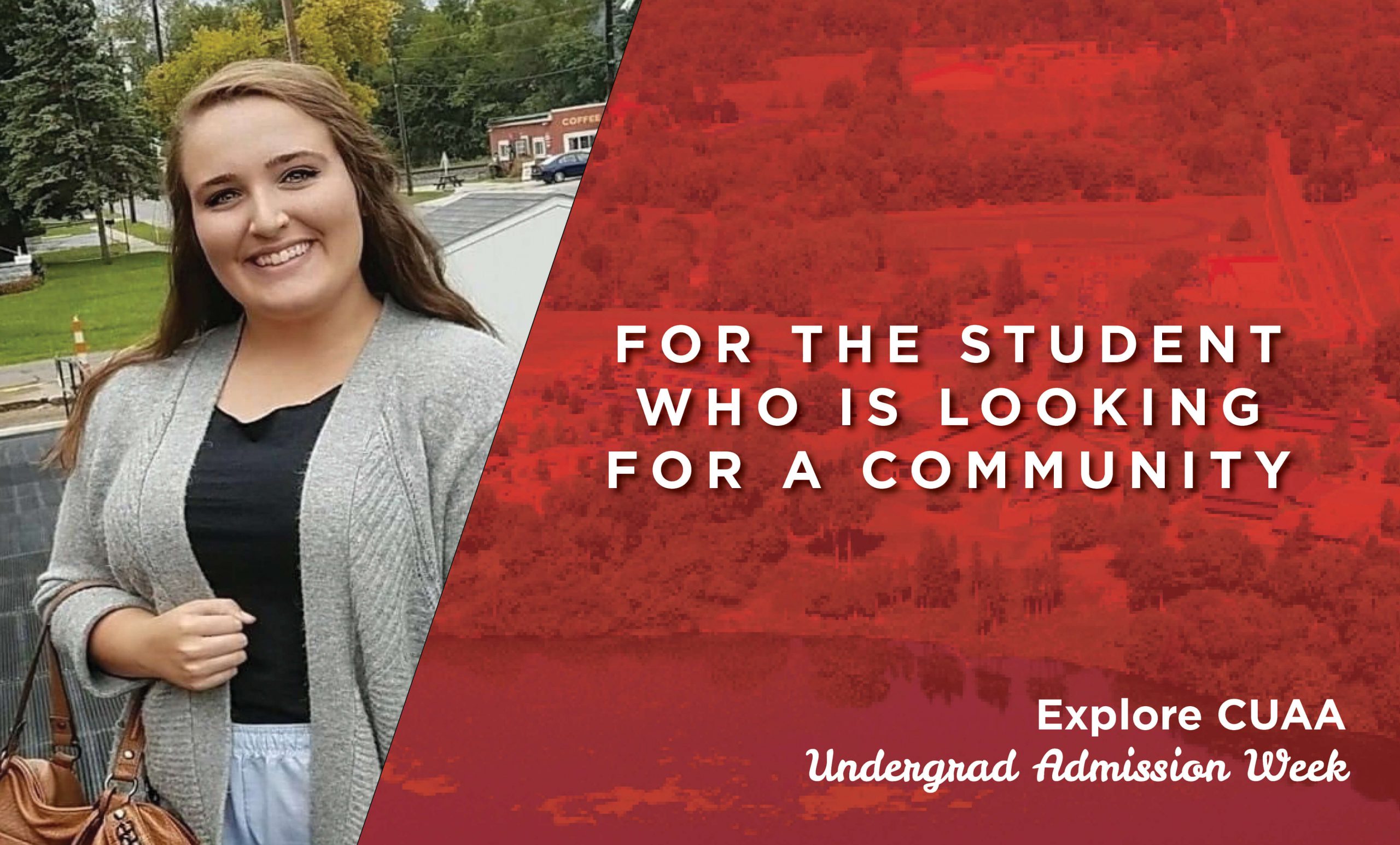 Community is defined as "a group of people with common characteristics or interests living together within a larger society," and that is displayed daily on Concordia University Ann Arbor's campus on the banks of the Huron River.
---
Here are some of the ways Community is developed at Concordia University Ann Arbor:
We help students become integrated into the campus community soon after they arrive on campus and get them acclimated to college life.
We have an active Campus Ministry/Student Ministry Program.
The new Office of Multicultural Engagement makes students feel valued.
A Counseling Center and Academic Resource Center are here for you.
Special financial aid opportunities, like Adopt-A-Student are available.
Extracurricular activities abound in athletics, drama, music and other fine arts.
Welcoming Students…
"We highly encourage incoming students to attend and become active in all Fall Welcome Weekend activities," said Student Events & Career Engagement Coordinator Alisha Anderson. Should classes resume on campus August 24, scavenger hunts, dances, a day of service and themed meals in the dining hall are just a few of the activities planned.
The annual Concofest is slated Tuesday, August 25, with local vendors, games and campus clubs and organizations taking part. A new tradition begun a year ago is Grocery Bingo, held the first Thursday of each month. "We're also looking forward to a week-long Homecoming celebration, a trip to Cedar Point in Ohio and kayaking down the Huron River," noted Anderson, who advises students to follow social media for the latest updates about activities.
Getting Involved in Campus Ministry/Student Ministry…

"As the campus demographic changes in Ann Arbor, we find ourselves as a mission field and a mission sending agency," said Campus Pastor Rev. Randall Duncan ('88), the former director of Campus Ministry. "Cultivating community is essential to address both of these aspects of campus. Oftentimes, people need to know they belong, even before they believe." The design of chapel services and community groups is meant to speak to students no matter where they find themselves in their faith journey," explained Duncan. "So I preach not only on how Moses made it through the Red Sea, but how we can make it through Monday!"
"I love seeing how helping others grow spiritually often leads to a growth in my own spiritual life in which the Holy Spirit opens my heart to grow in understanding and compassion," says sophomore Katrina Miller. This fall she will be leading a Community Group for Women on campus as well as being a member of the Campus Ministry Leadership Team, who Duncan affectionately refers to as his "theme team."
Elysia Stephenson, an incoming freshman from Metamora, Michigan, plans to be involved in worship arts and a second music group while she pursues a degree in occupational therapy. "I knew after my first visit to campus that Concordia was the place I wanted to grow in Christ and call my home because of the environment, the staff and the current students I met," said Stephenson.
Multicultural Engagement Office…
Shanitra Cheff was named director of the Office of Multicultural Engagement last October, and she hit the ground running to connect with students from her prior coaching responsibilities with the Cardinals' cheer team, and by attending Athletes in Action and Student Athlete Leader Team meetings. Further, she worked closely with the Black Student Union to devise fresh ways to engage students and add new members through events like an ice cream social.
Cheff's office also worked with Hispanic and Latino(a) students to form a new Hispanic and Latinx Club that will debut this fall. More information will be available at a booth during Fall Weekend, or by visiting the Office of Multicultural Engagement in Student Services, SS117. In February, the OME and other students visited the Charles H. Wright Museum of African American History in Detroit, an experience she termed profound. "The education and experience gained showed them there are no limits to the opportunities available, if they are brave enough to reach out," noted Cheff.
Counseling Center/Academic Resource Center
CUAA's Counseling Center is available to students who might be having a few difficulties adjusting to college life or just want to talk confidentially to a counselor one-on-one. An Academic Resource Center helps individuals in-person and online offering tutoring, academic coaching, research for term papers and supplemental instruction.
Adopt-A-Student…
A donor and a student are paired together in an annual program that helped Logan Davis, Pre-Seminary ('22), this past academic year. "I am so thankful to be able to prepare for the seminary at Concordia, and donors like Ruth helped make that possible for me," said Davis.
Extracurricular Activities…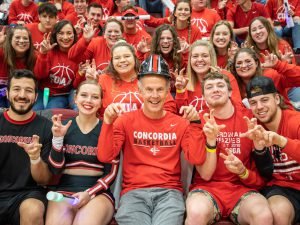 Students have no shortage of extracurricular options, from more than two dozen men's women's and co-ed NAIA intercollegiate sports, to an array of fine arts opportunities held in The Kreft Center and The Chapel of the Holy Trinity. "The Kreft Arts Program strives to inspire the artistic, intellectual and creative experiences of our students and our community," said longtime director Dr. Mark Looker, Ph.D., a professor of English. The program has been made possible for years because of the generous support of Dr. Karl and Mrs. Shirley Kreft.
"I chose Concordia for its small and beautiful campus, the Christian atmosphere and the amazing experiences I had while visiting for music," said Rebekah Gilmore, a senior vocal music major. "I'd heard about Concordia having a couple of weekends where you could sing with the choir, and later play with the wind ensemble at their Honor Band Day. I went to each of the two-day events and stayed overnight with one of my now best friends Annalyse."
To say she's involved in music would be an understatement, as Gilmore is a member of Concordia Choir, Arbor Song, Pep Band, Wind Ensemble, Brass Ensemble and the Cardinal Regiment Marching Band, where she'll be a drum major this year. One of her fondest memories was being a part of the annual Boar's Head Festival her freshman year. "I wasn't even a member of the choir yet," recalled Gilmore, "but Dr. Altevogt had heard me sing every day in class and let me be part of the choir. This was a special moment for me, because I grew up coming to Boar's Head every year with my family."
"Another time we were rehearsing a Bon Jovi show in marching band, and we were all hot and tired," said Gilmore. "Dr. Perrine came over the loudspeaker and started singing the opening song – we all had a good laugh."
Ryan Webb, a freshman from Canton, Michigan and a graduate of Lutheran High in Westland, will be in goal for the Cardinal soccer team this fall. "I chose Concordia for many reasons, foremost knowing I'd be getting a great education while strengthening my faith at the same time." Webb, who plans to major in business and entrepreneurship, visited Duke and Xavier among other schools before choosing Concordia. He also encouraged his cousin Jared to visit, a fellow soccer player, and will be rooming with him in the fall.
Your ALL IN starts now
Which one of these resonates with you? Click to learn a little more about Concordia University Ann Arbor.
Visit here for a virtual tour. Here to meet the admissions staff and here to enroll. There is still time to register for the fall semester!
—
If this story has inspired you, why not explore how you can help further Concordia's mission through giving.