So you've graduated high school. You made it to the finish line during one of the most unstable and unpredictable moments in recent history. Now what?
---
While the world remains pretty unsettled, Concordia wants to lay rest to at least a few of your fears about higher education, especially if you're someone who thought high school would be your academic conclusion.
Whether the barrier between secondary and post-secondary is financial, academic, or a lack of precedence or familial support, rest assured that high school doesn't have to be your final destination. In fact, at a time when life is so uncertain, there's no better time to join a college community that has your back—in more ways than one.
Take it from a few Concordians who were once in your shoes.
FOR THOSE WHO DON'T THINK COLLEGE IS WITHIN REACH…
1) …Because they can't afford it. Meet Meire.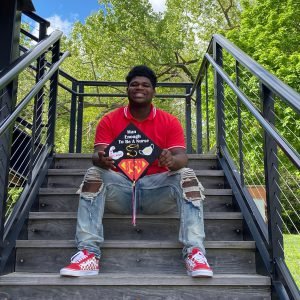 Ever since a bullying incident prompted Meire Taylor to switch high schools his sophomore year, he has placed a high priority on finding a place where he belongs. Meire toured a couple of different high schools before he found his place at Lutheran School Association, and from there, things began to click—academically, emotionally, and spiritually.
He had that same sense of belonging the moment he first visited Concordia University Ann Arbor's campus late last year.
"When I stepped on campus, I felt like I was home and I didn't get that feeling at any other colleges," said Meire. "I know that at Concordia, I'll be able to make new connections, grow in my spiritual life, and learn the skills necessary to become a nurse."
Without a generous financial aid package, college wasn't going to be an option for Meire though. Thankfully, things came together on that front, too.
Meire is among CUAA's first Unlimited Potential Scholars, a program offered exclusively to minority students who have a demonstrated financial need. In addition to receiving a significant scholarship, the program builds in extra resources and support systems—like pairing Scholars with peer and employee mentors throughout their time at CUAA—to ensure that the Scholars succeed.
It's just the latest scholarship program Concordia has put together to ensure that more students than ever have the opportunity to continue their education at a Christian university. Take a look at some of the other scholarships and grants we offer to students with all sorts of academic interests and from all types of backgrounds.
2) …Because they're afraid they can't keep up with the rigor of college academics. Meet Madison.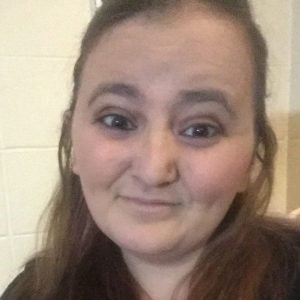 One of our recent graduates, Madison Litterell, excels in the classroom, but a chronic condition that she was diagnosed with when she was 3 years old made Concordia's academic support services a necessity. Madison has a rare group of genetic tissue disorders called Ehlers-Danlos Syndrome. For Madison, the syndrome manifests as joint, tendon, and ligament issues and causes ever-present bruising on her shins. Rarely is there a day when she isn't in pain.
The condition forced Madison into the hospital more than once during her Concordia tenure. One particularly inopportune medical stay came the week before finals.
Yet, Concordia was there to see her through.
"There were times that I thought I wasn't going to be able to finish college because I got so overwhelmed with all my health issues, but just the support I received from Pastor Duncan, Pastor Ryan, the Academic Resource Center, and professors was incredible," said Madison. "It's one thing to have someone there to help you get caught up on your homework, but they've also provided me with emotional support—being there if I wanted to stop in and talk for a minute and just listening and showing they care."
The academic expectations at Concordia are high. We don't let you skate through, but we also readily provide ways to help you rise to the occasion. Madison isn't the only student who will tell you that either. In fact, you could say academic support is kind of our specialty since Concordia's academic advising model has received global recognition and all.
Highlights of our advising model include:
PROSPER—For those in need of academic coaching upon entry into the university or those who find themselves on academic probation for one reason or another
CAST—An academic early alert task force that meets weekly throughout the academic year
On average, students in PROSPER complete more classes, earn higher GPAs, and are far less likely to remain on academic probation or be academically dismissed than eligible students who don't engage in the programs. Plus, everything is kept confidential so you don't ever have to feel singled out.
In addition, Concordia's Academic Resource Center is available 24/7 through online services, as well as through ample in-person hours. It has a director, Dr. Tori Negash, who has demonstrated she is more than willing to go to bat for students.
"Tori was incredible," Madison said. "She helped me in dealing with some pretty difficult situations. She's very professional, but she's not afraid to fight for her students to make sure they get what they need."
Beyond that, countless students will attest that Concordia's small class sizes combined with professors who go above and beyond the call of duty have often made the difference between mediocrity and higher achievement.
3) …Because they don't have an at-home support system to help them navigate it all. Meet Dajuan.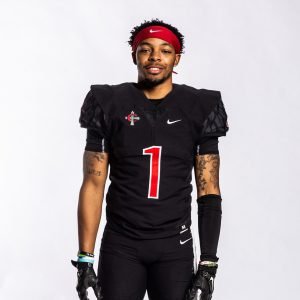 For years leading up to his acceptance to Concordia, Dajuan Thomas had aspirations to be the first in his family to go to college. In reality, the strong student, standout athlete, and all-around good kid was a shoo-in for higher ed, but he didn't let himself get his hopes up until Concordia was "a done deal."
"Looking back, I realize that sometimes I didn't recognize the potential I had, but I didn't want to believe that college was an option for me until it was set in stone," Dajuan said. "Realistically, without scholarships, it wouldn't have been likely that I would have gone to college so I kept myself a little guarded because it would have been terrible to just get let down."
Now about to enter his senior year at CUAA, Dajuan has lived up to his potential—both in the classroom and on the field, as a member of Concordia's title-earning football program.
And Concordia has lived up to its potential in ways that Dajuan didn't even realize he needed—through the support of professors, Concordia's Career Engagement and Industry Relations studio, and, most notably, his football coach/assistant director of the Academic Resource Center, Earl Schumake, III.
As a first-generation college graduate himself, Schumake uniquely understands the needs of students like Dajuan.
"For me personally as a business major, I've seen classmates whose parents are business owners or they know people who are in the field and so those classmates have these built-in opportunities for learning and networking," Dajuan said. "Coach Schumake has helped me a ton in that area though. He connects me with people that he knows in the area. He's been my bridge in that way."
Your ALL IN starts now
Which one of these resonates with you? Click to learn a little more about Concordia University Ann Arbor.
Visit here for a virtual tour. Here to meet the admissions staff and here to enroll. There is still time to register for the fall semester!
— This story is written by Kali Thiel, director of university communications for Concordia University Ann Arbor and Wisconsin. She may be reached at kali.thiel@cuw.edu or 262-243-2149.
If this story has inspired you, why not explore how you can help further Concordia's mission through giving.