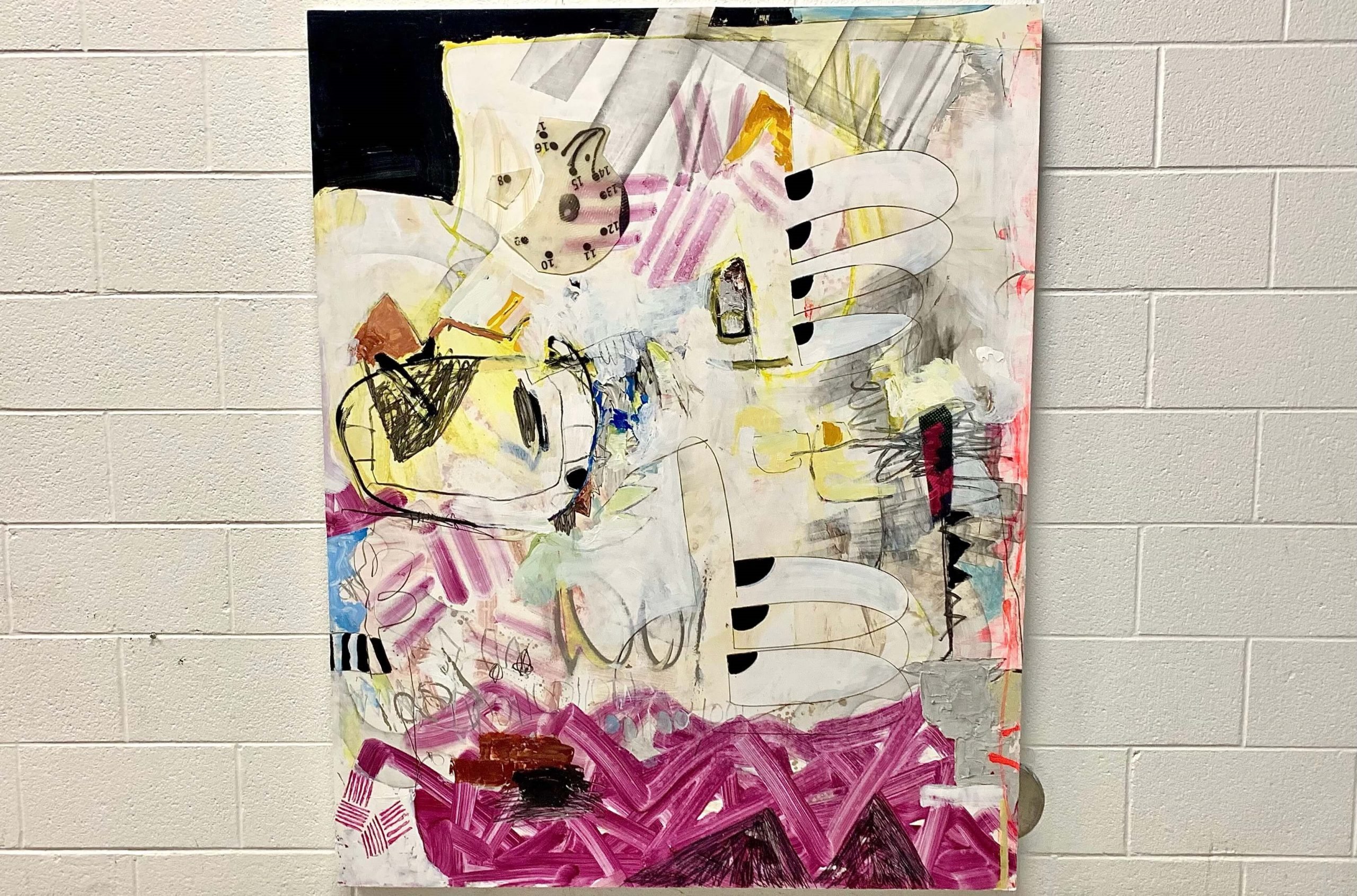 The Kreft Arts Program recently gained an original piece by artist Darren Haper. See it now outside of the 3D studio in the Kreft Center for the Arts.
---
In fall 2019, artist Darren Haper held a solo gallery exhibition on campus. Haper filled the Kreft Arts gallery with original pieces of work. One piece in particular caught the eye of two of Concordia University Ann Arbor faculty members.
Professor Chris Niemiec and Professor Mark Looker led the way in acquiring the original piece by Haper for Concordia's campus. It's new home is now outside the 3D studio in the Kreft Center for the Arts on Central campus.
About the painting
Hanging at 60 inches by 48 inches, this beautiful piece of contemporary art will catch your eye from the top of the stairs right outside the gallery. Titled "Fuchsia Tilt", this mixed media piece was crafted with oil, enamel, and acrylic paints, graphite and hydrographic printing on Yupo paper. This may sound like a lot of art jargon to most, however what all of these mediums together create is both breath-taking and mind-boggling.
About the artist
Haper is focused on making art that contains whimsy and humor while parodying various formal aspects of contemporary society. Haper leaves his work up to personal interpretation and invites viewers to engage with each of his pieces by creating "intense moments luring the viewer round and round in circles with no beginning and no ending".
Check out this one of a kind artist at his website or follow him on Instagram. Also, come by Kreft to see our newest addition for yourself! 
— This story is written by Allie Milot, social media manager for Concordia University Wisconsin and Ann Arbor. She may be reached at alexandria.milot@cuaa.edu or 734-995-7403.
If this story has inspired you, why not explore how you can help further Concordia's mission through giving.