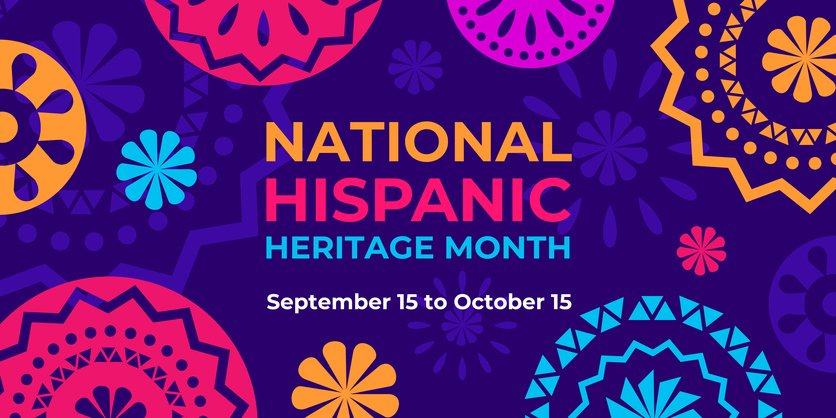 Hispanic Heritage Month is a celebration that begins on September 15 and lasts until October 15. Learn more about the month's origins.
---
Celebrating Hispanic Heritage Month
National Hispanic Heritage Month honors the culture, contributions, and heritage of Hispanic Americans with ancestors from Spain, Mexico, the Caribbean, Central America, and South America. This celebration begins on September 15 and lasts until October 15.
Why does the celebration start in the middle of the month?
It might seem unusual to begin a month-long celebration in the middle of the month, but there is a good reason for it.
The 15th of September is notable because it marks the independence days of many countries in Latin America including, Costa Rica, El Salvador, Guatemala, Honduras, and Nicaragua. In addition, on September 16 and 18, Mexico and Chile commemorate their respective independence days.
How did Hispanic Heritage Month begin?
Salud America! tells about the origins of Hispanic Heritage Month. It began with members of the U.S. Congress introducing the legislation to celebrate Hispanic heritage. National Today notes specifically that Congressman George E. Brown introduced the idea in June of 1968. The Civil Rights Movement in the United States during the 1960s inspired community leaders. They realized the need to recognize the contributions of the Latin community.
President Lyndon B. Johnson established Hispanic Heritage Week in 1968, and President Ronald Reagan expanded it to a 30-day period beginning September 15 and ending October 15 in 1988. On August 17, 1988, it was enacted into law.
Diversity & Belonging at Concordia University Ann Arbor
"Our goal at Concordia University Ann Arbor," Shanitra Cheff stated, "is to establish a long-standing tradition of celebrating National Hispanic Heritage Month in September and October to honor the history, politics, and culture of Hispanic people both locally and globally."
Cheff is the Director of the Office of Multicultural Engagement here at Concordia University Ann Arbor. She worked with Liz Hartig, Coordinator of Library Services, to develop a book list to inspire learning throughout this special month.
Hartig shared: "Our community is enriched by the culture and contributions of Hispanic Americans. The Zimmerman Library is celebrating the culture and heritage of Hispanic Americans by highlighting books by Latinx authors. Stop by the display in the library or read an e-book from the comfort of your home."
As a member of the Hispanic community, I think it's important we celebrate our culture and recognize the contributions of Hispanics within history. During this month I encourage all to learn about the inspirational stories and achievements of Hispanics and appreciate the culture through movies, music, food, and history.

Nya Martinez ('25), Hispanic and Lantinx Club President
— Vanessa Lane is the Content Marketing Lead at Concordia University and can be reached at vanessa.lane@cuaa.edu. When she's not at work, she can be found playing with her kids or watching NBA basketball with her husband.
If this story has inspired you, why not explore how you can help further Concordia's mission through giving.