At long last, Concordia University Ann Arbor will celebrate the completion of its newly restored pipe organ on Sunday, Oct. 23 at 4 p.m.
---
The Concordia community, and community members in general, are invited to attend the Oct. 23 Pipe Organ Rededication Festival in CUAA's Chapel of the Holy Trinity. At 3:30 p.m., organ builder Jerroll Adams will give a pre-festival presentation and demonstration of the restoration work. No reservations are needed. Guests are invited to stay afterwards for refreshments in the Kreft Art Gallery and to visit with faculty and students from CUAA's music department.
CUAA Pipe Organ Rededication Festival
Sunday, Oct. 23 | 4 p.m.
Chapel of the Holy Trinity
Alumni choir members are invited to join the Festival choir. Email John.Boonenberg@cuaa.edu for details. 
Festival organist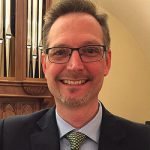 Dr. Sam Eatherton has been invited to serve as Festival organist. Eatherton is the Kantor at Trinity Lutheran Church and School in Sheboygan, Wisconsin, where his duties include leading the church's song from the organ, directing the musicians of the church, and teaching music to the children of the school. From 2000-2020, Eatherton served as Minister of Music at Zion Lutheran Church and School in Dallas, Texas. He and his wife, Lois, previously served at Trinity Lutheran Church and School in St. Joseph, Michigan.
Eatherton earned his Bachelor of Science in Education from Concordia University, Nebraska and his Master of Church Music from Concordia University, Chicago. In 2019, he earned his Doctor of Musical Arts degree in Church Music from Baylor University in Waco, Texas, studying with Isabelle Demers and David W. Music. His scholarly interests include the formation of children through church music, 19th century Lutheran hymnals, and organ music of the German Baroque.
About the restoration project
In fall 2020, Concordia's Office of Advancement launched a campaign to raise funds for the restoration of CUAA's 53-rank Schlicker pipe organ. Dedicated in 1967, the instrument is a hallmark of CUAA's worship space, but after decades of play, it was in need of a significant tune-up. The campaign exceeded its goal with months after its launch, thanks to an overwhelming show of support from generous donors. In particular, longtime supporters Dr. and Mrs. Karl Kreft provided a generous leadership gift.
Work officially began in summer 2021. Concordia contracted nationally acclaimed organ builder Jerroll Adams for the job. To complete the project, Adams had to completely disassemble the organ, remove it from the chapel, and then reassemble it in its full glory.
The restoration will be a boon to music students and chapel-goers at CUAA, says Kreft Endowed Chair in Music Dr. John Boonenberg.
"The Schlicker's richness in tone not only provides an authentic performance experience for musicians, it contributes to a worshipful music service for all," says Boonenberg. "We are stewards of a great Lutheran church music tradition at CUAA, and our organ is a key part of that."
Donations are still needed for the ongoing general maintenance needs of CUAA's Schlicker pipe organ. To contribute, visit cuaa.edu/give and designate "CUAA organ renovation," or contact Director of Donor and Alumni Relations Linda Sproul at Linda.Sproul@cuaa.edu or 734-995-7491 for additional ways to give.
Learn more
CUAA offers a comprehensive Liberal Arts music experience which affords learners the opportunity to study, perform, and travel (domestically and internationally) with departmental ensembles. Ensembles include Arbor song and Concordia Choir (choral); Jazz Ensemble, Marching Band, Orchestra, and Wind Ensemble (instrumental); and Worship Arts Ensemble (church music).
Explore programs and opportunities for involvement by visiting the CUAA music page: cuaa.edu/music.
— This story is written by Kali Thiel, director of university communications for Concordia University Ann Arbor and Wisconsin. She may be reached at kali.thiel@cuw.edu or 262-243-2149.
If this story has inspired you, why not explore how you can help further Concordia's mission through giving.