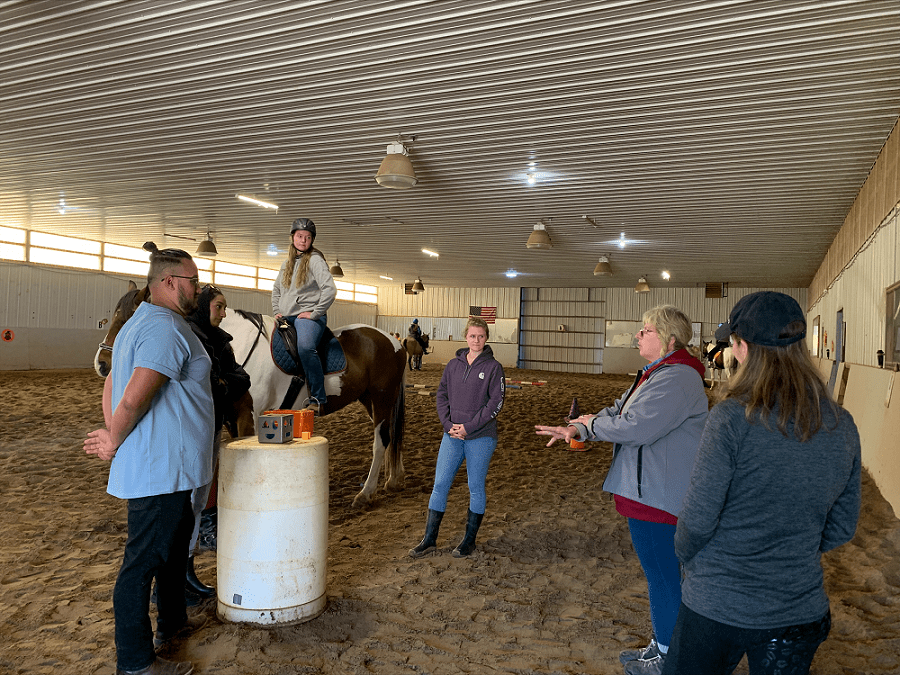 Occupational therapy students at Concordia University in Ann Arbor had the opportunity to spend two class periods at C.H.U.M (Children and Horses United in Movement) Therapeutic Riding Center. Students were provided with the opportunity to gain hands-on experience in the field of occupational therapy. In addition, they learned about the benefits of therapeutic riding for people of all ages and abilities.
During the two class periods, the students had the chance to observe the riders, interact with the horses, and participate in activities designed to help them understand the therapeutic process. They were then able to apply and integrate the knowledge they are learning in anatomy and occupational analysis courses.
Bonnie Depue, the owner, and director of C.H.U.M., is an occupational therapist and horse lover who wanted to use horses to help people recover from occupational injuries. Bonnie felt a calling to use a horse's versatile moving platform to help promote natural movement patterns for occupational rehabilitation.
Learning the benefits of horse therapy
During their class time at C.H.U.M, students studied the ways in which engaging in activities on horseback can improve gross and fine motor abilities, cognitive skills, and social-emotional well-being. They identified various activities that could be used to achieve these goals, such as weaving between cones and navigating obstacle courses.
Students discussed the importance of providing positive reinforcement and using adaptive equipment to ensure that all riders are able to participate safely and comfortably. Through this exploration, the students were able to gain a better understanding of how horses can help people to achieve physical, mental, and emotional growth.
Students then analyzed their own movements and positions while on the horse. Through this process, they gained a deeper understanding of the human body and movement patterns while engaged in occupations.
The occupational therapy students then graded selected activities to make them more and less difficult for a prospective client depending on the client's needs. Abilities required in mind, body, and spirit to complete horse care were evaluated and analyzed to critically apply their evaluations to other occupations and client situations they may encounter while in practice.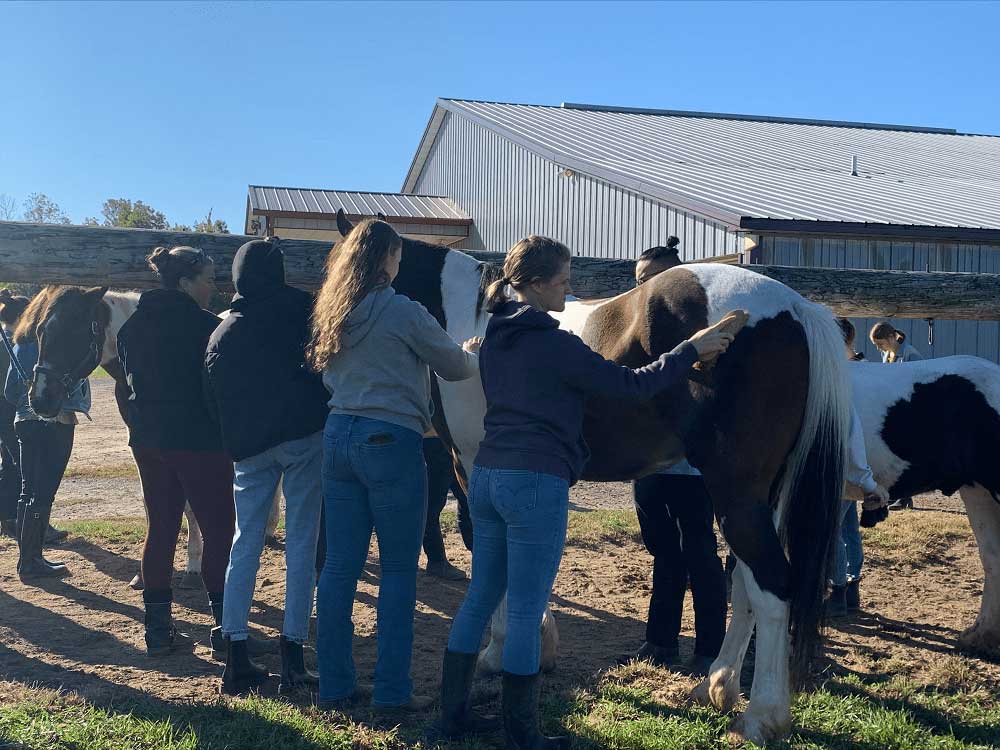 The visit provided the students with a unique opportunity to gain an understanding of the ways that equine therapy can be beneficial. Overall learning how they can use this understanding to better serve the patients they work with in the future.
Learn more
C.H.U.M is a faith-based riding center in Dansville, Michigan that serves individuals of all ages and abilities. Their goal is to improve physical, mental, and emotional well-being through riding as "…we see 'life lessons' occurring in the barn, victories over challenges, hope over despair, and relationship building in trust and love." For more information on C.H.U.M, visit their website at https://www.chumtherapy.net/
If you want to learn more about our OT program at CUAA, click the button below.