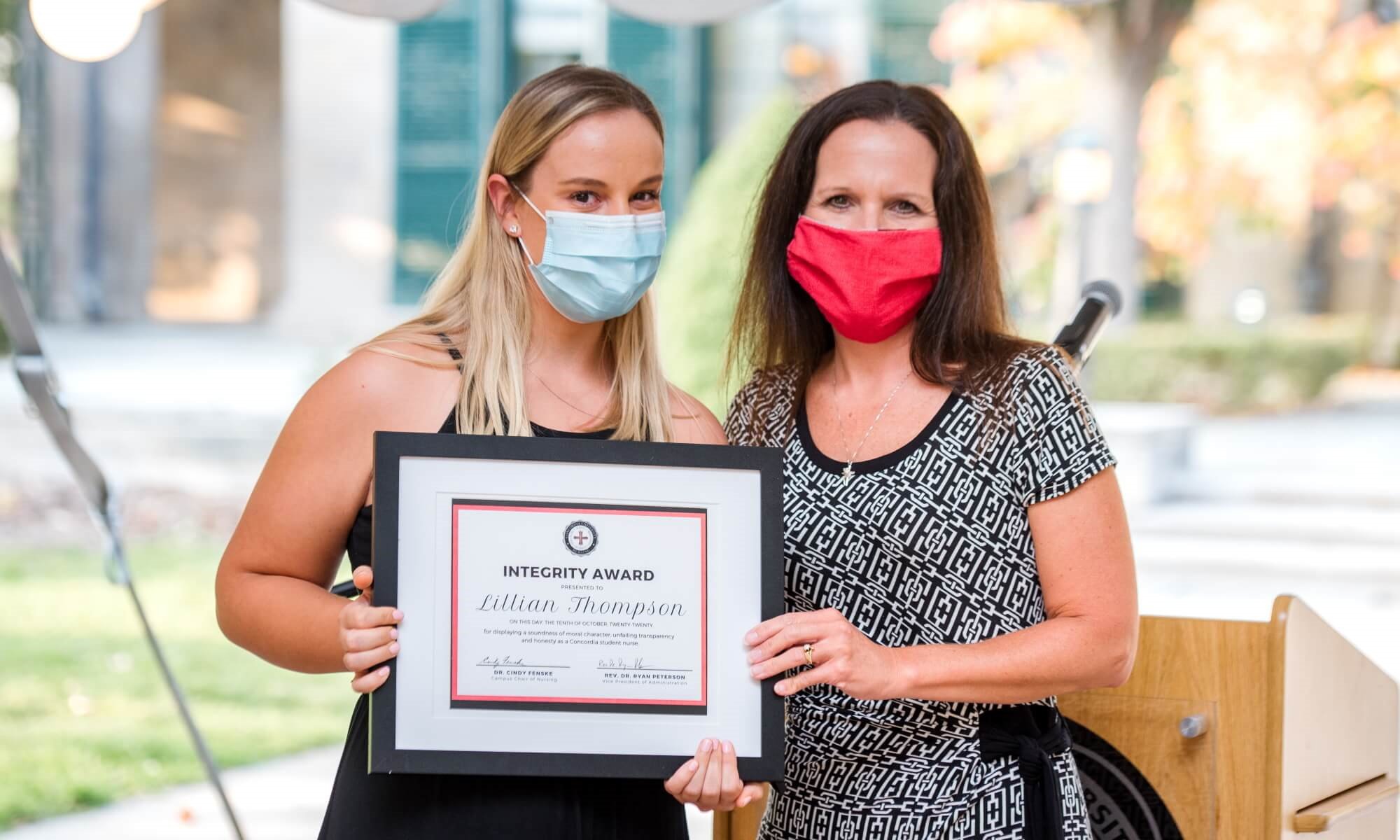 On Saturday, October 10, Concordia University Ann Arbor School of Nursing celebrated the Pinning Ceremony for the Omega Class, the fourth co-hort to graduate from CUAA's school of nursing.
---
Each semester, Concordia's nursing faculty and staff nominate students from the graduating cohort who best represent the core values of the nursing program: service, excellence, compassion, and integrity. An additional award, the Nightingale Award, was created as a tribute to Florence Nightingale who embodied nursing as her life's vocation. The recipient of this award exemplifies that same character and calling.
View all of the Omega class award winners.
Integrity Award: Lillian Thompson ('20)
Presented by Anita Simmons
The award I am giving today is for a graduate who exemplifies integrity. Integrity is defined as soundness of moral character, and adherence to ethical principles.  In the Bible, the book of Proverbs mentions integrity: "Whoever walks in integrity walks securely, but whoever takes crooked paths will be found out." (Proverbs, 10:9, GNB)
Integrity means doing the right thing even when it goes unnoticed, and is an attribute of great nurses. And so we expect Concordia nurses to display integrity: to be heartfelt and honorable.
I have had the privilege of working closely with the recipient of this award in many aspects of nursing school and her integrity has shown through in every setting.
As a nursing student, this graduate was always prepared, thorough, honest, and exemplary in her work. She was always engaged in class discussion and provided leadership to her peers.
As a student worker at the School of Nursing, this graduate not only got the job done, but did it well- and without prompting. She could always be depended upon without question for every detail to be on point. She also was a great mentor to new workers- showing patience and leadership.
As a Student Nurses' Association officer, this graduate was an integral catalyst to getting our SNA chapter here started. She was elected as an inaugural officer and, later, president. She led with integrity and put great effort into providing service to our nursing school and community.
As a person, this graduate always conveyed high morals in all her interactions. She is friendly, kind, caring, honest, positive, and genuine.
It is with pleasure that I present the Integrity award to Lillian Thompson.
Previous Integrity Awardees:
Susan Sielicki (Delta class, Fall 2019)
Paula Bobosky (Beta class, Spring 2019)
Turome "Tea" Chandler (Alpha class, Fall 2018)
Learn more about Concordia's School of Nursing.
— Rachel Thoms served on Concordia University's Strategic Communications team from 2015-2022. Any inquiries about this story can be sent to news@cuaa.edu.
If this story has inspired you, why not explore how you can help further Concordia's mission through giving.