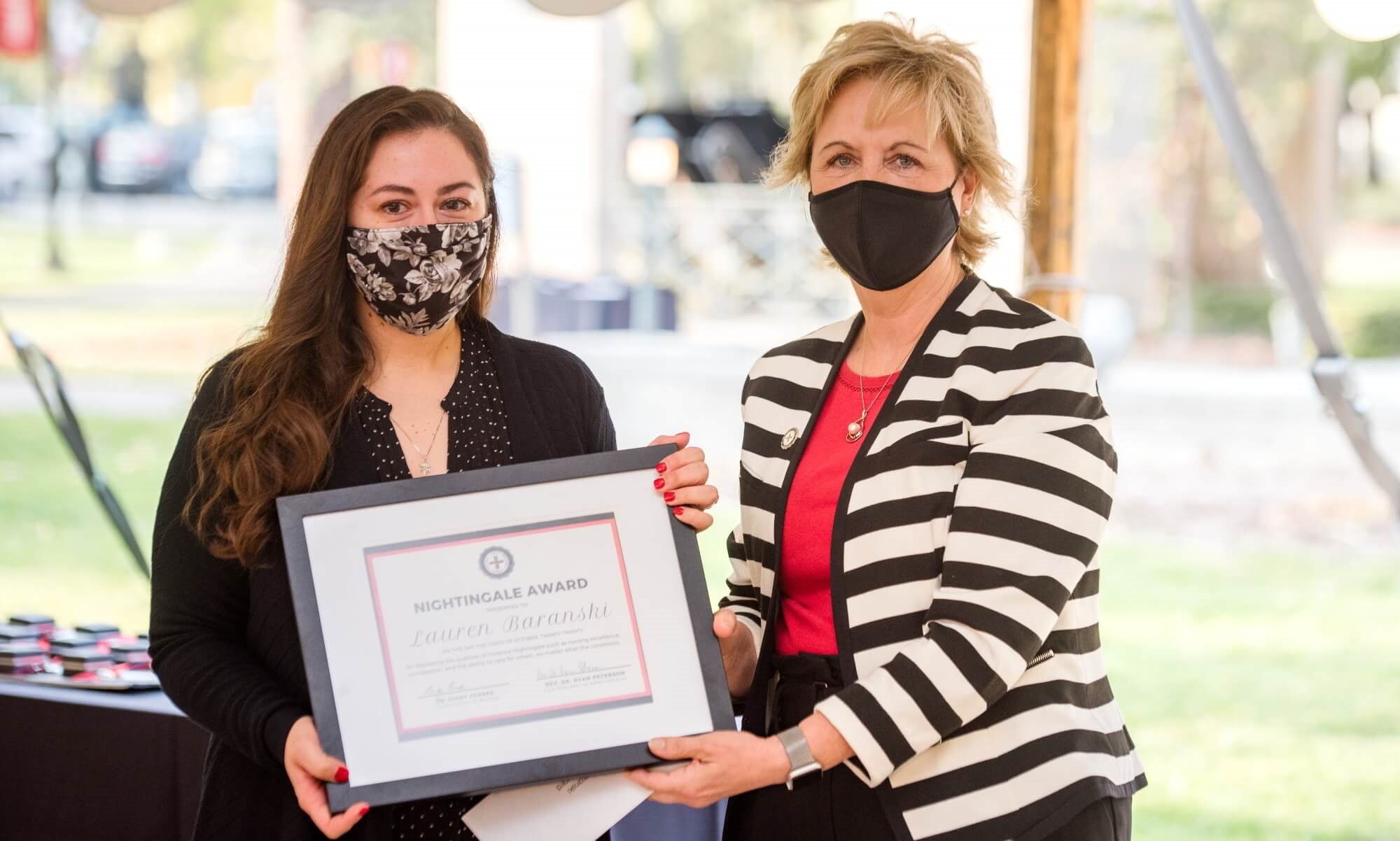 On Saturday, October 10, Concordia University Ann Arbor School of Nursing celebrated the Pinning Ceremony for the Omega Class, the fourth co-hort to graduate from CUAA's school of nursing.
---
Each semester, Concordia's nursing faculty and staff nominate students from the graduating cohort who best represent the core values of the nursing program: service, excellence, compassion, and integrity. An additional award, the Nightingale Award, was created as a tribute to Florence Nightingale who embodied nursing as her life's vocation. The recipient of this award exemplifies that same character and calling.
View all of the Omega class award winners.
The Nightingale Award: Lauren Baranski ('20)
Presented by Cindy Fenske
For the sick it is important to have the best. —Florence Nightingale
Florence Nightingale is an iconic figure who is responsible for the philosophy and underpinnings of modern day nursing. Prior to her, nursing was looked down upon as unimportant and was a low status job. Through her efforts, nursing was reborn into the trusted profession we know today. The name of Florence Nightingale is often associated with nursing excellence, compassion, service, and the ability to care for others no matter what the conditions. Florence Nightingale viewed nursing as her calling from God and gave her life and passion to the care of others. It is in her name that we give this award to a graduate who displays these same qualities.
The award this year goes to a graduate that showed a high level of accomplishment throughout their time at CUAA. This graduate embodies what it is to be a Concordia nurse. She exhibited an unwavering commitment to excellence in every course within the program.  She always came prepared to class, simulation and clinical and always participated to the fullest extent.  She was a hard worker who excelled in all of her classes.  She was a quiet leader, providing her classmates with much encouragement, support, and compassion, even in the midst of her own personal loss and grief.  Her patients were cared for with care and compassion, many commenting on her kindness towards them. Her preceptor in the MICU commented on her ability to effectively manage patients requiring complex thinking skills, as well as her ability to truly serve her patients.  She is a woman of integrity with a servant's heart.  The nursing team felt strongly that this person clearly represented the ideals that Florence Nightingale held so dear.
I proudly give this award to Lauren Baranski.
Previous Nightingale Awardees:
Hattie Thomas (Delta class, Fall 2019)
Caitlyn Freshour (Beta class, Spring 2019)
Samantha Southwell (Alpha class, Fall 2018)
Learn more about Concordia's School of Nursing.
— Rachel Thoms served on Concordia University's Strategic Communications team from 2015-2022. Any inquiries about this story can be sent to news@cuaa.edu.
If this story has inspired you, why not explore how you can help further Concordia's mission through giving.