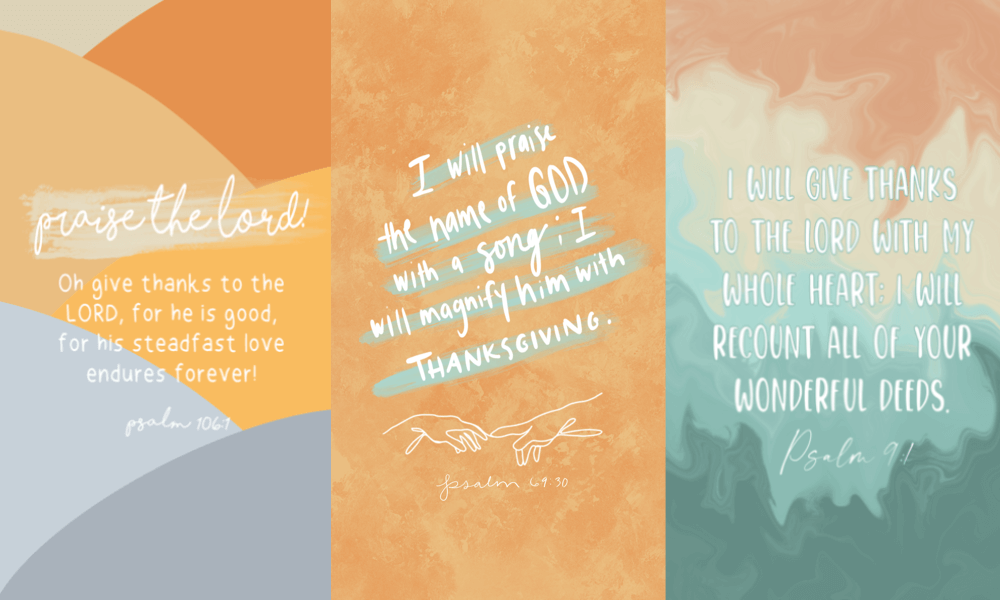 Thanksgiving season is a time of gratitude. Here are three phone backgrounds to help us remember to praise God for our blessings over this break!
---
Phone backgrounds illustrated by Concordia University Ann Arbor student Ellesyn Fritcha ('24)
Psalm 106:1
Praise the

Lord

! Oh give thanks to the

Lord

, for he is good, 

for his steadfast love endures forever!
Our Lord and Savior loves us endlessly and mercifully, and shows us His love on a daily basis. Say a quick prayer for His unwavering care for us!
Psalm 69:30
I will praise the name of God with a song; I will magnify him with thanksgiving.
The Word of God itself encourages us to give all our glory to our Father, even in song! Praise God this break by singing a hymn that reminds you of God's greatness!
Psalm 9:1
I will give thanks to the

Lord

with my whole heart;

 

I will recount all of your wonderful deeds.
Take some time out of your day to make a list of all the things you're grateful for. This verse can be a helpful reminder that there is so much to be thankful about!
---
Want more phone backgrounds?
We've got you covered. Here are four encouraging phone backgrounds with Bible verses to remind you of God's promises through the remainder of the semester.
— Ellesyn Fritcha ('24) is a student writer majoring in biomedical science. Questions or concerns related to this article may be directed to news@cuaa.edu.
If this story has inspired you, why not explore how you can help further Concordia's mission through giving.