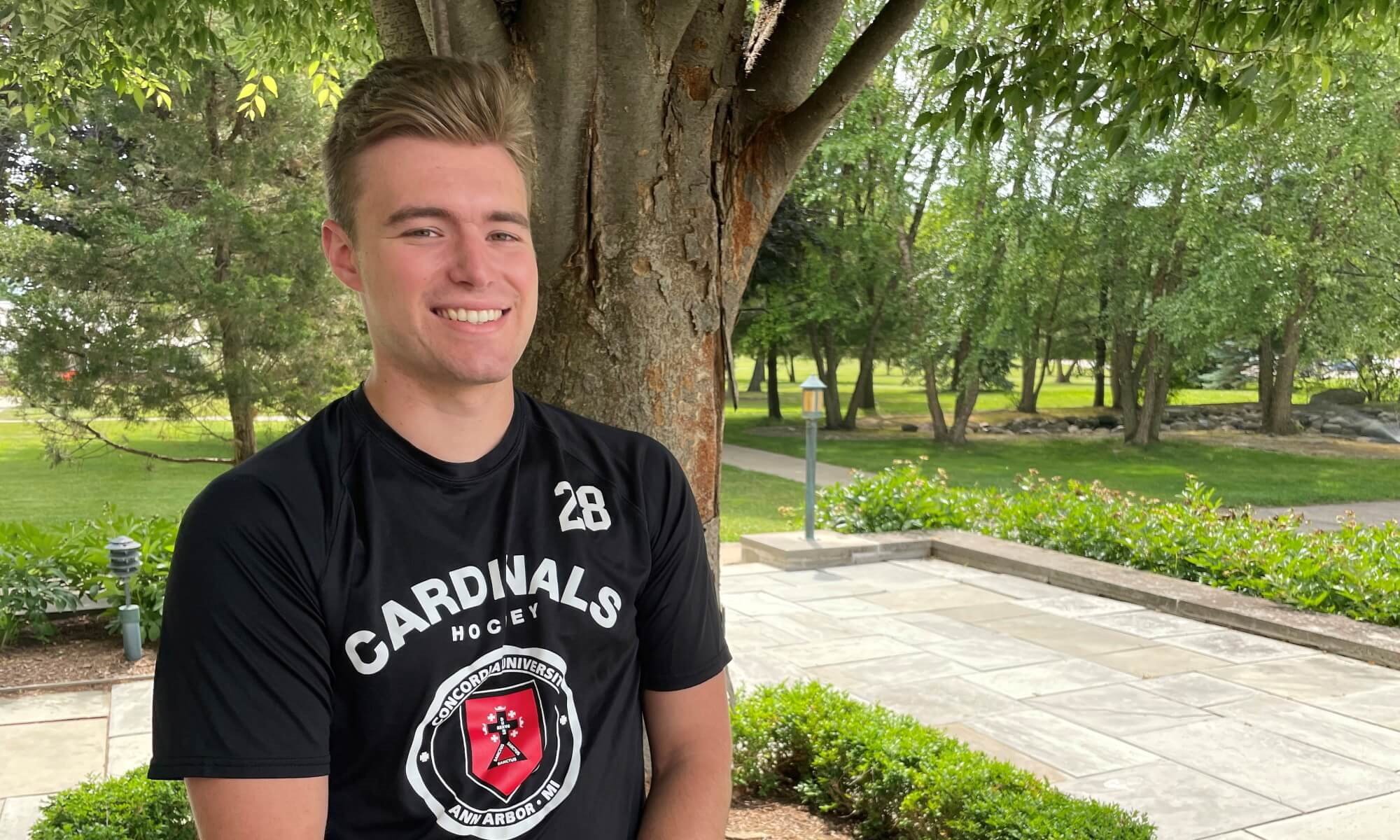 Meet Jacob Culp, one of the members of the inaugural cohort for the master's in digital humanities launching this fall. 
---
Concordia University Ann Arbor is pleased to be launching a new master's in digital humanities program this fall. Among those embarking on this new course of study is Jacob Culp ('21), a 2021 CUAA graduate of the mass communications program.
We asked him to tell us a little bit about himself and what he's looking forward to experiencing as things get underway in the fall.
What is your background? What led you to CUAA?
​I am from Oswego, Illinois, a suburban town about an hour west of Chicago. I grew up playing three sports, eventually focusing on hockey by the end of high school. Hockey ended up being the avenue that led me to discovering CUAA, as I was recruited to the hockey team for its inaugural class in 2018. After touring the school and the surrounding Ann Arbor area, I fell in love with it immediately. This past year, I completed my bachelor's degree in Mass Communications, which as a department is run by the brilliant Dr. Scott Chappuis (that program is in good hands for the future).
How would you define "digital humanities"?
​That can be somewhat difficult, but the best way I would describe digital humanities is the application of real-world concepts through the use of different mediums on digital platforms. In more basic terms, it could be described as taking what one has learned about a subject and applying that on a digital media stage so that it can be exposed to and understood by others.
RELATED: "What is digital humanities? Defining this emerging field"
What attracted you to this program? What are you most looking forward to learning?
​What attracted me most is the opportunity to grow in my skills in a media scope. Being a part of the Mass Communications program, I felt that my skills were developed sufficiently in analyzing and portraying content in media, but what this program provides is something I felt I was missing: skills for publishing content through different mediums. While I had experience in some mediums, like radio, this program offers the ability to grow my skills in things such as archiving, website design, coding, and countless other skills.
Did you look at other programs at other schools?
​Honestly, I did not, mainly because I enjoyed the experience that I had at Concordia for my undergrad and wanted to continue being within the community for sports, work, and simply just living.
Tell us about your graduate assistantship in the athletics department. Does that tie in with what you'll be studying?
​I will be a ​graduate assistant for the Sports Information Department at CUAA, and I could not be more excited! The assistantship essentially deals with all aspects of the Concordia Athletics gameday atmosphere, from working on online content to making graphics for social media, all the way to creating gameday programs for fan enjoyment. Generally, the work should tie in nicely to what I am studying, as I will be provided more opportunities to grow in my digital skills, not only in the classroom but also in my work.
RELATED: "What jobs can you get with a master's degree in Digital Humanities?"
Where are you hoping this degree will lead you? What are your career ambitions?
​That's a great question, coming from a Mass Communications bachelor's degree, my focus was already pretty broad. Adding digital humanities to my experience won't limit that in any way, as it will primarily expand my skillset for my career (hopefully). I would love to land somewhere in a journalism/media field, and ideally the skills I develop from this degree should assist me in fitting in a career that often requires having an expansive range of digital skills.
Is there anything else you'd like to share about yourself or your course of study?
​I am extremely excited to work with Dr. Erin Laverick and everyone else who will be guiding us throughout this program. It is very cool to be a part of the first-ever class for this program and look forward to the great things we can accomplish!
---
If you're interested in learning more about what it means to get a master's in digital humanities, you can check out our Digital Humanities 10-Minute Webinar.
—
If this story has inspired you, why not explore how you can help further Concordia's mission through giving.