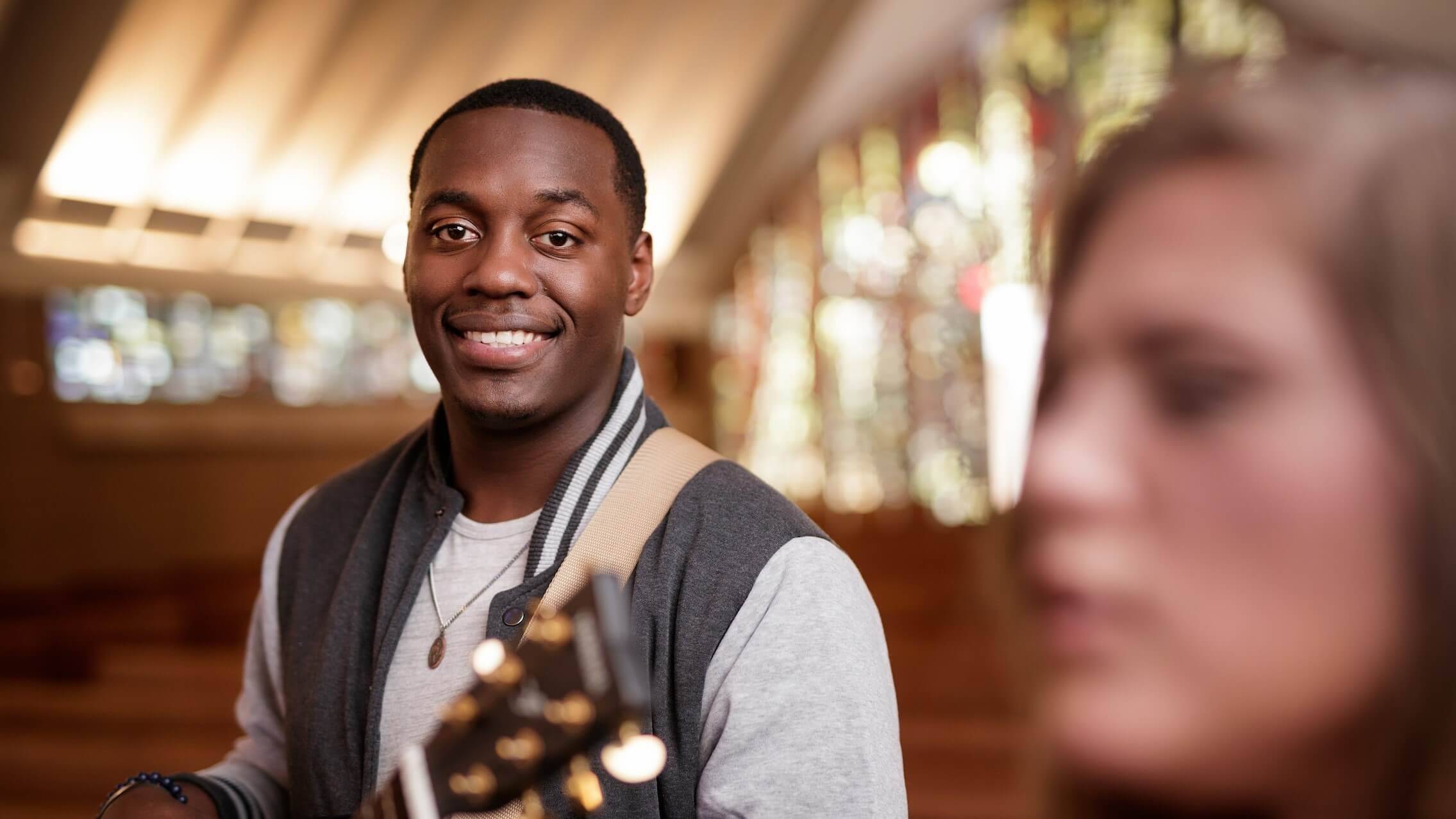 "My advice is to Concordia students is to seek God first. Seek the Kingdom first. See what He wants and use what you have with where you are to serve Him." —Julian Sykes ('21)
---
2021 December Commencement Student Speaker: Julian Sykes
Julian Sykes ('21) has a less-than-conventional path to graduation.
With determination, commitment to his community, and trust in God's plan for him, he will celebrate the completion of his degree at Concordia University Ann Arbor's December Commencement on Sunday, December 19.
Sykes—from Detroit, Michigan—will graduate with a bachelor of arts in family life ministry. Along with walking across the commencement stage, he has also been offered the opportunity to address his peers as the Commencement Student Speaker.
"My advice is to Concordia students is to seek God first. Seek the Kingdom first. See what He wants and use what you have with where you are to serve Him," said Sykes.
Finding a place that feels like home
With more than his fair share of institutional experiences, Sykes, 31-years-old, knows what it's like to find a university that finally feels like home. That's how he felt when he visited CUAA as a potential transfer student in 2017.
Sykes began his college experience pursuing his collegiate athletic career, playing basketball and football at Saginaw Valley State University, transferring to Roosevelt University to play basketball, and transferring again to Oakland University. It was there that Sykes' focus began to change to life after basketball, getting involved in ways he could live a life serving his community.
"I joined a Bible study, which is where I met my wife, and started getting involved in different ministries in local schools as well as prison ministries," said Sykes. "I started doing research on where I could study family life education to continue this passion that was stirring inside of me."
Life after basketball, pursuing his vocation in family life ministry
Sykes was originally planning to attend a different private institution in the state for his family life education when someone encouraged him to check out Concordia. He had never heard of Concordia at the time, but ironically had somehow already sent his FAFSA information to CUAA. He came to campus for a visit and tour, and that is when he knew.
He remembers meeting family life professors Dr. Josh Kittleman and Dr. Ben Freudenberg on his campus tour, and feeling a sense of belonging that he had been looking for.
"My Concordia experience has been great. All of the professors have been very hands-on, upfront, and honest, and I've learned a lot of life experience from them," said Sykes. "I've especially enjoyed getting to talk to Drs. Kittleman and Freudenberg about life as a man and a student, not just out lessons of a book but also real-life application."
Joining worship arts: Gaining confidence to lead worship
Sykes learned another real-life skill at Concordia that he wasn't necessarily seeking when he was encouraged to join the worship arts team. He had some experience in the background of worship ensembles as the son of a pastor, playing piano and drums and singing background.
"Being a part of the worship arts team helped me to build my confidence in leading worship. I had never done that before, and now it's a huge part of my life and my role at my church," said Sykes, who even released a worship single this year.
What's next?
When he's not leading worship at his church, pursuing his degree, or spending time with his wife, Sykes is investing in various community ministries. He's currently a student advocate and teaching assistant at a local school. He looks forward to having more time to commit to his community now that he has completed his degree.
"I just want to encourage everyone that my story is an example to stay the course, continue to be intentional with your time and energy as you work toward your goals," said Sykes. "I'm excited to celebrate with my family and hear my wife tell me, 'You did it, bunny!'"
---
Graduation information
Click here for all of the details for 2021 December Commencement on Sunday, December 19 or visit the Graduation information page.
Watch live! Commencement will be livestreamed beginning at 1:45 p.m. ET on Sunday, December 19. Click here to tune into the livestream.
— Rachel Thoms served on Concordia University's Strategic Communications team from 2015-2022. Any inquiries about this story can be sent to news@cuaa.edu.
If this story has inspired you, why not explore how you can help further Concordia's mission through giving.