2019 graduate Katie Ford Richards shares about her role as a labor & delivery nurse and why she chose a career in nursing.
---
Tell us a little about yourself. What is your current work position?
I am a mom of two. I have a 3-year-old boy, Greyson, and a 1-year-old girl, Kinsley. Greyson was born while in the middle of my nursing school career while I was here at Concordia. I happened to be in my OB clinicals when I had him. When I first found out I was pregnant, I was really nervous about being able to continue through school and have him.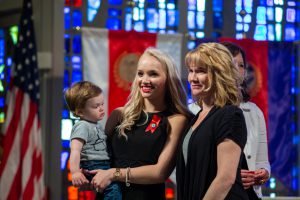 Concordia nursing is such a tight-knit family that after I told professors, I knew that it would all be okay. I had very understanding professors and many friends in the program that allowed the transition to motherhood and being a full-time student much easier than I thought it would.
I am proud to walk back through the doors of Concordia and know that my story is still shared with students. I'm glad I have been able to make such an impact and that my story lives on. After having Greyson and graduating from nursing school, I knew my career goal would be to be a labor and delivery nurse. I had such a great experience not only being a patient at St. Joe's, but also at Concordia in my labor and delivery rounds. These experiences made a huge impact on me.
I knew that I wanted to be able to do that for other women and make their delivery experience just as memorable as mine was. They always say you never forget your delivery nurse, and I believe that is true. A year ago in July, I was offered a labor and delivery nurse position at St. Joe's. I am so happy to have accepted that offer and to work where I do now.
Possible trigger warning: infant & pregnancy loss
Aside from this, I am also a photographer. I love being able to capture memories for people that will last a lifetime. In labor and delivery, we have bad times just as much as we have good times. Some moms come in don't get the chance to take their babies home with them. We have a wonderful program for these families that allows us take photographs of them with their baby for keepsakes to take home with them. I'm a part of this. It is so special to me to be able to capture these pictures. It gives these families a tangible object to actually see and hold their baby- even if it is just a picture.
Did you always know you wanted to be a nurse? What led you to this position in labor & delivery?
I always knew from a young age that I wanted to be a nurse.  I couldn't see myself doing anything else and that is still true to this day. Recently, someone asked me what I would do if I wasn't a nurse, and I didn't have a response for them. I know this is my purpose in life. I'm so thankful that at such a young age, I'm able to start fulfilling that. I didn't always know that I wanted to be a labor and delivery nurse, though. At first, I thought I wanted to be in pediatrics. My own experiences are what led me to labor and delivery. I'm thankful for that too.
Why did you choose Concordia University Ann Arbor for nursing school?
I chose CUAA because of the small campus. I loved that the nursing program was newer and that I would be among one of the first classes to go through the program. It was a learning experience for all of us on what would work and what wouldn't. I love my choice in CUAA and love that I am able to come back and help teach. It makes the circle complete for me. They say when you have children, it takes a village. My family, friends, and Concordia University is the village that made it possible.
Being a CUAA alumni isn't like being an alumni at any other school. At CUAA, you are still included in what's happening. Professors still frequently check in on us to see how we are doing and where we are at in our careers. I love that I am now able to come back and help teach about the wonderful job I get to do every day.
Did your education prepare you for the NCLEX?
Everyone at CUAA made the transition from nursing school to the NCLEX and getting a job as easy as they could. We took many preparation classes not only for the NCLEX, but also for writing a resume and getting a job. We had multiple opportunities to practice our test-taking and interview skills, so I felt well-prepared for both of these things.
If you could go back in time to when you were a nursing student, what advice would you give yourself?
If I could go back in time and tell myself something, I would continue to remind myself to take the chance. To believe in yourself. "You can't be the kid standing at the top of the water slide, overthinking it. You have to go down the chute."
What are your career goals?
My career goal is to continue learning everyday. There is always something new to learn, especially as a labor and delivery nurse. Also, maybe one day I will go back to school to be a certified nurse midwife.
Did Katie's story inspire you?
If you want to learn more about Concordia University's Ronald and Marvel Jones School of Nursing, visit us here.
— Vanessa Lane is the Content Marketing Lead at Concordia University and can be reached at vanessa.lane@cuaa.edu. When she's not at work, she can be found playing with her kids or watching NBA basketball with her husband.
If this story has inspired you, why not explore how you can help further Concordia's mission through giving.