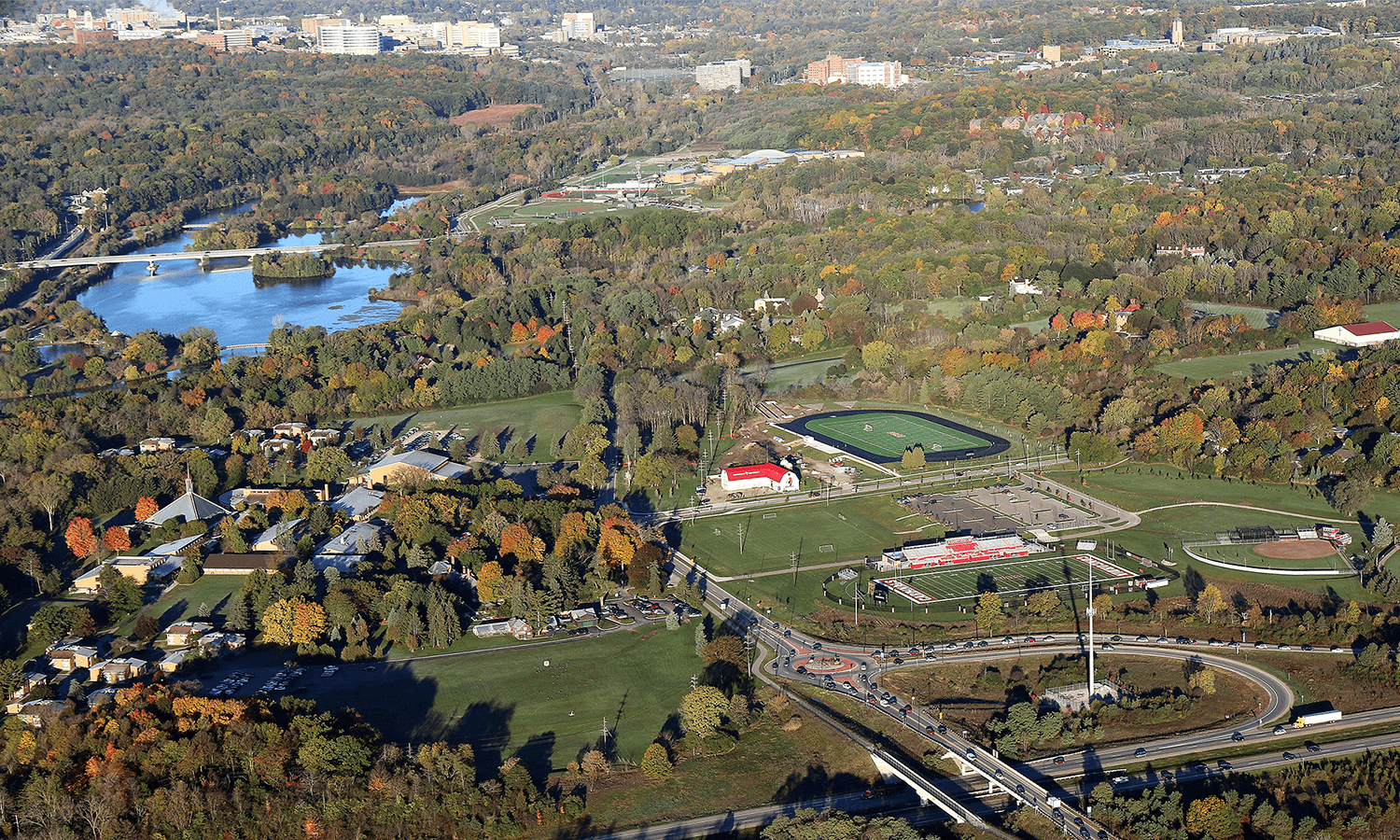 There's a lot to love about small colleges, but there's even more to love when your small college is in a big college town like Ann Arbor, Michigan.
---
Concordia University Ann Arbor is a small college in a big college town
Concordia University Ann Arbor is centrally located between two large universities – Eastern Michigan and the University of Michigan. No matter where you go, within a 5-minute drive of CUAA's campus, there's tons to do. You can always find a good place to eat, hang out, learn something new, take a hike or just relax.
#5 Close-knit campus with places to go
Oftentimes, smaller universities are located in places that may seem more isolated. At CUAA, we have a very different feel. Students are able to live in a close-knit community. Students see people they know and have relationships with on a daily basis. Finding a group, team, or ensemble where you feel you belong is not hard to do on Concordia's campus. However, there are still opportunities to go explore new places and step off campus, whenever the desire strikes.

#4 Off-campus learning experiences
As a graduating CUAA senior, I have thoroughly enjoyed having small class sizes for every single class that I have taken. That is just one perk of going to a small school. However, living so close to downtown Ann Arbor, students at CUAA are able to explore so much. Students often visit the libraries and museums that are scattered all over the city. Most of these options are free! I have been able to take advantage of these free resources on many occasions, especially when it came to taking art classes and being able to visit the University of Michigan Museum of Art (UMMA). 
#3 Endless food choices
People come to Ann Arbor, Michigan, from all over the world. Thankfully, these people often bring their delicious cuisines with them to share with us in Michigan! Whether you're hungry for Thai, Indian, Chinese, Japanese, Italian, Greek, Mediterranean, Mexican, American, or any other type of food, you can easily find it in Ann Arbor. This city is known for its celebration of cultures and heritages. One way we do that best is through food. A quick Google search can give you access to an entire world of food choices from everywhere you can imagine, and there are always new places opening.
#2 Church communities on every corner
While CUAA is a Lutheran university, that does not mean every student is Lutheran. There are over 100 churches of all denominations that are all located in Ann Arbor. As a small, Lutheran university located in a big college town, there is great diversity in the churches that are all within a 20 minute drive from campus. Worshipping on campus with the Concordia community is always a wonderful option for deepening your relationship with Christ and others, but there is a lot of joy that can be found in an off-campus church family. 

#1 Access to outdoor activities
CUAA sits on the Huron River, Gallup Park is only one mile down the road, and it's packed with kayaks, canoes, walking and biking trails for the community to enjoy. Gallup Park is one of 163 parks that are in Ann Arbor. The city is full of active individuals. In order to accommodate all the bikers, walkers, hikers and runners, Ann Arbor has paths and trails galore.
If you are the type of person that benefits greatly from personalized academic attention and a family on-campus feel but still wants the freedom to explore and discover new things off-campus, CUAA is where you need to be. We are a unique campus here at Concordia and we want you to be a part of it. Root yourself here on-campus and then grow in your faith, knowledge and love for discovery in the big college town our small college calls home.
Do you want to know more about life at a small college in a big college town?
If you want more information about Concordia University Ann Arbor, click here. You can request information or schedule a visit to see the perks of attending a small college in a big college town.
— This story is written by Allie Milot, social media manager for Concordia University Wisconsin and Ann Arbor. She may be reached at alexandria.milot@cuaa.edu or 734-995-7403.
If this story has inspired you, why not explore how you can help further Concordia's mission through giving.