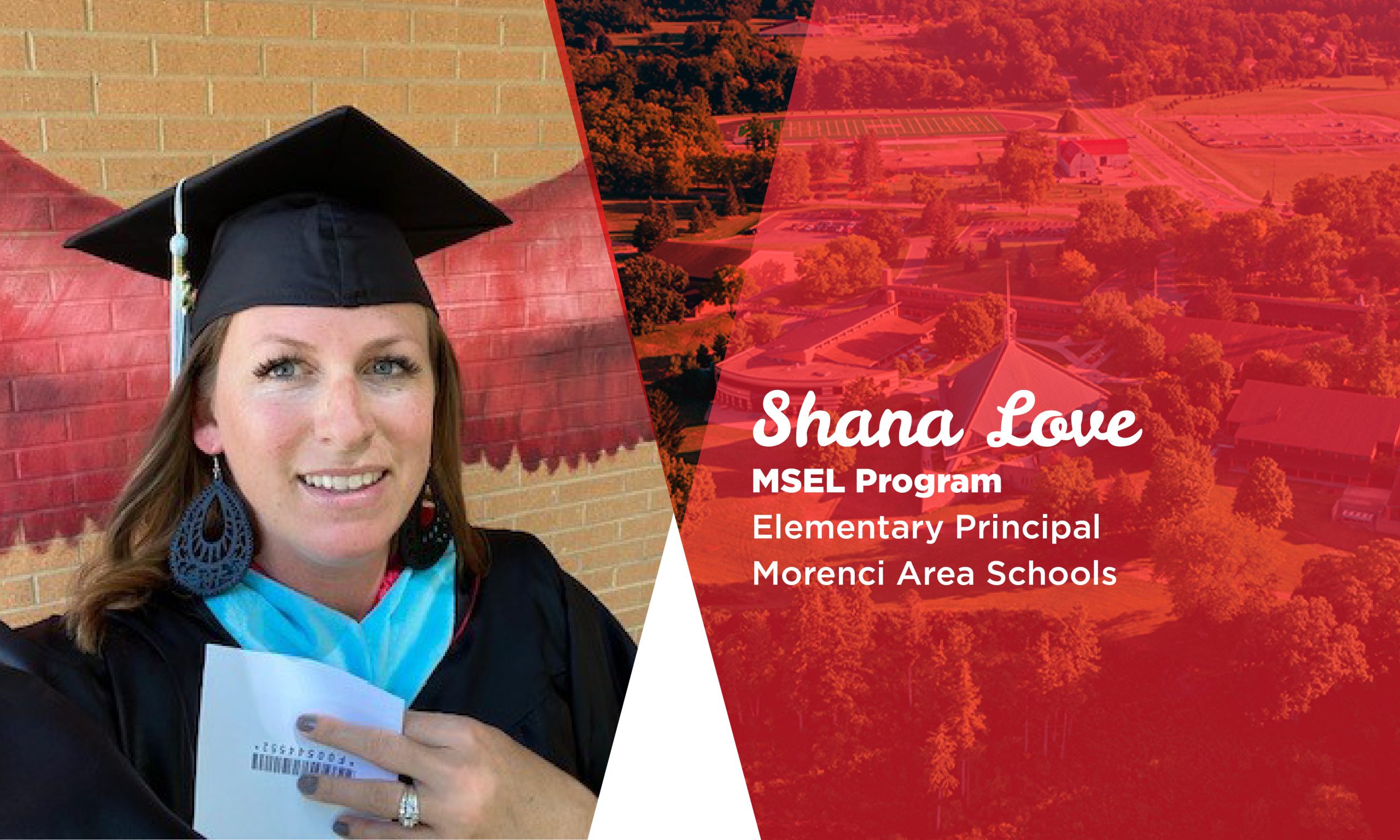 If you're interested in earning your master's in educational leadership, hear from recent graduate Shana Love about her experience in the program.
---
Earn your master's in educational leadership
Concordia University Ann Arbor offers an exceptional online master's in educational leadership. You'll gain a deeper understanding of the fundamental principles of educational leadership. Recent graduate Shana Love is from Morenci Area School District in Morenci, MI. She shared about her experience in Concordia's master's in educational leadership program. Check it out below.
Tell us about yourself.
I'm a wife, mother of three, and third-year principal at Morenci Elementary School. I enjoy watching sports, traveling, reading, and cooking. My favorite place to be is the beach. Our family is very active in sports, as my husband is a high school football and basketball coach. We both coach many of the teams for which our kids play. If you can't find us at home or on the beach, check a ball field or court!
Initially, to start my career, I taught and coached at a local elementary school for ten years. After that, I moved into the role of literacy coach and Title I Director at a nearby district. But, after three years, I ended up being the interim principal. Shortly after that time, I was approached by my home district to become the elementary principal, and that is where I currently serve. It has been a joy to lead in the district that helped shape me as a child.
What inspired you to pursue the MSEL program?
Currently, I'm in my third year as elementary principal at Morenci Elementary School (MES.) I've always wanted to earn my master's degree and lead as a principal for many years. But, I put that goal to the side while my children were quite young. Once I was approached about the position at MES, I knew that I just had to go for it and not put it off any longer.
RELATED: Find out what inspired Chris Brune to earn his master's in educational leadership.
How has the MSEL program helped you in your current position?
Overall, the MSEL program has definitely helped me in my current position. As a student currently working in the field, I've been learning on the job. My classes have helped me to grow and develop into a stronger leader.
What drew you to Concordia for graduate education?
Concordia drew me in because of the inclusion of faith in my education. I appreciate the way that the professors weave opportunities for students to reflect and grow not only in our educational leadership, but in our faith as well.
What is one piece of advice you'd give to someone who is unsure about enrolling in the MSEL program?
Do it! You won't regret it. There are the most supportive professors and you will learn so much along the journey.
Do you want to know more?
Our online master's in educational leadership will give you an understanding of the fundamental principles of educational leadership. Further, you'll explore the legal, ethical, and spiritual issues arising in today's school environments. Additionally, you'll learn about policies and regulations so that you can navigate the educational structure and system. Some of the topics you'll cover include student rights, liability, negligence, and disciplinary policies.
Also, you'll grow as a decision-maker and in your organizational development skills. Our educational leadership master's will help you prepare to lead improvement initiatives within your school or district. Are interested in a path of elementary, middle, or high school administration? No matter where you want to lead, we offer more than just an advanced administrative degree. Finally, at Concordia, we are dedicated to your intellectual, social, and spiritual growth.
— Vanessa Lane is the Content Marketing Lead at Concordia University and can be reached at vanessa.lane@cuaa.edu. When she's not at work, she can be found playing with her kids or watching NBA basketball with her husband.
If this story has inspired you, why not explore how you can help further Concordia's mission through giving.