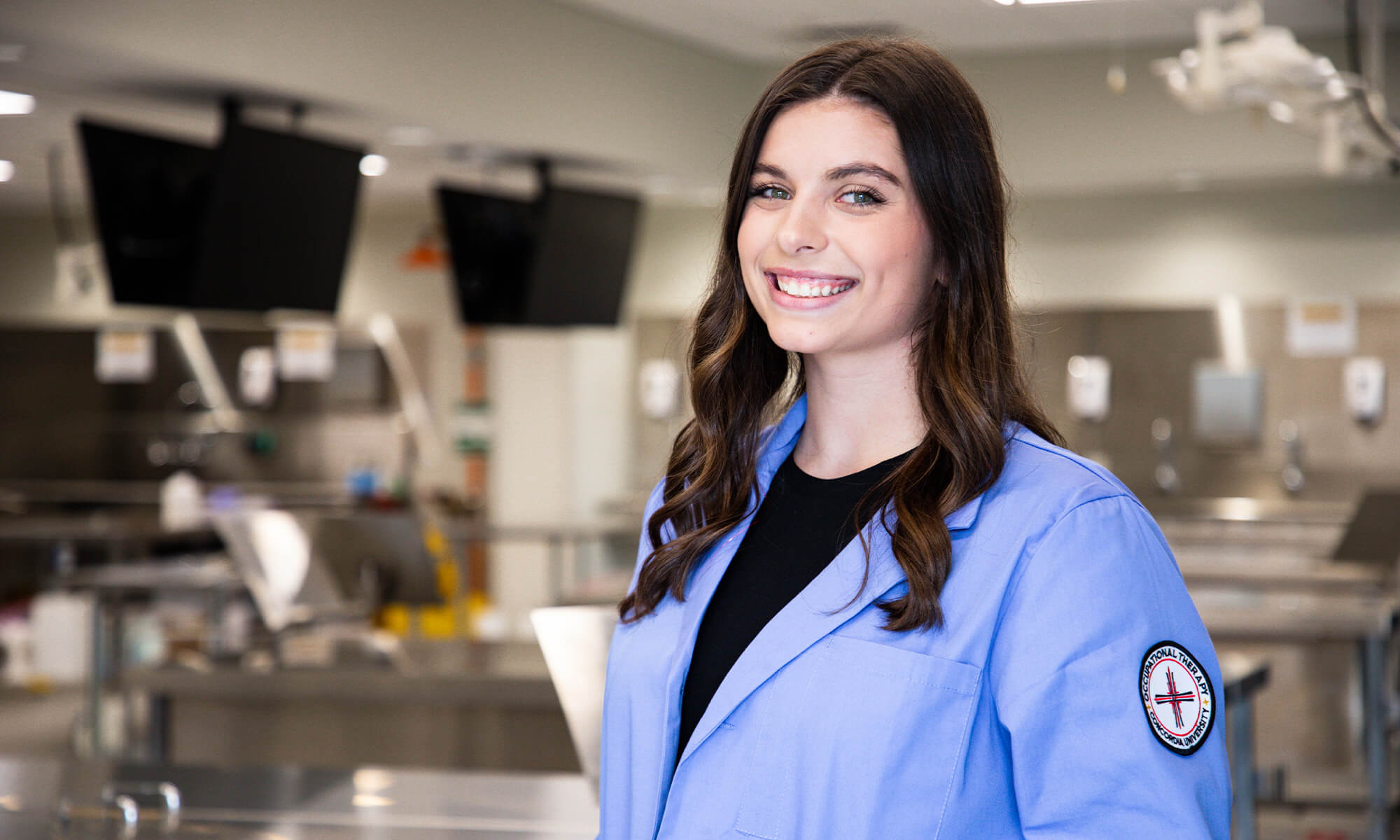 ---
Congratulations to December student of the month, McKenzie Peters!
---
McKenzie Peters was not only nominated by a single faculty member, she was nominated by four of her professors!
Faculty nomination #1: "McKenzie Peters is an exemplary student. She was the first CUAA student to earn a guaranteed spot in the combined undergrad-graduate occupational therapy program. She is holding her own in a cohort where she is the only undergraduate student. She manages an extremely busy schedule with her volleyball schedule while still maintaining excellent grades. She is always professional and personable."
Faculty nomination #2: "She is maintaining a high academic and athletic performance level. She is excelling in a very demanding program while also maintaining the balance required of a college athlete."
Faculty nomination #3: "McKenzie Peters is always eager to learn and demonstrates a great deal of respect for her classmates and teachers. She is very responsible and consistently puts forth her best effort to succeed academically. Her teachers and fellow students appreciate her positive attitude and consideration for others. She displays excellent citizenship by her willingness to help fellow classmates and displays leadership in integrity. Aside from being a leader in the classroom, McKenzie also plays volleyball for Concordia University where she consistently motivates her teammates in order to yield productive/positive results. Having a distinct voice among the crowd without being hesitant is a sign of a great student and a future leader. Being positive, helpful, cooperative and friendly are all traits that McKenzie possesses. It is a pleasure to recognize McKenzie as student of the month."
Faculty nomination #4: "McKenzie Peters is an exemplary student. As an undergraduate student in a graduate program, McKenzie balances being a new graduate student, being a student athlete, and her personal life better than most adults can, all while maintaining a high GPA. She is kind, empathetic, and eager to learn. McKenzie is always mature and professional in her behavior and presentation. When she faces challenging times, she focuses on her faith, takes time to care for herself, and knows how to re-center herself. McKenzie is always happy to help others and truly has a servants heart. It is a blessing and a pleasure to have her as a part of our cohort."
---
Major
Occupational Therapy Doctorate
Graduation Year
May 2025
Hometown
Monroe, MI
Clubs or extracurricular involvement?
I am a member of Concordia's volleyball team.
What is your favorite CUAA pastime?
My favorite CUAA past time is attending different athletic events and supporting my fellow athletes.
Favorite spot on campus?
My favorite spot on campus is the gym! It's where I get to play the sport I love with some of my closest friends!
What's one of your goals for 2022?
One of my goals for 2022 was to intentionally make time for myself amid my athletic season while meeting the demands of a doctoral program.
What would you share with prospective students who are considering attending CUAA?
To students considering attending CUAA, I would say do it! It's a small campus filled with faculty and peers who are here to support you through every step of your collegiate journey.
---
Want in?
At CUAA, we prepare uncommon OTs who are ready to serve their communities and clients. Click the link below to learn more about our Occupational Therapy Doctorate program.
---