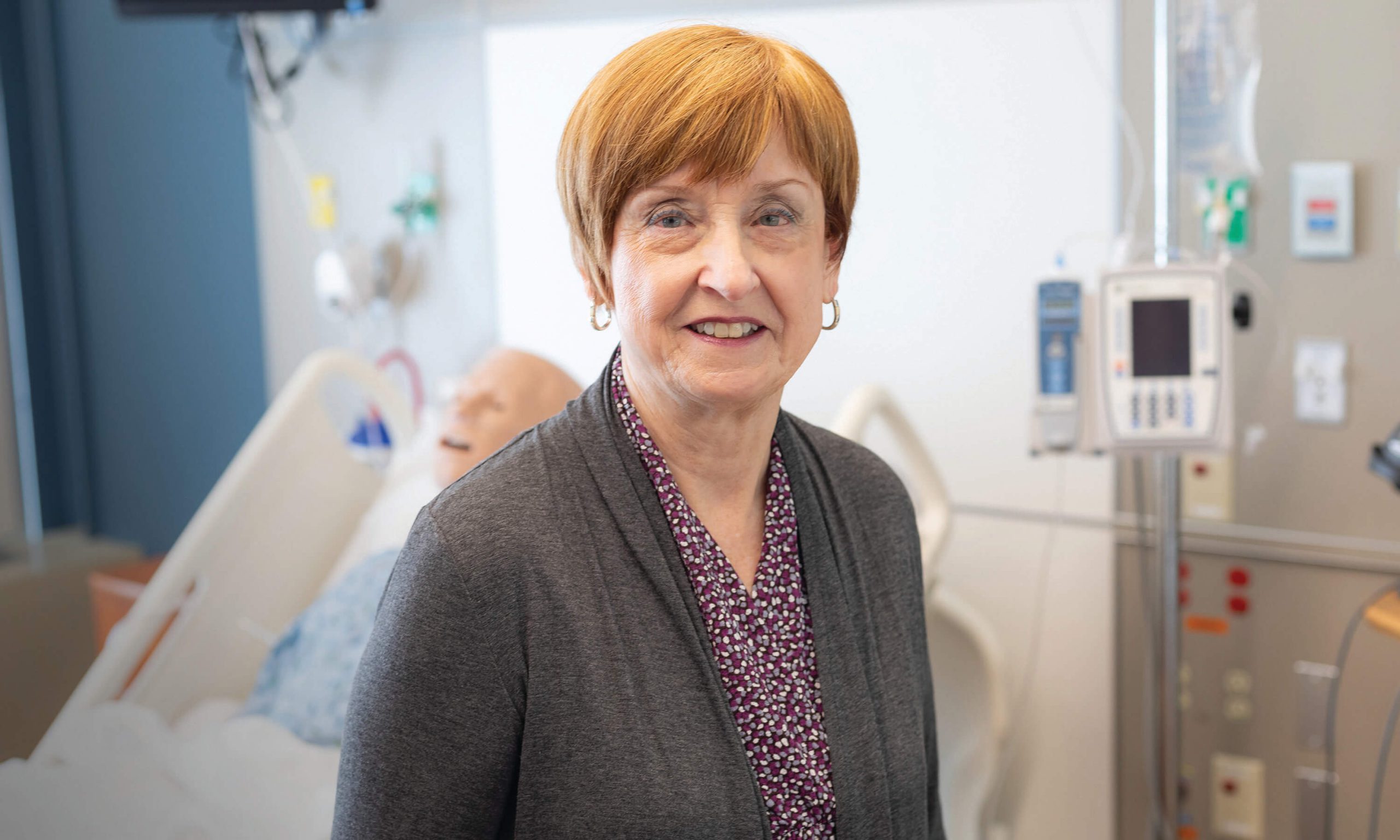 This story first appeared in the spring 2020 issue of the Arbor Light, the official magazine of Concordia University Ann Arbor.
---
Catherine Bolzman Lick ('68) has been around CUAA since its beginning: as one of the thousands in attendance at the cornerstone laying for The Chapel of the Holy Trinity in 1962, in fact.
Decades after earning her associate degree in 1968, she remains just as invested in the institution, passing on the gift of a CUAA education to others by creating an endowment for nursing scholarships.
Even though she graduated from Concordia with a theology degree, Concordia also helped awaken in her a love for science through courses offered by Dr. Wilbur Rusch.
"I had many talks with God out there on chapel point, overlooking the Huron River," said Lick. "I wasn't sure the direction He was leading me, but when I was there in His presence I felt a sense of peace."
While Lick was uncertain where her education would lead, she can look back today and recount the ways that God so beautifully orchestrated her career.
Lick went on to earn her bachelor's degree in nursing and then was commissioned as a second lieutenant in the U.S. Air Force, where she served as a nurse for five years on active duty. She then served 25 years in the Air Force Reserve, ultimately retiring in 2002 at the rank of colonel.
While in the Reserve, Lick was nurse recruiter for the Air Force in Mount Clemons, Michigan. She continued her education, earning a master's degree from Wayne State University, and together with her husband celebrated the birth of two children. In the early '90s, the Reserve didn't offer support to the families of over 200 deployed military members in her unit. So Lick created resources and services for familial support for her entire unit, later earning her the CUAA Alumna of the Year award in 1996.
Lick's theology background, combined with her nursing acumen, later blossomed into a vocation as a parish nurse, a career she didn't even know existed until she saw an article fora parish nursing retreat in an LCMS Michigan District publication.
"The spiritual aspects of care are so central in parish nursing," Lick said. "God knew that my theology background would prepare me for the many difficult situations I encountered when ministering to parishioners."
When Lick learned that Concordia would launch a School of Nursing in 2016, she was thrilled. She first toured the nursing program's home during her 50th class reunion. She has returned more times since, connecting with Dean Fenske, checking out ever-expanding new technologies, and observing cutting-edge class simulations and teaching methods.
"I pray that the light of Christ would shine through the Concordia nursing students in their work and that their faith is the motivation for their profession—that they don't see it as just a job, but as a ministry."
Learn more about Concordia's School of Nursing at cuaa.edu/nursing.
—The spring 2020 Arbor Light hit mailboxes the beginning of October. View a PDF version of the magazine here. If you are not on our mailing list, but are interested in receiving a free copy, email Jennifer.Hackmann@cuaa.edu.
— Rachel Thoms served on Concordia University's Strategic Communications team from 2015-2022. Any inquiries about this story can be sent to news@cuaa.edu.
If this story has inspired you, why not explore how you can help further Concordia's mission through giving.