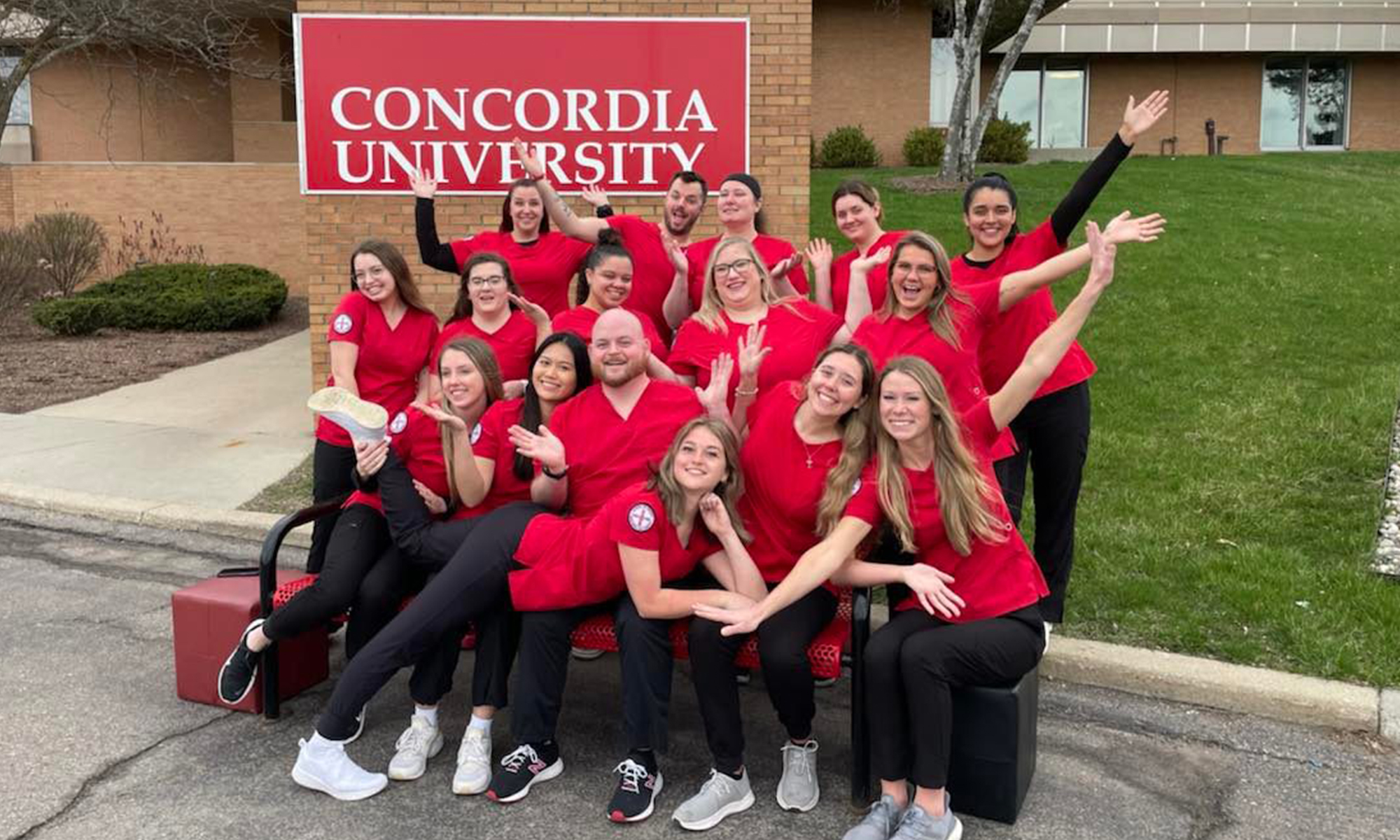 On Saturday, May 14, Concordia University Ann Arbor Ronald and Marvel Jones School of Nursing celebrated the Pinning Ceremony for the Eta Class, the eighth cohort to graduate from CUAA's bachelor of science in nursing program.
---
The Eta Class pinning ceremony was celebrated in The Chapel of the Holy Trinity at Concordia University Ann Arbor.
In addition to the pinning ceremony, the Eta class will celebrate the completion of their degree with a commencement ceremony on Sunday, May 15 at 2 p.m. ET.
Each semester, Concordia's nursing faculty and staff nominate students from the graduating cohort who best represent the core values of the nursing program: service, excellence, compassion, and integrity. An additional award, the Nightingale Award, was created as a tribute to Florence Nightingale who embodied nursing as her life's vocation. The recipient of this award exemplifies that same character and calling.
Compassion Award
Maria Esquivel
Compassion: Sympathy and concern for the sufferings of others. Maria Esquivel had shown this virtue repeatedly. She completed her preceptorship in downtown Detroit serving people experiencing homelessness, victims of sex trafficking and veterans.  Her nurse preceptor raved about her, and he is a tough one to impress… She cared for all people with love and compassion. She set out to learn all the resources that were available and provide people with the best care and education that she could. Esquivel's depth of compassion, built by her family, community, culture, education, and hopefully her experiences here at Concordia will no doubt change many lives for the better.
---
Service Award
Alexis Bailey
Service is one of our program's cornerstone virtues.  It is defined simply as the act of doing something for someone else without the expectation of being rewarded. Bailey has achieved the platinum (or highest) level NEP award each of the 6 semesters of the Concordia Nursing School program. She has volunteered a total of 123.5 hours doing various service activities in her community. One of Concordia Nursing School faculty states "She serves with such JOY it is infectious. 'Her compassion overflows to those around her.'"
---
Integrity Award
Mariah Barcus
Nursing has been ranked the most trusted profession time and time again. One of the tenants of nursing that makes the profession so trusted is integrity. Integrity means being dependable and following through on commitments. Integrity also means being open and honest while communicating with others. Finally, integrity means holding yourself accountable and owning up to your shortcomings. Mariah Barcus has exerted these qualities and so much more throughout her time at Concordia.
---
Excellence Award
Jillian Kleismit
What does it mean to be excellent? Excellence is defined as the demonstration of actions and character that show merit or greatness that are above the expected level; to be distinct, to display greatness. Excellence is one of our program's cornerstone virtues. Our excellence award is for a nursing student who demonstrates advanced problem-solving skills in theory and clinical practicum courses, as well as a commitment to success in complex situations. This student displayed unbreakable positive energy during difficult & challenging times. She was also known to keep the boat sturdy when weathering the many storms in nursing school and in dynamic and stressful clinical.
---
The Nightingale Award
Hannah Rumsey
"For the sick, it is important to have the best" ~Florence Nightingale
Hannah is passionate about nursing and unafraid to step up and do what needs to be done. Without hesitation, she took over running a simulated code with junior-level students when the instructor had to leave to deal with an emergency. She handled the situation with both grace and excellence. She has a heart for the vulnerable. She has been seen acting as a strong advocate on their behalf. The nursing team felt strongly that this person clearly represented the ideals that Florence Nightingale held so dear.
---
View more Ronald and Marvel Jones School of Nursing senior award recipients
Alpha Class (Fall 2018)
Beta Class (Spring 2019)
Delta Class (Fall 2019)
Omega Class (Spring 2020)
Zeta Class (Fall 2020)
Gamma Class (Spring 2021)
Epsilon Class (Fall 2021)
— This story is written by Allie Milot, social media manager for Concordia University Wisconsin and Ann Arbor. She may be reached at alexandria.milot@cuaa.edu or 734-995-7403.
If this story has inspired you, why not explore how you can help further Concordia's mission through giving.