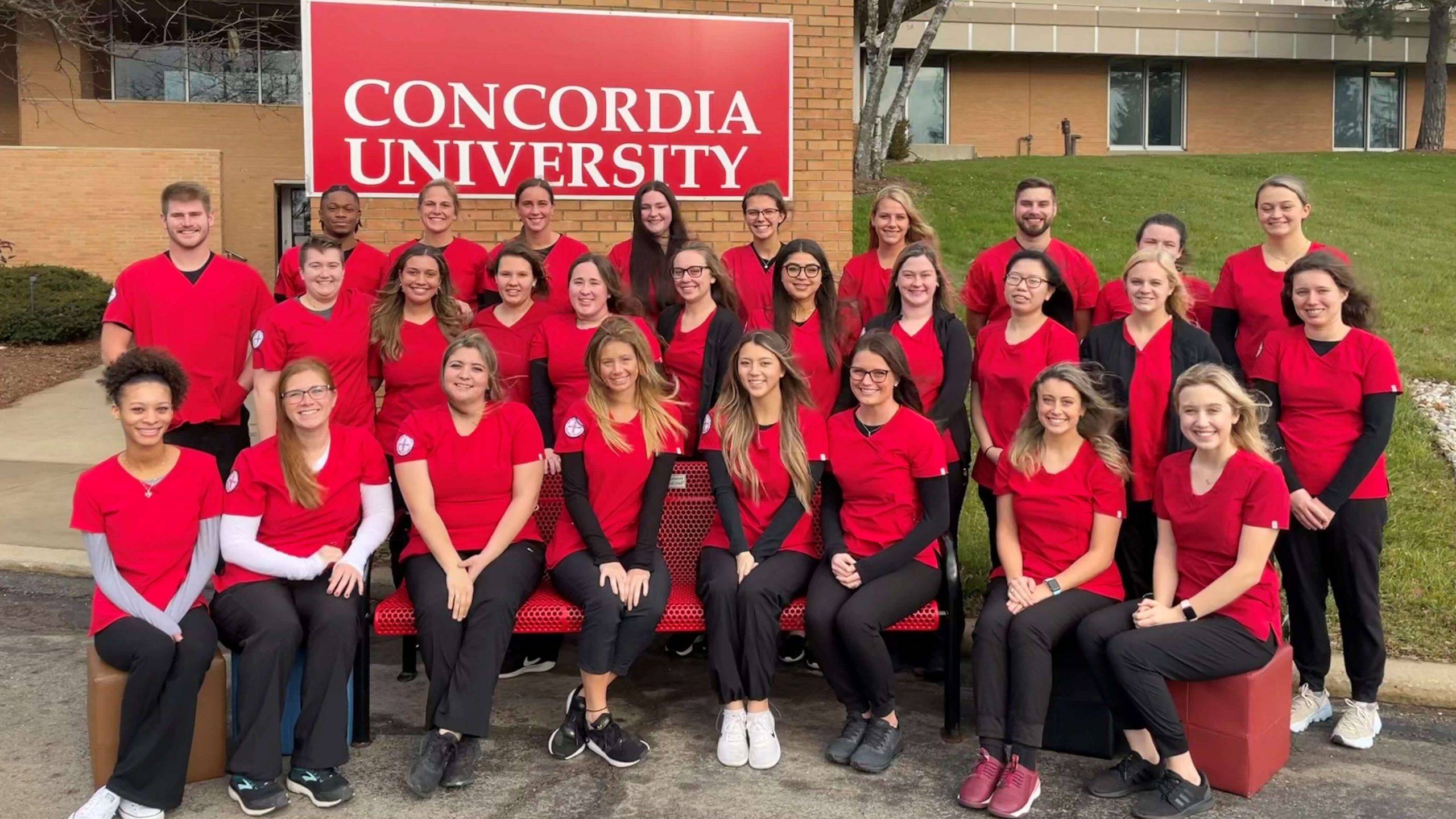 On Saturday, December 18, Concordia University Ann Arbor Ronald and Marvel Jones School of Nursing celebrated the Pinning Ceremony for the Epsilon Class, the seventh cohort to graduate from CUAA's bachelor of science in nursing program.
---
The Epsilon Class pinning ceremony was celebrated in The Chapel of the Holy Trinity at Concordia University Ann Arbor.
In addition to the pinning ceremony, the Epsilon class will celebrate the completion of their degree with an in-person commencement ceremony on Sunday, December 19 at at 2 p.m.
Each semester, Concordia's nursing faculty and staff nominate students from the graduating cohort who best represent the core values of the nursing program: service, excellence, compassion, and integrity. An additional award, the Nightingale Award, was created as a tribute to Florence Nightingale who embodied nursing as her life's vocation. The recipient of this award exemplifies that same character and calling.
Compassion Award
Bernard Kasanda ('21)
"…This student has shown brotherly love to his fellow students by being supportive, encouraging, and just a pleasant guy to be around…"
---
Service Award
Tyler Prihoda ('21)
"…The student we are recognizing today has achieved the platinum level nurse excellence points award for 2 semesters. Furthermore, this student is also caring and service oriented towards animals…"
---
Integrity Award
Emma Lariviere ('21)
"…I have full confidence that this young lady will do what needs to be done. She will do the right thing, the right way, regardless of how difficult or uncomfortable…"
---
Excellence Award
Grace Krawczyk ('21)
"…It has been said of this graduate that she ALWAYS maintains a positive outlook.  She keeps a quiet calmness about her in all situations. She is eager to learn and then applies her knowledge through critical thinking in her actions…"
---
The Nightingale Award
Allison Garstecki ('21)
Presented by Cindy Fenske: "For the sick it is important to have the best. -Florence Nightingale
Florence Nightingale is an iconic figure who is responsible for the philosophy and underpinnings of modern day nursing. Prior to her, nursing was looked down upon as unimportant and as a low status job. Through her efforts, nursing was reborn into the trusted profession we know today…"
---
View more Ronald and Marvel Jones School of Nursing senior award recipients
Alpha Class (Fall 2018)
Beta Class (Spring 2019)
Delta Class (Fall 2019)
Omega Class (Spring 2020)
Zeta Class (Fall 2020)
Gamma Class (Spring 2021)
---
Learn more about Concordia University Ann Arbor's Ronald and Marvel Jones School of Nursing.
—
If this story has inspired you, why not explore how you can help further Concordia's mission through giving.