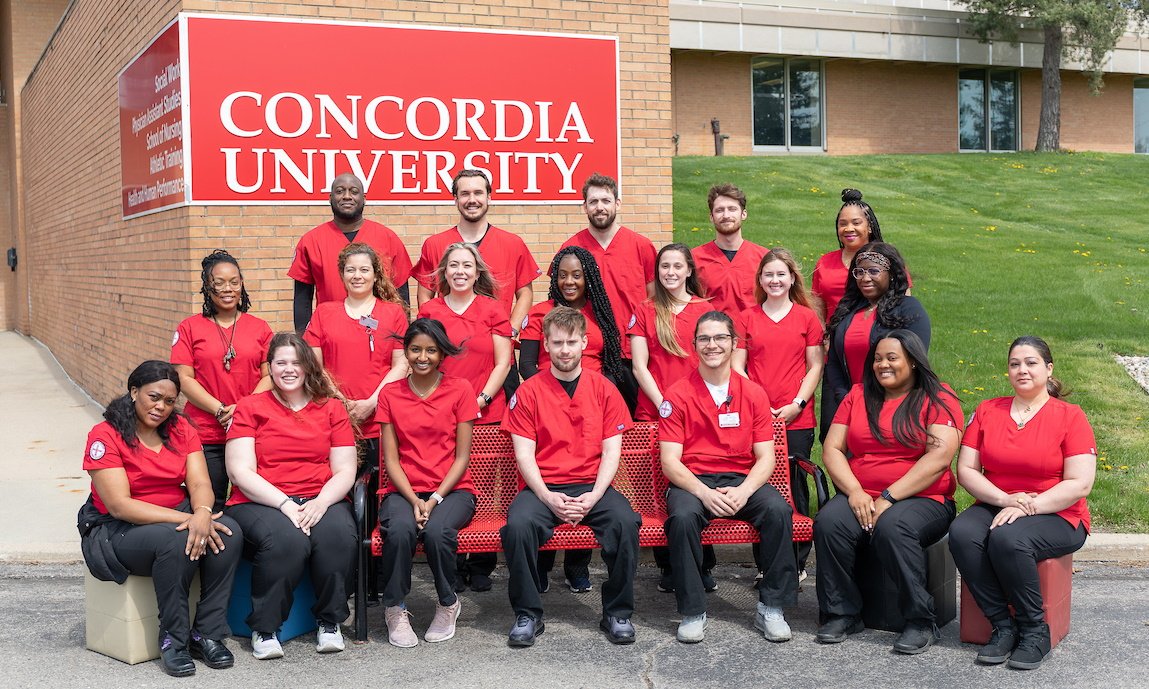 On Saturday, May 8, Concordia University Ann Arbor Ronald and Marvel Jones School of Nursing celebrated the Pinning Ceremony for the Gamma Class, the sixth cohort to graduate from CUAA's bachelor of science in nursing program.
---
The Gamma Class pinning ceremony was celebrated in the Earhart Manor Tent on the campus of Concordia University Ann Arbor. Nursing graduates sat in pods with their families around the outdoor tables.
"I want to wish heartfelt congratulations to these graduates. They have worked extremely hard to be here today. Despite the challenges of the last couple of years, these graduates persevered," said Dr. Cindy Fenske, director of CUAA's nursing program. "I know God used this time to prepare each of these graduates for what he has in store for them in the future."
In addition to the pinning ceremony, the Gamma class will celebrate the completion of their degree with an in-person commencement ceremony on Sunday, May 9 at either 1 p.m. ET or 4 p.m. ET.
Each semester, Concordia's nursing faculty and staff nominate students from the graduating cohort who best represent the core values of the nursing program: service, excellence, compassion, and integrity. An additional award, the Nightingale Award, was created as a tribute to Florence Nightingale who embodied nursing as her life's vocation. The recipient of this award exemplifies that same character and calling.
Compassion Award
Rachel Johnstone ('21)
Presented by Betsy Cambridge: "The student who will be honored today did not need a lot of teaching or coaching in this area. I believe that compassion is just part of who she is. This student has shown compassion in many different ways during her tenure at Concordia School of Nursing. We have seen her kindness toward other students, faculty and staff. I have even seen this student's compassion toward simulated patient manikins while caring for, treating and educating them in the simulation center!…"
---
Service Award
Jakara Ventour ('21)
Presented by Kathie Pereira: "…Being a registered nurse will provide her family with a solid income, but it will provide her with something much more. This student went to nursing school to make a difference in her community. She has an ingrained sense of obligation to her community…"
---
Integrity Award
Ryan Fish ('21)
Presented by Kathleen Sheehan: "There are two parts to integrity: Part one, is internal, it's about being true to yourself and would do nothing that demeans or dishonors you. Part two, is external, what others see you do. True integrity integrates both.  The only way you know if someone possesses this is to watch them over time.  We have had almost three years to observe this student…"
---
Excellence Award
Samantha Golchuk ('21)
Presented by Peggy McLaughlin: "…From the Biblical standpoint, excellence is a mindset.  For Concordia Nursing, excellence—combining grit, wisdom, and kindness—persists in the very best  nurses.  And so, we expect Concordia nurses to display these aspects of excellence.  One student, though, has scored a hat trick as she's gone about her Concordia experience with relentless grit, and wisdom and kindness…"
---
The Nightingale Award
Sophia Bell ('21)
Presented by Cindy Fenske: "For the sick it is important to have the best. -Florence Nightingale
Florence Nightingale is an iconic figure who is responsible for the philosophy and underpinnings of modern day nursing. Prior to her, nursing was looked down upon as unimportant and as a low status job. Through her efforts, nursing was reborn into the trusted profession we know today…"
---
View more Ronald and Marvel Jones School of Nursing senior award recipients
Alpha Class (Fall 2018)
Beta Class (Spring 2019)
Delta Class (Fall 2019)
Omega Class (Spring 2020)
Zeta Class (Fall 2020)
---
Learn more about Concordia University Ann Arbor's Ronald and Marvel Jones School of Nursing.
— Rachel Thoms served on Concordia University's Strategic Communications team from 2015-2022. Any inquiries about this story can be sent to news@cuaa.edu.
If this story has inspired you, why not explore how you can help further Concordia's mission through giving.