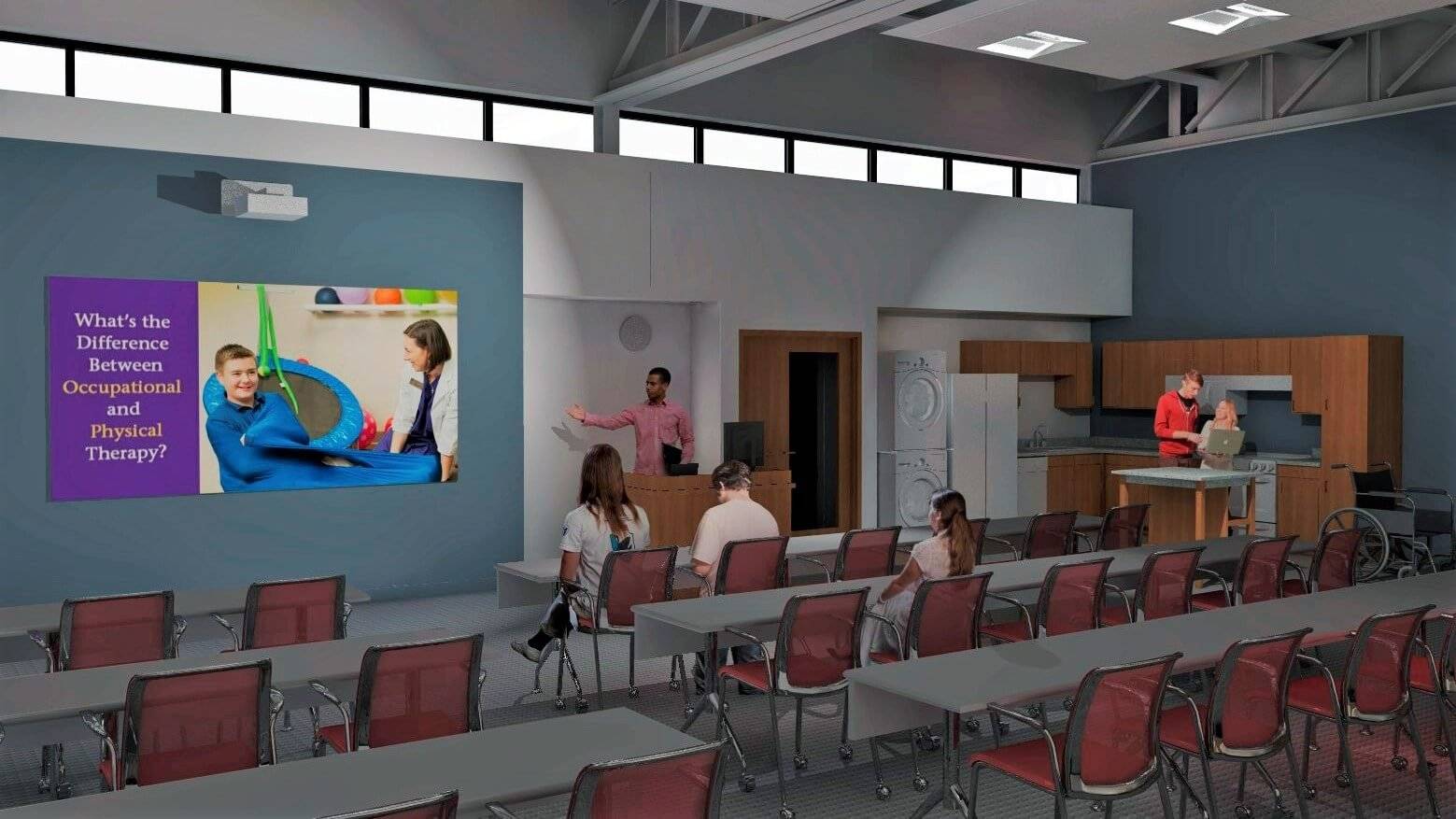 The Accreditation Council for Occupational Therapy Education (ACOTE) has granted candidacy status to the Occupational Therapy Doctoral program at Concordia University Ann Arbor.
---
As a result of this action, CUAA may begin to admit students into its Occupational Therapy Doctoral program and proceed to the preaccreditation review step of the accreditation process.
The OTD program is the first doctoral program offered at Concordia as a part of the School of Health Professions (SHP). Included in SHP are current undergraduate offerings social work, rehabilitation science, diagnostic medical sonography, and radiologic technology. In addition to OTD at the graduate level, Concordia also offers physician assistant studies, child life and interprofessional practice, and social work. CUAA is currently in the professional accreditation process for a doctorate in physical therapy to begin in 2023, pending successful candidacy status.
"We are so thankful to have this step completed and be one phase closer to welcoming students to our program," said OTD program director Juliane Chreston, OTD, OTDRL, who joined Concordia's faculty in January 2020 to lead the program.
Related: One year away from CUAA's first in-person doctoral program
CUAA's OTD program already completed its first round of student interviews in December 2021. Candidacy Status allows the program to extend acceptance offers to the first round of students, several of whom have already accepted. CUAA's OTD will launch the first cohort this summer.
The program's next step will be to complete a full self-study, describing in writing how it will demonstrate compliance with every ACOTE standard. Following a review of the study, reviewers will visit campus to meet with administration, faculty, students, and community partners and then submit their recommendations to the ACOTE board for a final accreditation decision.
OTD welcomes new faculty members
Two new faculty members have joined the OTD team in anticipation of the program's start this summer. Concordia welcomes Assistant Professor and Doctoral Capstone Coordinator Dr. Nicole Onori and Assistant Professor Dr. Jeffery Smith.
Dr. Nicole Onori, Dr.OT, MS, MOT, OTR/L
Assistant Professor/Doctoral Capstone Coordinator
Global Career Development Facilitator®
Wellcoaches® Certified Health & Wellness Coach
Nicole has served in a wide variety of roles, particularly focusing on community-based consulting, mental health education, program development, and advocacy. Dr. Onori earned her Bachelor of Arts in Psychology from Western Virginia Wesleyan College; Master of Occupational Therapy degree from Texas Woman's University; Master of Science in Counselor Education from Winona State University; and post-professional Doctoral Degree in Occupational Therapy from Nova Southeastern University. She is the creator of the interdisciplinary L.E.G.A.C.Y.® Appreciative Life Review Model, which is the first values-centered, strengths-based, and meaning-focused approach to life review designed for use across the lifespan. L.E.G.A.C.Y.® facilitates the development of purpose, meaning-in-life, and the psychosocial resources essential for mental health, resilience, and thriving in all life roles. Nicole is also a Fellow with The Patient Revolution, an international team working under the leadership of Mayo Clinic physician, Dr. Victor Montori, to develop the Careful and Kind Model of Care. She has served as Adjunct Faculty in the University of Minnesota Occupational Therapy Program since 2017.
"I am most excited about Concordia's mission to be a community that integrates faith and learning in a meaningful way. I am also delighted to be a member of the OT faculty at CUAA because I have the opportunity to work with an innovative and collaborative team to develop and launch a cutting-edge curriculum," said Onori. "The breadth of the occupational therapy profession provides individuals with a wide variety of career paths from clinical and community-based practice to entrepreneurship, research, and leadership positions in health care, just to name a few! I encourage students and people seeking a second career to explore occupational therapy."
Dr. Jeffery Smith, OTD, OTRL
Assistant Professor
Jeff has focused his occupational therapy career on providing rehabilitation services to the adult and geriatric populations as well as director of rehabilitation experience. He is currently employed with Energize Rehab at Villa of Silverbell.  He completed both a Bachelor of Science in Health Science with a minor in Gerontology and Master of Science in Occupational Therapy at Saginaw Valley State University and received his post-professional Doctorate of Occupational Therapy from University of South Dakota.  He has served as Adjunct Faculty in the Baker College Center for Graduate Studies Master of Occupational Therapy Program since 2020.
"Everyone that I have met has been so gracious and happy. Concordia appears to have a great culture built around Christ. I am very blessed to be afforded the opportunity to continue my journey in an environment like that!" said Smith.
---
Want in?
Learn more about the Occupational Therapy Doctorate program on CUAA's OTD program page or connect with graduate admission counselor Tom Dobberteen at Thomas.Dobberteen@cuaa.edu.
— Rachel Thoms served on Concordia University's Strategic Communications team from 2015-2022. Any inquiries about this story can be sent to news@cuaa.edu.
If this story has inspired you, why not explore how you can help further Concordia's mission through giving.