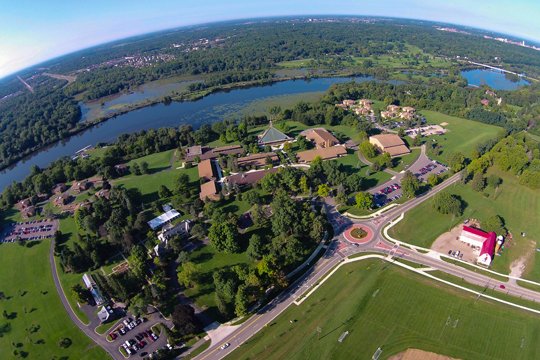 Concordia University Ann Arbor recently announced its Honors List from the fall 2019 semester.
---
To earn recognition to this distinctive list, undergraduates must attain a minimum 3.60 grade point average, while carrying a full-time schedule of at least 12 credits.
The following 246 students were named to the Fall 2019 Honors List:
A
Ryan Abenth
Jacob Adams
Nathan Adams
Nimat Al-Dulimi
Sarah Allen
Rahmeh Almasarweh
Morgan Altergott
Sarah Ambrose
Madison Andreone
Nathalie Ascani Kadidiatou
Annalyse Auxter
B
Ryan Bailey
Ryan Balck
Lauren Baranski
Averi Bebble
Kaitlyn Becia
Ruth Belli
Delaney Bennett
Abigail Bentz
Philip Bevins
Hannah Biermann
Micah Biermann
Billy Blair
Grace Blair
Zachary Blair
Michelle Bofenkamp
Daniel Breen
Alexandra Brown
Tyffani Bryan
Eric Bugg
Janie Bunge
C
Jacob Campbell
Derek Carey
Whitney Carlson
Megan Carr
Caroline Caruthers
Alexander Cetinel
Caleb Chamberlain
Jonathan Chin
Ryan Christ
Amay Ciszewski
Zachary Clark
Brianna Clopton
Brittany Conley
Catrina Cortese
Jack Crandall
Kelly Crorey
Andrew Cross
Jacob Culp
D
Mindy D'Oria
Evan Daldin
Grace Dame
Tammy Delane
Cody Depa
Samantha Derby
Bobby Desantis
Sydney Deutsch
Hannah Doan
Samantha Dorn
Lauren Drinane
Carley Drzewiecki
Alicia Dykman
E
Matthew Eastman
Lawrence Ebere
Catherine Elias
Colin Emmendorfer
Elaf Ernst
Alec Escandon
F
Katie Farley
Kallie Fehler
Charity Felton
Jacob Fergan
Madalyn Fields
Jade Finfera
Caden Flanery
Karolina Fonseca
Kip French
G
Alison Garstecki
Paul Gauss
Jacob Gerace
Megan Gibson
Mackenzie Gilmer
Samantha Golchuk
Nathan Gray
Paxton Green
Kayla Gregoire
Julia Griggs
Tyler Groth
Molly Grulke
Christian Guy
H
Amina Halwani
Grace Hasley
Taryn Heinonen
Grace Hemmeke
Megan Hinkle
Luke Hovarter
Halie Howard
Hannah Huhn
Kira Hunter
I
Boris Ilic
Whitney Irmeger
Rebecca Ivankovics
J
Alyssa Jabara
Sarah Jackemeyer
Jonathan Jackson
Lauryn Jackson
Mikailah Jackson
Robyn Jackson
Shelbea James
Noah Jankulovski
Hannah Jeffress
Paige Johnson
Alan Jones
Anna Jones
Taylor Jordan
Sara Jory
K
Alexander Kauffman
Virginia Kay
Devon Kelly
Taylor Kidd
Benjamin Kletzli
Angela Knickelbein
Lisa Kohl
Luke Konkel
Sydney Korte
Lily Kozicki
Grace Krawczyk
L
Megan Laib
Elizabeth Larsen
Anna Leeper
Matthew Lockhart
Christopher Lowe
Lydia Lyczynski
M
Leah Maassel
Madison Massey
Kristie May
Derek McComas
Hailey McCourt
Rebecca McCracken
Sarah Meili
Brinna Melling
Madilyn Micallef
Jennifer Miller
Olivia Miller
Alexandria Milot
Jake Mlynarek
Ashley Mobley
Nicole Molotky
Marino Moraccini
Peter Morrison
Madeline Mueller
N
Misa Nakamura
Braden Nawrocki
Jerrica Neal
Kylie Nelson
Kaylin Norman
O
Douglas Ogolla
James Olson
Rachel Olson
P
Nicholas Painter
Alissa Papsun
Erin Parker
Carly Pearson
Abigail Penhallegon
Gabriel Penhallegon
Micah Penhallegon
Olyvia Putnam
Samantha Putnam
Q
Avery Queen
Leah Quinlan
R
Kalera Rahn
Luiz Ramon
Jasmine Ramus
Jamie Rand
Olivia Rasch
Elizabeth Reames
Blaire Rebber
Paige Rebber
Korey Reichard
Alison Rein
Joshua Remstad
Miles Riddell
Shannon Riley
Jason Riske
Colton Ritsema
Elena Rodriguez
Glenn Rose
Ilona Rozina
Nadia Rozmarniewicz
Noah Rufo
Hannah Rumsey
Lyndsey Ryba
S
Kiera Savage
Tara Schatzle
McKinley Schmitz
Elizabeth Schnoes
Esther Schulze
Connor Scribner
Jarod Segal
Natalie Shawl
Sean Sheppard
Jordan Sherman
Preston Sherman
Vanessa Shields
John Shutt
J'may Simmons
James Simmons
McCarty Simmons
Zane Simon
Sydni Sledz
Jacob Smith
Jennifer Smith
Cole Southworth
Alexandra Spear
Brenna Steele
Corbin Stefanski
Grant Steinborn
Amber Streeter
Nicole Stump
Calvin Syrjala
T
Victoria Tenzy
Adam Thiel
Hattie Thomas
Lillian Thompson
Lee Thompson-Kolar
Denae Tolu
Astou Traore
Elizabeth Trent
Mason Trowbridge
Anthony Tucker
Calvin Tuma-Hynes
Rachel Turner
U
Charlotte Unwin
V
Gianna VanderWilt
Jakara Ventour
W
Erin Wagnitz
Celia Walkowicz
Spencer Ward
Natalie Waske
Collin Webb
Michaela Werner
Lexys Williams
Zack Williams
Mackensi Wilson
Devin Wolever
Y
Donovan Yuchasz
—
If this story has inspired you, why not explore how you can help further Concordia's mission through giving.