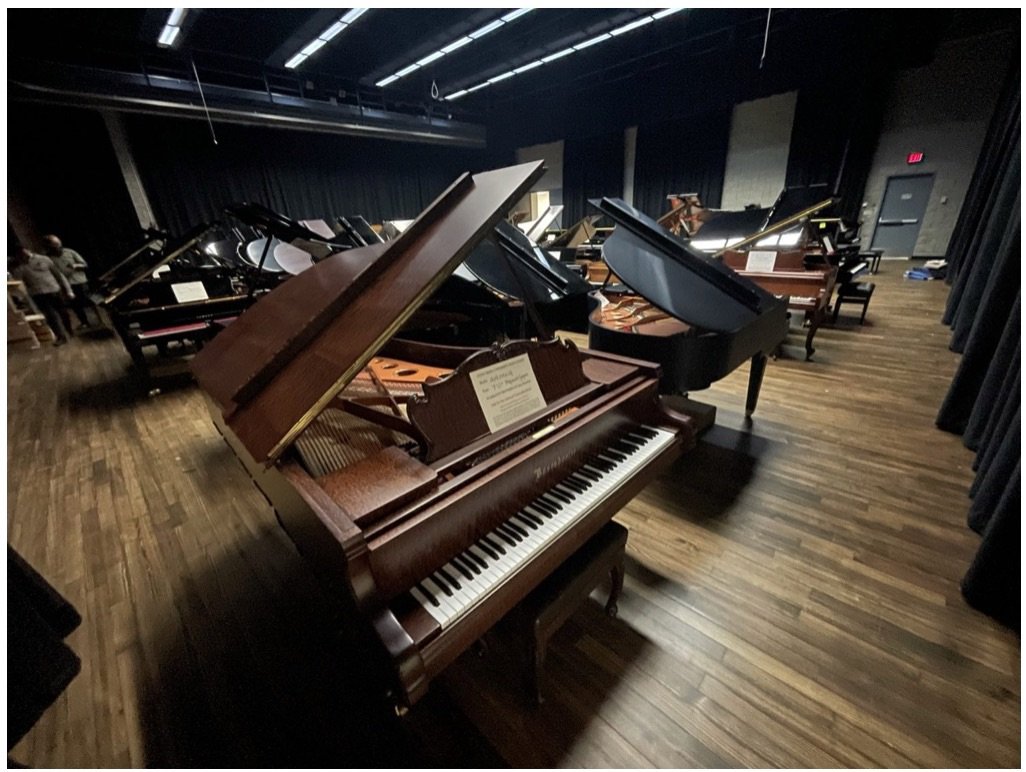 ---
Ann Arbor community members and beyond, if you're in the market for a new piano—or even an upgrade of your current instrument—you don't want to miss Concordia's annual piano sale, which runs Oct. 5-7.
---
Concordia's campus will soon transform into a "musical menagerie" as movers haul in nearly 200 pianos for CUAA's annual three-day piano sale, which begins Oct. 5. This sale boasts one of the most robust collections for purchase in one place in southeast Michigan.
With instruments to peruse that range in shape, size, model, and caliber, shoppers can be certain they're investing in a piano that best suits their needs and budget.
"Even when we open a store, there aren't this many pianos to choose from because we simply don't have the floor space," says Thomas Solich, owner of Solich Piano and Music Company. "Anyone and everyone can come and truly make a selection with confidence because there's such a large pool of pianos to choose from."
A pivotal partnership for CUAA Music
It's thanks to Solich that the piano sale exists. Solich owns and operates two storefronts in Ohio – in Cleveland and Columbus – and one near Pittsburgh, Pennsylvania. In November, he'll open a fourth location in Detroit. He began his partnership with Concordia in 2020. Since then, the annual sale events have helped hundreds of community patrons, schools, or church groups from all over Michigan, the upper peninsula, and beyond to purchase a new instrument or upgrade their old one.
"I've been amazed at the reach of this program," says Solich. "Concordia's sales have drawn people from Grand Rapids, all over Detroit, the UP, and even out of state."
In addition to the sale, Solich continues CUAA's designation as the regional recipient of his company's coveted piano loan program. Each year, Solich's company loans some of the highest-quality pianos on the market to Concordia's Music Department for the benefit of students. Each year, Solich Pianos swaps out the lightly used instruments with fresh ones, guaranteeing Concordia the most current models available. The piano sales directly support Concordia's loan program and also contribute to an endowment Solich has established at CUAA.
"Thomas' support of Concordia's Music Department has been immeasurable," says John Boonenberg, DMA, Kreft Endowed Chair in Music at CUAA. "Because of his partnership, we have ready access to instruments that are among the finest performance models out there. Our piano collection is on par with schools four times our size thanks to this program."
A sale that's open to all
Regardless of an attendee's musical expertise, the CUAA piano sale offers a gentle landing spot for exploration. Forget the fussy atmosphere you might envision when hordes of investment pieces are on display in one place, says Solich. All ages and members of the family are encouraged to test-drive the instruments.
"Don't get a babysitter! This is a family event," says Solich. "I think people feel intimidated by piano shopping sometimes, but we're trying to make kids and adults fall in love with music, so it needs to be approachable. I want the day a family buys their piano to be an event they remember fondly forever."
This year's sale will feature 0% financing on certain models and on-call piano movers. Most deliveries are estimated to be completed within the same weekend.
It's a rare opportunity to not only invest in a good deal, but a music student's future.
"Concordia's sale is the only one of its kind in southeast Michigan right now," says Solich. "It's the only one of its kind where someone can purchase an amazing piano and support musicians for years to come."
---
Want in?
The Music Department at CUAA is a comprehensive Liberal Arts music experience. It offers the opportunity to study, perform, and travel (domestically and internationally) with departmental ensembles. Instructors demonstrate the highest commitment to Concordia's Lutheran foundation and are masters of their craft.
---