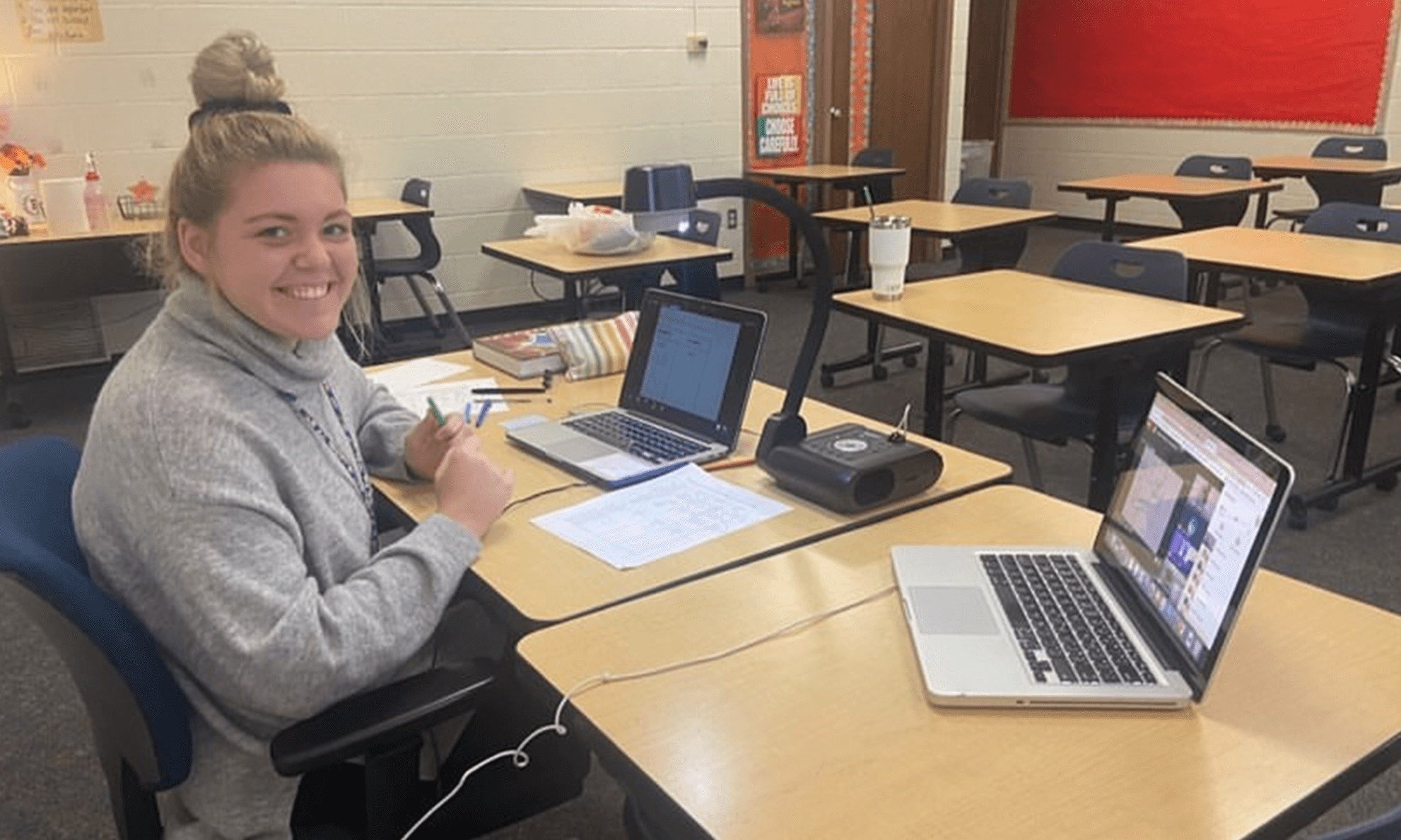 CUAA alumna Morgan Altergott ('20) was awarded the 2020 Elementary-Middle School Student Teacher of the Year award through DARTEP, Directors and Representatives of Teacher Education Programs in Michigan.
---
December 2020 graduate of Concordia University Ann Arbor, Altergott completed her classroom education in the school of education and entered into the classroom for her student teaching semester in the middle of an unpredictable year.
There were many variables that could have lowered her spirits or discouraged her from being an engaged student teacher. Altergott did not let that stop her from entering the classroom each day with a smile on her face, provide rich instruction for her students, and continually look for ways to grow and help her students grow both as learners and as individuals.
These qualities made her stand out to her host teachers Matt Maier and Mary Myerle at Upton Middle School. In April 2021, DARTEP elected Altergott as the Elementary-Middle School Teacher of the Year for 2020.
A stand-out student teacher
Concordia education students complete field work during their on campus classroom semesters as well as a student teaching semester.
Altergott student taught math to sixth graders at Saint Joseph Public Schools. Her lead teacher, Mr. Matt Maier, expressed how Altergott came into the semester during a time that has been challenging for all educators and students, but that she still was able to thrive and help her students to thrive.
Another sixth grade math teacher from Upton Middle School, Ms. Mary Byerle, also nominated Altergott because of the "love she has for kids and the connections she makes with them, her cheerful personality, and hard and driven work ethic." 
Related: CUAA alumni are called to the classroom
Altergott accepted a full-time position at Saint Joseph High School in February 2021, teaching algebra I and algebra II in remote, hybrid, and face to face learning formats. Next year she will also be teaching geometry.
"My favorite part of teaching being able to connect to my students on a personal level. They have come to me for advice on how to handle events and struggles in their lives because I was just in their position just a few years ago," said Altergott. "It makes me feel like I am making a significant difference in their lives."
---
Want in? Learn more about CUAA's School of Education.
— This story is written by Allie Milot, social media manager for Concordia University Wisconsin and Ann Arbor. She may be reached at alexandria.milot@cuaa.edu or 734-995-7403.
If this story has inspired you, why not explore how you can help further Concordia's mission through giving.