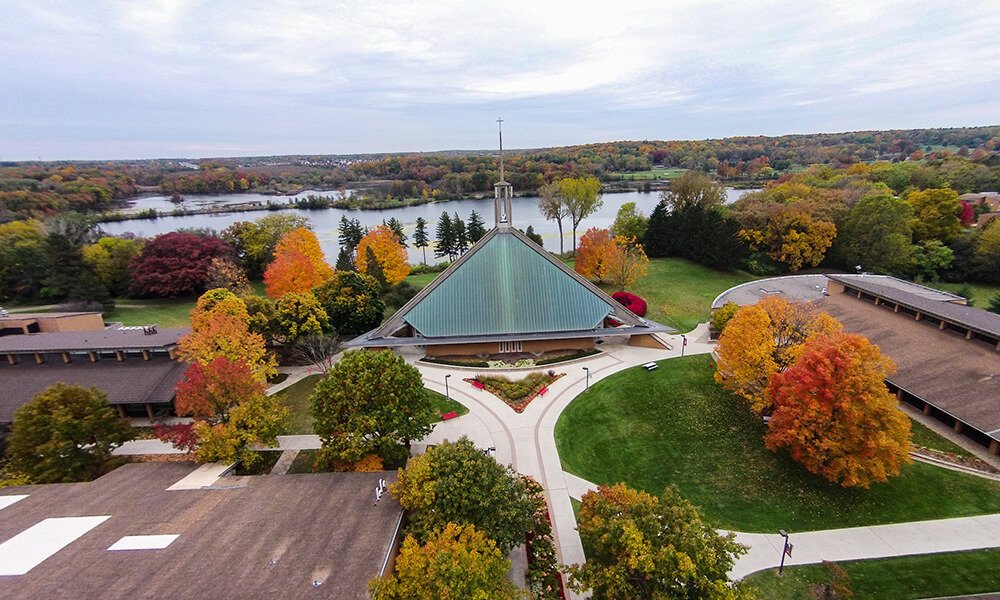 It's that time of the year again when we reflect upon the accomplishments of the past 12 months and look forward to the milestones that lie ahead.
---
For Concordians, the "top moments" of 2020 included a retirement announcement from President Ferry, a big-time commencement speaker, and plenty of COVID-related updates along the way.
Scroll down to view the Top 10 CUAA stories of 2020, arranged in descending order of most unique page views.
10.
Worship with Concordia Vespers, Nov. 15
Concordia was able to keep a five-year tradition alive by offering this year's Concordia Vespers in a digital format. CUAA Music partnered with a video production company to offer the recording to constituents for free.
Click here to watch it yourself!
---
9.
Why I put on my face mask with a smile
In his winsome way, Concordia's Pre-seminary Director Rev. Ted Hopkins, PhD, reminded all of us that we wear masks to serve others.
---
8.
A look inside a virtual Looker classroom
Dr. Mark Looker certainly didn't fade away into the sunset. Even though his last semester before retirement (after 45 years on CUAA's faculty!) was altered by COVID-19, he made the best of it.
---
7.
KNOWN by Name: Faculty and staff make congratulatory video for each graduate
CUAA is a tight-knit community. So naturally, when COVID-19 forced us to forgo our usual in-person May commencement ceremony, we couldn't miss the opportunity to let each of our graduates know, personally, how much we care about them.
---
6.
Rev. Patrick T. Ferry, PhD, to retire as Concordia University president
In his 30th year at Concordia University, 24 of them as president, President Ferry announced in September that he will retire in June 2021. 
---
5.
Concordia Ann Arbor adds occupational therapy and physical therapy programs
CUAA's first doctorate programs! The campus announced at the start of 2020 that it would add an OTD and DPT program in the next two to three years. The undergraduate "feeder" program, the Bachelor of Science in Rehabilitative Science, already launched this past fall.
---
4.
Meet the 2020-21 Resident Assistants
What better way to prepare for college than to meet your RA before you even arrive on campus? These student-leaders made quite a splash when we announced them.
---
3.
Return to campus plan announced to CUAA students
Naturally, the CUAA community was waiting with bated breath to learn what life on campus would be like this fall amidst COVID-19.
Click here to read the announcement
---
2.
Concordia University Ann Arbor works to smooth transition for Portland students
When our fellow Concordia University System school announced its closing, CUAA did all that it could for the displaced students.
Click here to read the transition plan
---
1.
Concordia's 2020 Virtual Commencement to feature special guest speaker
Talk about a touchdown! Tim Tebow, a two-time national champion, Heisman Trophy winner, and current ESPN analyst, was CUAA's Virtual Commencement keynote.
---
More top CUAA posts from 2020:
— This story is written by Kali Thiel, director of university communications for Concordia University Ann Arbor and Wisconsin. She may be reached at kali.thiel@cuw.edu or 262-243-2149.
If this story has inspired you, why not explore how you can help further Concordia's mission through giving.