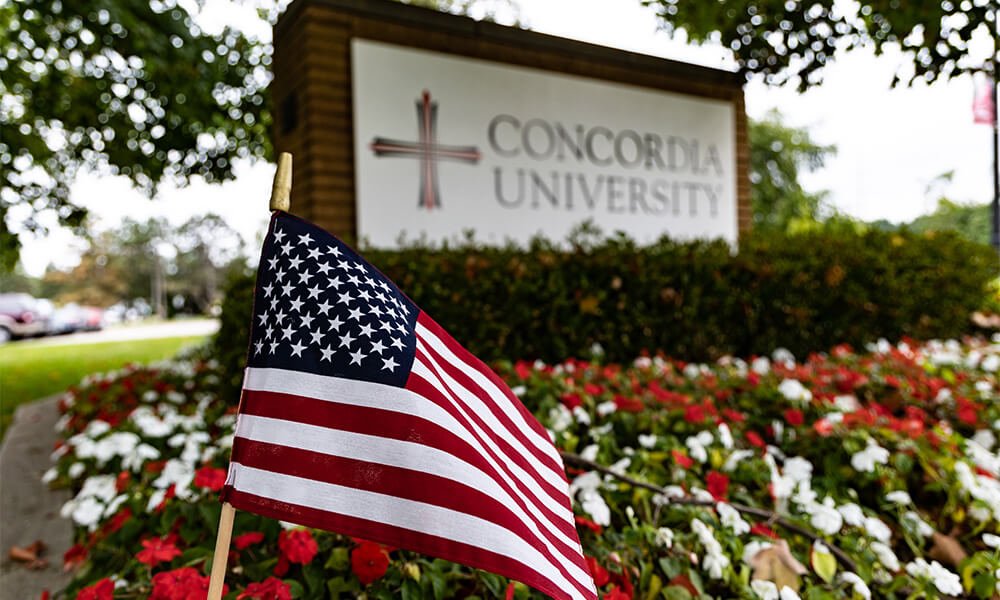 ---
Concordia University Ann Arbor's Veteran Services Department has planned several events to show appreciation for individuals who have served in the military.
---
On June 1, 1954, the United States Government set aside Nov. 11 as a day to honor American veterans. Each year, CUAA's Veteran Services Department recognizes the federal holiday and its student-veterans with a series of events, tributes, and fundraising efforts.
Here is this year's lineup.
Blue and Gold Walk of Honor—Nov. 8
Starting today, blue and gold stars will line Concordia's sidewalks on Central Campus. The stars represent fallen and currently serving veterans. Individuals who would like to purchase a star can do so here.
Veterans Chapel Service—Nov. 9
Students, faculty, staff, and Concordia supporters may attend Thursday's special chapel service. In addition to hymns and specific prayers/messages spoken on behalf of our military, CUAA's Veteran Services Director Kwesi Betserai will announce this year's Klein Scholarship award winner. The CUWAA Board of Regents will also be in attendance.
Jet for a Vet 5K Race/Walk—Nov. 11
Jet for a Vet has become an annual event at Concordia. The fun run/walk is meant to raise awareness and funds to support veterans and Concordia's Sport and Hospitality Business program.
This year's event will take place on Veterans Day beginning at 9 a.m. The cost is $25 to participate. Registration, which is required, will be accepted up through the day of the event.
Vet Center RV—Nov. 13 & 15
CUAA student-veterans, as well as veterans from the community, are encouraged to stop by the mobile Vet Center on Nov. 13 or 15. The RV will be parked on Concordia's Central Campus in order to offer information and raise awareness about military benefits and causes.
Sweets for Veterans—Nov. 13
CUAA student-veterans, stop by the Bunker (CUAA's on-campus Veterans Center) for some donuts and cupcakes.
Veterans Week Closeout—Nov. 17
CUAA's Veteran Services Department wants to treat CUAA student-veterans to some pizza. Stop by the Bunker for a free meal.
---
Want in?

Concordia University Ann Arbor is a Lutheran institution that is proud to be Military Friendly. We are committed to providing first-class service to support our active, reserve, and veteran personnel and their families. CUAA's Veteran Services Department is dedicated to supporting veterans, their spouses, and family members with services such as, but not limited to:
Academics
Career
Student Finance/Scholarships
Academic Advising
Counseling
Tutoring
Disability Resources
---