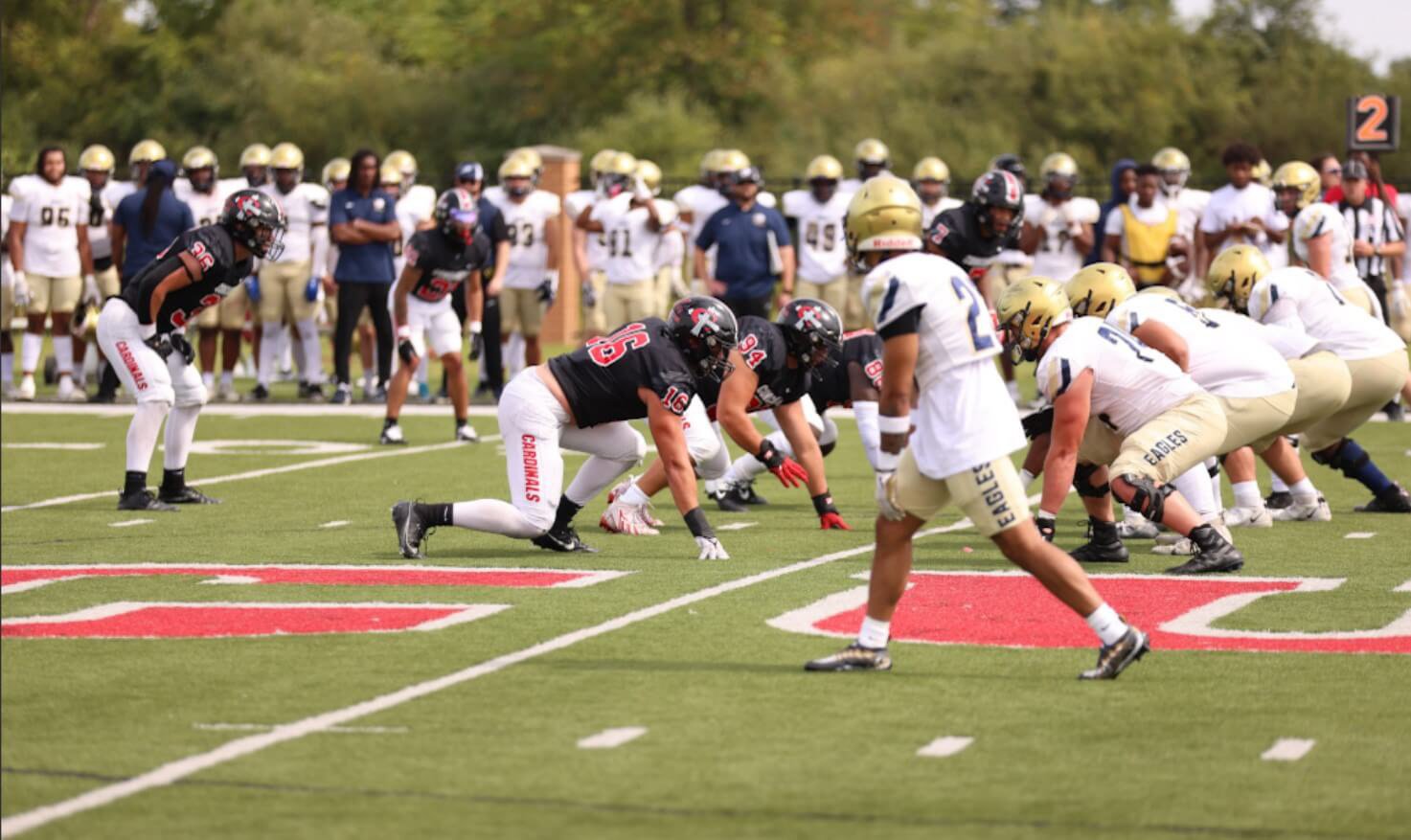 ---
Concordia University Ann Arbor is the lede of an MLive story about athletics as an enrollment driver for Michigan's private schools.
---
MLive Senior Reporter Matthew Miller explores how private colleges throughout Michigan have leaned into piloting and growing athletic programs as a means to welcome more students to their campuses.
At CUAA, athletics and other co-curricular offerings play an important role in the recruitment equation. More than 70 percent of CUAA's undergraduate population participated in one or more athletic programs last year.
Among them was David Cagle, a junior from Allen Park, Michigan. As Miller writes, Cagle wasn't sure he would head to college after high school, but a Concordia football coach convinced him to continue to pursue his love of football as a Cardinal.
Cagle's talents have contributed to a winning season this year at Concordia. Plus, he recently earned his second recognition as a National Christian College Athletic Association (NCCAA) Football Defensive Player of the Week.
Athletic programs added over the past decade
A varsity football program is just one of 13 athletics programs Concordia has added since 2012:
2012 – Bowling (Men's and Women's)
2012 – Football
2012 – Competitive Cheer
2012 – Competitive Dance
2014 – Women's tennis
2015 – Men's tennis
2016 – Lacrosse (Men's and Women's)
2018 – Ice Hockey (Men's)
2018 – Ice Hockey (Women's)
2019 – E-Sports
2021 – STUNT
These additions have helped yield year-over-year growth at Concordia. Since 2013, CUAA's total enrollment has risen more than 60 percent. This year, the campus notched record-high numbers on multiple fronts:
New students (Freshmen and transfer students)
Total undergraduates
Total graduates
Overall enrollment
In the media
Click here or on the image below to read Miller's full story.
---
Want in?
Being a Concordia Cardinal isn't just about out-scoring competitors in the athletic arena. It's about developing as an individual, both in and out of the game. Dedicated coaches and staff put in the time to see that you walk away from your Concordia experience a better athlete, a stronger Christian, and a champion of character.
---