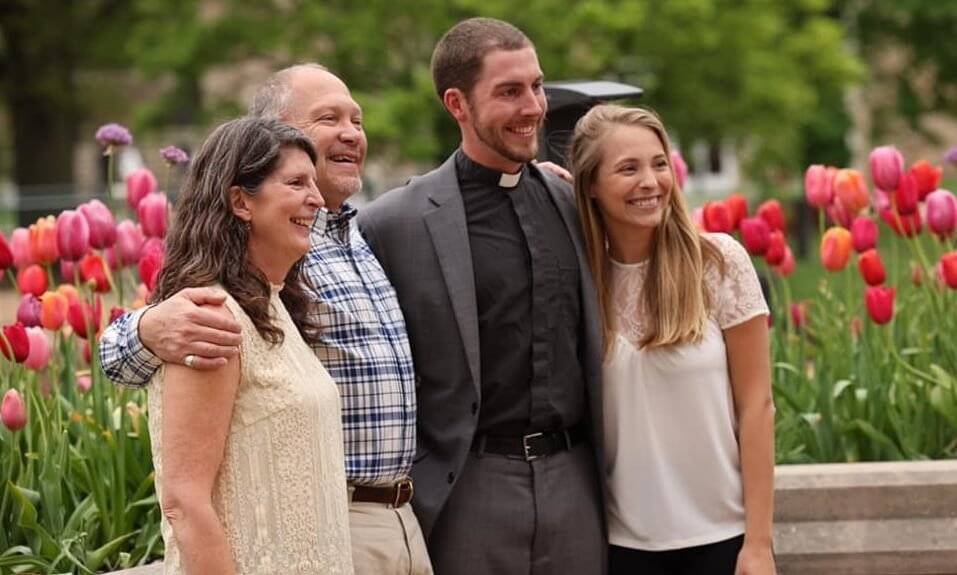 The Rev. Dr. Jakob Heckert served Concordia University Ann Arbor for nearly 40 years as a beloved professor of New Testament and Biblical Languages.
---
Following his passing in 2018, a scholarship endowment was established in honor of his legacy of teaching, serving, and modeling a loving pastoral heart. The Concordia Ann Arbor Pastor Heckert Scholarship Endowment helps future pre-seminary students to complete undergraduate theological training at CUAA with a focus on sound doctrine and biblical languages, but most of all—developing a caring, pastoral heart.
Whether you were his student or you simply have a heart for our future pastors, gifts to this endowment provide a tangible way to honor Heckert's legacy and help support pre-seminary students.
In support of future pastors
Heckert impacted countless lives as he shared God's love with everyone. Because of his decades of service at Concordia, his legacy especially extends to pastors and the students he once taught. Below, a few individuals share why they chose to give to Concordia in Heckert's honor.
Phil Penhallegon
Concordia Seminary, St. Louis ('00)
Pastor for 16 years, professor for 18
Q: What is your connection to Dr. Heckert?
A: Dr. Heckert was my Greek and New Testament professor when I transferred to Concordia College (Ann Arbor) for pre-seminary studies. He allowed me to do a summer independent study in Greek so that I could catch up with those in my class and take Synoptic Gospels and Pauline Epistles along with them.
When I returned to CUAA as a professor, he was a great encouragement to me. Throughout my experiences with him he served as a role model, both as pastor and professor.
Q: What inspired you to contribute to this endowment?
A: Dr. Heckert was an incredibly gifted man, yet he was humble and gentle. He was pastoral in the best sense of the word. With that gentle, pastoral humility, he taught many of us to read God's Word in Greek and in English. Contributing to this endowment gives my wife and I the opportunity to thank the Lord for the gifts given through Jakob to so many others. By supporting this endowment, others can be raised up to continue being conduits of the Lord's gifts.
Q: What "Heckert advice" would you pass on to future pastors?
A: Read the Word constantly (in English, Greek, and Hebrew). Serve in humility.
Rev. Donald Beaumont
Concordia Theological Seminary Fort Wayne ('05)
Pastor for about 10 years
Q: What inspired you to contribute to this endowment?
A: The inspiration to contribute came from the fact that all young pastoral candidates need financial assistance, as I did as a second-career candidate.
Q: What is your advice to any future pastors?
A: Keep the love of people and Jesus equal in your ministry. Love will cover any faults or misgivings.
Gabe Kasper
Concordia Seminary, St. Louis ('12)
Pastor for 10 years
Q: What inspired you to contribute to this endowment?
A: Jesus loves his church. So, the congregation I serve, University Lutheran Chapel, wants to love the things that Jesus loves. If we can play a small part in building up Christ's church for future generations, that's an investment we want to make.
Q: What is your advice to any future pastors?
A: Humility. Confidence. Pursue humility with everything you have. Pride always destroys ministry. Humility invites us to rest in the gospel. We are freed to not have to have all the answers, but can instead constantly be learning from Jesus and those he places in our lives. And yet, as Pastors, we are called to lead God's people. So, be confident of your calling. Don't take yourself seriously, but take the office of Pastor seriously. God has called you to lead his people on mission. Be confident of that calling and humbly lead.
—
If this story has inspired you, why not explore how you can help further Concordia's mission through giving.