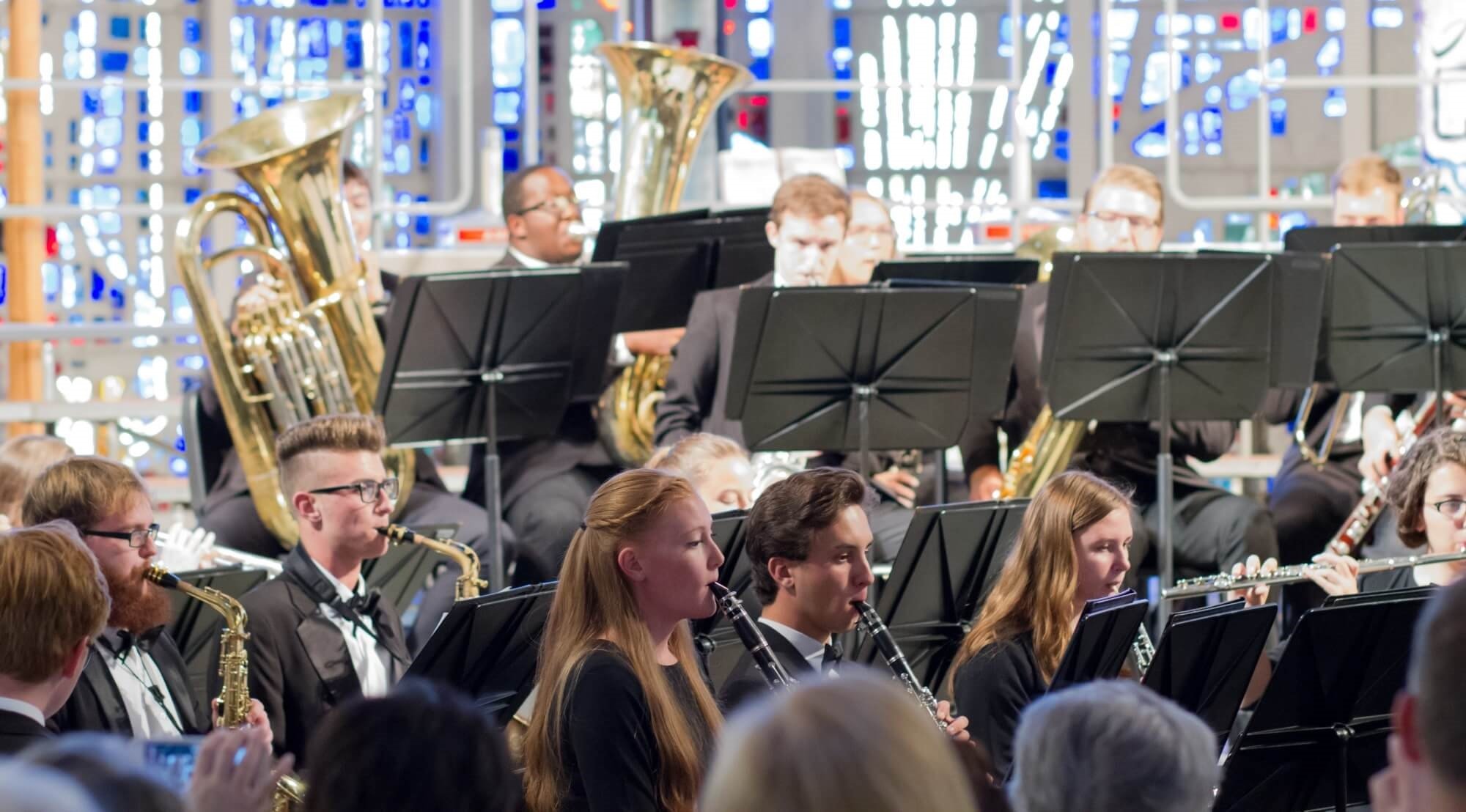 Sacred music set for band and American spirituals will fill Concordia University Ann Arbor's Black Box Theater in the Kreft Center, 4090 Geddes Road, when the Wind Ensemble takes to the stage on Thursday, November 14, one of four concerts in a one week span.
---
Nov. 14, 7:30 p.m. | Wind Ensemble Concert (Black Box Theater)
The 7:30 p.m. concert by the 35-member ensemble includes God of our Fathers and A Mighty Fortress. It will also mark the premiere of a piece entitled Forever Radiant by Aaron Perrine, a distant relative of Wind Ensemble Director Dr. William Perrine, and inspired by Psalm 34:5. "Half of our group is new to Concordia this semester," said Perrine. "We're excited about our future, as we work hard to come together as a new band," he added.
Watch the Wind Ensemble Concert LIVE beginning at 7:15 p.m. ET on Thurs., Nov. 14.
Nov. 17, 5:00 p.m. | Concordia Vespers – Arborsong, St. Paul School choirs, community choir (Chapel of the Holy Trinity)
On Sunday, November 17, Concordia's Chamber Choir, Arborsong, will be joined by community members, St. Paul Lutheran School's youth choirs, guest soloists and the Chamber Orchestra in a semiannual Concordia Vespers at 5 p.m. in the Chapel of The Holy Trinity.  Dr. Brian Altevogt, director of choirs and vocal studies, and Dr. John Boonenberg. director of church music, are the artistic directors in a presentation of Bach's intimate and expressive Gottes zeit ist die allerbeste zeit, cantata BWV 106, in addition to other music. The Rev. Donald Neuendorf, senior pastor at St. Paul Lutheran Church, Ann Arbor, will deliver the homily during a service that celebrates and honors historical, Lutheran worship. A freewill offering will be taken following the service.
Can't Attend? Watch Concordia Vespers LIVE beginning at 4:45 p.m. ET on Sun., Nov. 17.
Nov. 18, 7:30 p.m. | Fall Orchestra Concert (Chapel of the Holy Trinity)
On Monday, November 18, the Fall Orchestra Concert will be held in the chapel at 7:30 p.m. This marks the first-ever concert by the newly-constituted Concordia Community Orchestra directed by Perrine and comprised of students, dual enrollment students from the area, community members and faculty. The free show will feature:
Handel's Water Music Suite No. 3
Holst's St. Paul Suite
Haydn's Symphony No. 88
Tune into the livestream of the Fall Orchestra Concert here beginning at 7:15 p.m. ET on Mon., Nov. 18.
Nov. 19, 7:30 p.m. | Marching Band Year-In-Review Concert (Black Box Theater)
One night later – Tuesday, November 19 – CUAA's Marching Band Year-in-Review Concert will be held in the Black Box Theater at 7:30 p.m. Now in its third year, the Cardinal Regiment performs at all home football games, as well as selected men's and women's basketball games.
Please Note: The Concordia Wind and String Ensemble Concert originally scheduled for Tuesday, November 26 will now take place as two separate concerts on November 13 and November 18, as noted above.
Other upcoming Kreft Arts Program events also include Darren Harper's "We're Here for You" exhibit in the Kreft Gallery, Nov. 15-Dec. 15th, and the 42 annual Boar's Head Festival, December 6-8th. Tickets on sale now!
For more details on the music department or Concordia University Ann Arbor, please visit www.cuaa.edu.
—
If this story has inspired you, why not explore how you can help further Concordia's mission through giving.