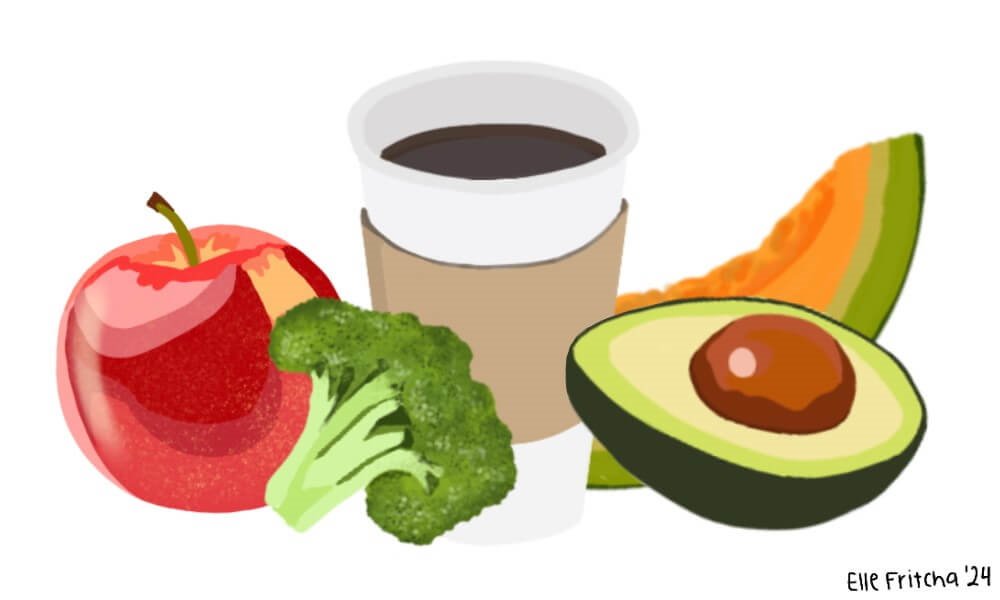 Eating healthy can already be a challenge. With the added stress of project deadlines and upcoming tests, nutrition can easily take a back seat on the priority list.
---
Editor's note: Occupational therapist program faculty at Concordia University Ann Arbor provide a series of tips for wellness in the workplace and in the classroom. (Meet the OT faculty on Monday, April 19 from 11 a.m. to 1 p.m. in the Student Union!)
Would you expect your car to drive the same if you filled the gas tank with chocolate milk instead of gasoline?  You wouldn't get far. This is why fueling your body with the right nutrients is essential for optimal performance.
Here are tips for making nutrition a priority, even in stressful seasons.
Prepare for the desire to snack!
Control snack portions by portioning snacks into snack sized bags or single serving plastic containers. When we eat from an open bag we frequently consume more than if we have a pre-determined amount set aside.
Keep healthy snacks like mandarin oranges or trail mix on hand and avoid keeping the less healthy snacks in your cupboard.  If you have chips and cookies at your disposal, you will likely opt for the sweet and fatty options when you are stressed.
Eating sugary snacks makes us feel good (even Bridget Jones had her go-to ice cream pint), but sugar is not good fuel for our brains as we have a spike in glucose after eating sugar but then a sharp decline. This leaves the brain without the energy support it needs and may in turn negatively impact attention and other cognitive functions.  When you crave sugar, try to satisfy the craving with fruit instead of processed sweets.
Make time for meals
Missing meals can also make you feel sluggish and tired, which in turn impacts your ability to focus on the tasks you so desperately need to accomplish.
It is easy to skip meals or grab something quick when we are busy. Schedule in time to eat your meals just as you schedule time for work and studying. You may not feel it, but your already stressed body and mind will become even more stressed if it is being asked to run hard on an empty tank.
Plan your meals
If you find that you are often grabbing things to go or quick (but less than healthy) meal options, planning your meals can be very helpful.
Plan your meals for the week and make a menu prior to grocery shopping.  Removing the last minute, "I have no idea what we are going to have for dinner tonight" debate actually saves time and energy in the long-run.
Do time consuming prep for meals like cutting veggies and thawing meat on a weekend and place the prepped items into containers in the fridge so you can quickly toss it into a pan when it is time to cook.
Make extra turkey burgers Monday to cut up and toss into spaghetti sauce Tuesday, or grill extra chicken breasts Wednesday that can be put in salads or fajitas for Thursday.
Caffeine in moderation
When we are tired, we often reach for a caffeinated pick-me-up. As much as caffeine helps to boost our energy, it is important to keep in mind that ingesting large amounts of caffeine reduces blood flow to the brain.
Try to avoid drinking multiple energy drinks as daily/high consumption can negatively impact body systems including but not limited to the heart and circulatory system, digestive system, and urinary system.
Foods for thought:
Lean meats and beans
Rainbow fruits and veggies (eat all the colors of the rainbow!)
Healthy fats: Fish, nuts, and seeds
Whole grains and oats
More on Wellness in the Workplace and the Classroom
---
Learn more about Concordia University Ann Arbor's occupational therapy graduate program, with an anticipated program start in 2022. Are you an undergraduate student with interest in studying occupational therapy after graduation? Check out CUAA's bachelor of science in rehabilitation science.
Meet the OT team
Juliane Chreston, OTD, OTRL
Program Director
Assistant Professor
Research Interests: Professional identity development, scholarship of teaching
Teaching interests: Occupation-based practice, physical medicine and rehabilitation
---
Jennifer Beuby, OTD, OTRL
Academic Fieldwork Coordinator
Assistant Professor
Research interests: Strategies for improving student confidence for application of learned OT skills, Lifestyle redesign for chronic pain management
---
Accreditation statement
The Concordia University Ann Arbor entry-level occupational therapy doctoral degree program has applied for accreditation by the Accreditation Council for Occupational Therapy Education (ACOTE) of the American Occupational Therapy Association (AOTA), located at 6116 Executive Boulevard, Suite 200, North Bethesda, MD 20852-4929. ACOTE's telephone number c/o AOTA is (301) 652-AOTA and its Web address is www.acoteonline.org.
The program must be granted Candidacy Status before students can be admitted to the program. Concordia University and Dr. Chreston are fully committed to the development of the entry-level occupational therapy doctoral degree program, but prospective students should be aware there is no guarantee that the program will receive Candidacy Status or be allowed to admit students. An ACOTE candidacy decision is expected in December 2021.  Prospective students will be informed of acceptance into the program January 2022 with an anticipated program start of May 2022.
The program must be granted Candidacy Status, have a pre-accreditation review, complete an on-site evaluation, and be granted Accreditation Status before its graduates will be eligible to sit for the national certification examination for the occupational therapist administered by the National Board for Certification in Occupational Therapy (NBCOT). After successful completion of this exam, the individual will be an Occupational Therapist, Registered (OTR). In addition, all states require licensure in order to practice; however, state licenses are usually based on the results of the NBCOT Certification Examination. Note that a felony conviction may affect a graduate's ability to sit for the NBCOT certification examination or attain state licensure.
— Rachel Thoms served on Concordia University's Strategic Communications team from 2015-2022. Any inquiries about this story can be sent to news@cuaa.edu.
If this story has inspired you, why not explore how you can help further Concordia's mission through giving.