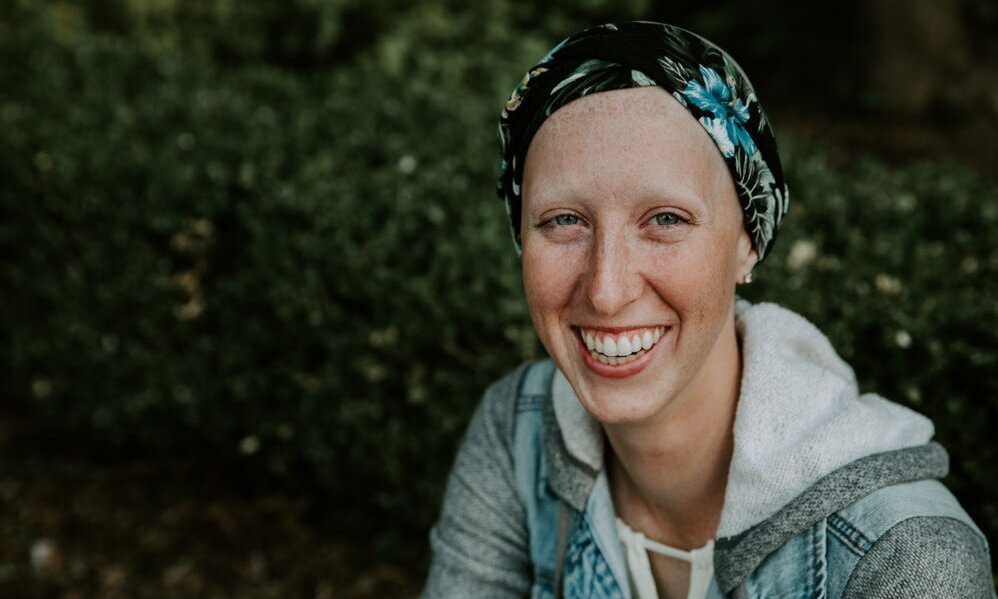 Meet Annie Leiding ('21), an athlete, role model, and exercise science major who's on a mission to help others love and accept what they've been given.
---
Editor's note: This is one in a series of stories highlighting a few Concordia's uncommon May 2021 graduates. Faculty and staff submit candidates for consideration. Stories are posted in the days leading up to commencement. 
With her trademark confidence, self-deprecating humor, and megawatt smile, Annie Leiding '21 is both an easy-breezy confidant and a powerful advocate for self-acceptance. The business owner and motivational speaker will visit campus for the first time in over a year when she walks across the Field House to receive her bachelor of arts degree in exercise science.
Her road to graduation is a journey of struggle, support, and triumph.
Struggle
"Everyone has their own struggles," says Leiding. "Mine just happens to include bald patches on my head."
Leiding had hair when she enrolled in college five years ago as a freshman. She tucked her long, light brown locks into her batting helmet each day as an outfielder and slap hitter on the softball team.
In the fall of her sophomore year, things inexplicably changed. Leiding was losing her hair. In October of that year, two days before her 19th birthday, Leiding was diagnosed with alopecia, an autoimmune disorder that causes hair to come out, often in clumps.
"I never even heard of alopecia before," says Leiding. "It all happened so quickly that I was having a hard time dealing with my changes and knowing who I could trust.  I started hiding from everyone."
By December, Leiding was donning wigs and stocking hats to conceal her condition. Though hot, wigs are tolerable in the classroom and in most social situations, in the weight room and on the practice field, however, wigs are unbearable. Frustrated by her dwindling performance as a result of her coverings and exhausted by the strain of keeping her secret from her teammates, Leiding had to come clean or quit the team.
On a life-changing day in spring training, Leiding, surrounded by her teammates, removed her coverings and bared her itchy, patchy secret.
The team's response to that moment reframed her alopecia diagnosis from a personal secret into her powerful platform.
Support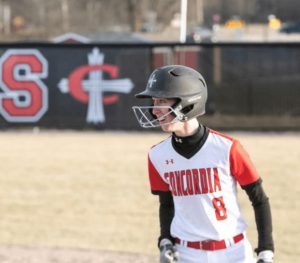 "The team was jacked that day she took her stocking hat off," says Hailey Cavanagh, head softball coach. "From that moment on, Annie was totally comfortable with who she was."
Her comfort level actually grew in stages. Within the secure confines of the field and locker room, Leiding traded in her wigs and stocking caps for head scarfs. Throughout the rest of campus, however, Leiding kept up her hot and weighty disguise.
Coach Cavanagh was impressed with Leiding's blossoming strength and courage and encouraged her to use her story to empower others, especially young girls, who might be struggling with similar issues.
Triumph
That summer, Leiding became involved with her first camp for children with alopecia. To her surprise, there were hundreds of kids from all over who were bald or mostly bald, happy, and fully baring their condition. Throughout the course of the camp, Leiding felt her own confidence building. By the last day, she was ready to show and tell her story. During a mass gathering of over 150 families, she took off her wig on stage and never put one back on again.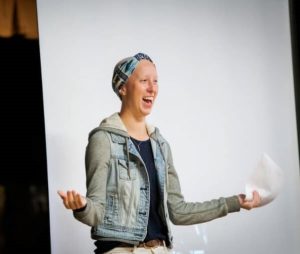 Invigorated by her speaking experience, Leiding returned to campus her junior year with a purpose. She launched her own public speaking and motivational business with a simple mission: show and teach people to embrace what they have been given. The name of her business is B3Annie which stands for Bald, Brave, & Beautiful. With the support of her team and her classmates, Leiding entered her business in CULaunch, Concordia's incubator competition for student led businesses. She placed second and earned a little seed money to further her plans.
Related: (Video) Annie Leiding shares her testimony at CUAA chapel with Rev. Dr. Ryan Peterson
CULaunch afforded her the opportunity and the platform to forward her mission; a mission born in the weight room, propelled by a team, and realized in the faces of the hundreds of kids impacted to date.
Empowerment and a focus on the bigger picture are hallmarks of Cavanagh's coaching philosophy.
"I constantly remind my players that softball is a fun piece of our lives, but it is only four years. We're building a team today of good people who will support and help each other for the rest of their lives," says Cavanagh. "We always emphasize that they must be good teammates if they want to be successful in our program."
Leiding had to lean on her teammates from afar this year due to the COVID-19 pandemic. She completed her senior year virtually from her home in Barrington, Illinois because she is put in the high-risk category due to other health and autoimmune conditions.
"This has been most challenging," says Leiding. "I miss interactions with all my professors, I miss the routine of class and softball practice. I miss my team."
With her parents and twin sister (her biggest cheerleader) by her side, Leiding looks forward to returning to campus for commencement. She can't wait to see her coaches, teammates, and professors again.
"I've learned to be the person I am today, with the help of my family and of so many at Concordia," says Leiding.
---
In Spring 2019, Annie was selected as the recipient of a special athletic department honor, the Melvin Jenkins "Courage" Award, at the annual CARDY's, a celebration of athletic department and campus achievements. Coach Cavanagh presented the award to a completely surprised Leiding, sharing with the student body Leiding's powerful story of courage.
---
Want in on our Exercise Science program? Visit here.
—
If this story has inspired you, why not explore how you can help further Concordia's mission through giving.