Nearly 150 candidates for graduation will cross graduation stage on May 9 during Concordia University Ann Arbor's spring 2021 graduate and undergraduate commencement exercises.
---
The ceremonies mark the return to an in-person commencement for the university after the global COVID-19 pandemic forced celebrations online in spring 2020 and this past December.
To accommodate COVID-19 safety protocols, Concordia will host two separate commencement ceremonies this upcoming weekend. Each service will feature identical programs; ceremonies were duplicated for the purpose of allowing every graduate to cross the commencement stage to receive a diploma while adhering to coronavirus safety guidelines.
Related: Meet some members from the Class of 2021
Each ceremony will run for approximately an hour. Guests and graduates are required to wear a mask, and are asked to clear the Field House as quickly as possible at the conclusion of the service to allow for proper air filtration and sanitizing ahead of the next commencement exercise.
Download: Spring 2021 Commencement Booklet
Sunday, May 9—Graduation Ceremonies
Tickets and masks required for in-person attendance
1 p.m. (Undergraduates)
4 p.m. (Undergraduates and graduates)
Last month, graduates received an email with a sign-up link and were asked to register for one of the two ceremonies. Only two guest tickets are permitted per graduate. Friends and loved ones who cannot attend in person can watch the livestream.
All times are in Eastern time zone. The livestream will not begin until the ceremony starts. Check with your graduate to learn which service he or she is registered to attend. 
---
Saturday, May 8—Gamma Class Nursing Pinning Ceremony
Invitation and masks required for in-person attendance
The above time is in Eastern time zone. The livestream will not begin until the ceremony starts.
---
Saturday, May 8—Baccalaureate
Invitation and masks required for in-person attendance
A traditional baccalaureate service will be held on Saturday, May 8  at 4 p.m. in The Chapel of the Holy Trinity. In-person attendance will be limited to graduates who pre-registered and their two guests.
The above time is in Eastern time zone. The livestream will not begin until the service starts.
---
Commencement Speaker—Rev. Patrick T. Ferry, PhD
In his final year as president, Rev. Patrick T. Ferry, PhD, will serve as CUAA's May 2021 commencement speaker.
Ferry was elected the eighth president of Concordia University Wisconsin in July 1997. He began his faculty career at Concordia as an Assistant Professor of History in 1991. During his tenure as president, Concordia increased its total enrollment by 59 percent and undertook more than 20 major building and/or renovation projects. Ferry notably shepherded the merge between CUW and Concordia University Ann Arbor in 2013. Since that time, the Ann Arbor campus has grown its undergraduate enrollment by 75 percent.
Ferry earned his PhD in European History from the University of Colorado at Boulder in 1996; his MA in history from the University of Colorado at Boulder in 1989; his MDiv from Concordia Theological Seminary in Fort Wayne, Indiana, in 1987; and his BA from St. John's College, Winfield, Kansas, in 1981.
Prior to coming to Concordia, Ferry served as campus pastor at St. Andrew's Lutheran Campus Congregation at the University of Wyoming in Laramie from 1989-1991. He was assistant pastor at Wheat Ridge Lutheran Church in Wheat Ridge, Colorado from 1987-1989.
Ferry is married to Tamara, who serves as Executive Director of Institutional Effectiveness for Concordia University Wisconsin and Ann Arbor. Together, they have five children—Peter (Kiki), Hannah (Zach), Andrew (Stephy), Rachel (Kyle), Stephen—and four grandchildren. They are members of Mount Calvary Lutheran Church in Milwaukee.
Student Speaker—Charity Felton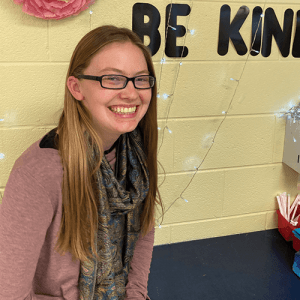 Charity Felton is a senior graduating with an Elementary Education degree, with a focus on teaching English as a Second Language. She is also completing her Concordia degree with a Lutheran Teaching Diploma after student teaching this spring at St. Peter Lutheran School in Macomb, Michigan. Looking ahead, Charity is eager to begin her teaching career this Fall at First Lutheran in Ponca City, Oklahoma.
Charity has been an active Concordia Cardinal since stepping onto our campus 4 years ago. She has served and supported her fellow students as a tutor in the Academic Resource Center and a student worker within the School of Education. She has been an active participant in campus ministry, attending daily Chapel, Tuesday Night Worship, and Evening Prayer. 
In addition, she has made a difference through Athletes in Action. Charity loves tennis, and has played on the Concordia tennis team each of her four years. Always ready to be involved, Charity also started the Ultimate Frisbee Club.
Some of Charity's best memories centered around the opportunities to chat and hang out with friends while enjoying meals. I can attest to this; I often saw Charity eating breakfast outside on the patio on central campus with friends. Her spirit, her smile, and her faith-filled hope have been evident and certainly have left a mark on this campus.
Charity grew up in Ft. Wayne, Indiana. She is joined today by her parents, Steve and Faith. In addition, her four brothers and other family members are watching via the livestream. Please welcome our student speaker: Charity Felton.
Celebrate your grad online
Sharing a photo of your grad? We want to see it, too! Use #CUAAgrad21 to add your pictures to our social wall! Visit cuaa.edu/commencement and click on the "social" tab at the top to view all of your fellow graduates' posts.
Celebrating your graduate via livestream? Give them a shout-out on the live chat, which will go live at the start of each ceremony!
Show your Cardinal pride on Facebook. Update your profile pic with a #CUAAgrad21 frame! Get the frame here.
Looking for a scenic backdrop for your photos following commencement? We ask that guests clear out of the Field House as quickly as possible at the conclusion of their commencement service to allow for maximum air filtration for the next service. For that reason, below are some suggestions of outdoor spots on campus for you to consider for your commemorative grad photo.
Cardinal Wings
Central Campus, south facing wall of the Kreft Center of the Arts adjacent to the east Chapel entrance
Central Campus
Central Campus, in front of The Chapel of the Holy Trinity
Concordia Sign
Along Geddes Road, main campus entrance
Chapel Point
South of The Chapel of the Holy Trinity
Earhart Manor Front Doors
Front, East of campus
— Rachel Thoms served on Concordia University's Strategic Communications team from 2015-2022. Any inquiries about this story can be sent to news@cuaa.edu.
If this story has inspired you, why not explore how you can help further Concordia's mission through giving.