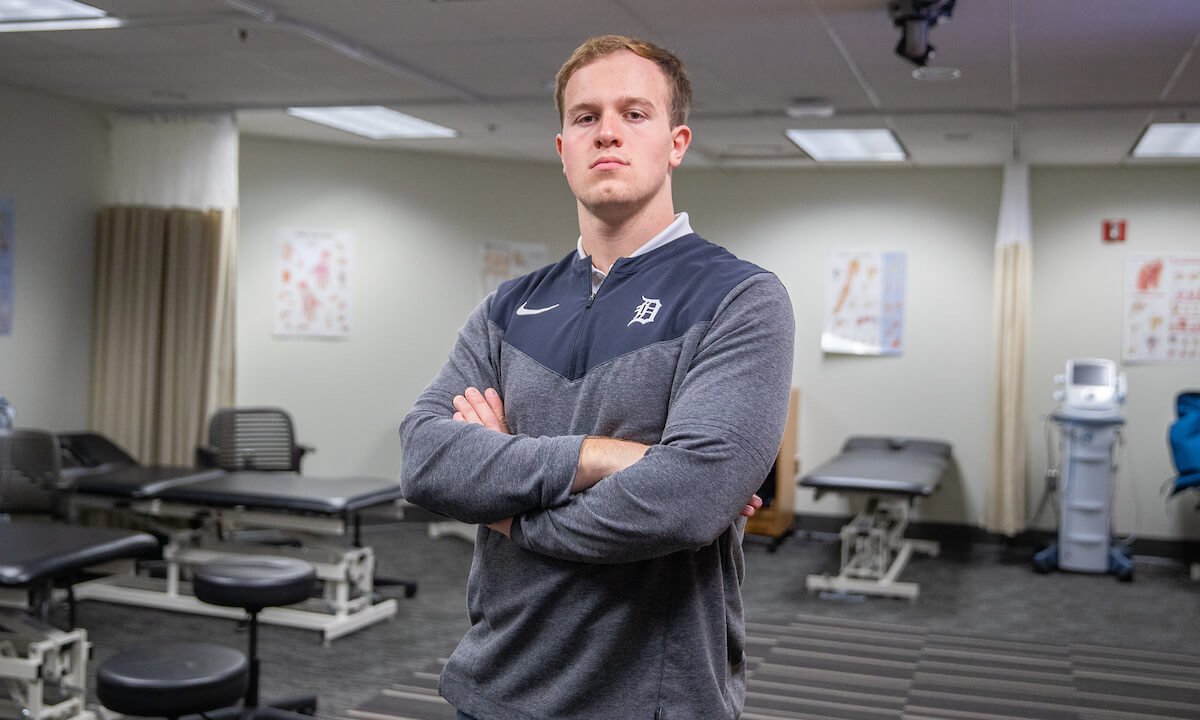 ---
CUAA athletic training student Nick Painter received the opportunity of a lifetime to intern with the Detroit Tigers this past summer.
---
Over the course of his four years as a Cardinals student-athlete, Nick Painter has padded his player stats with quite a few accolades: All-District Team member, NAIA Scholar-Athlete, NCCAA Scholar-Athlete, and NCAA/NAIA D2 and D3 Small College Long Snapper of the Year, to name a few.
Still, nothing quite compares to the rewards of being on the sidelines. As an athletic trainer (AT) professional-to-be (he'll graduate in May with his master's in athletic training), Painter plays a role in preventing, diagnosing, and treating muscle and bone injuries in athletes and, ultimately, helping players stay healthy and perform their best in the athletic arena.
Stepping up to the plate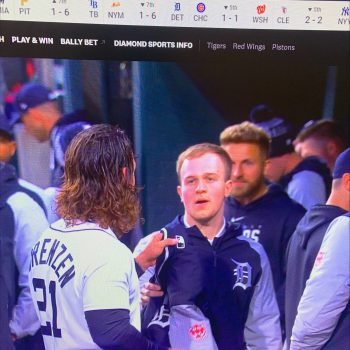 He got to do this in a big way recently when he landed an internship opportunity with the Detroit Tigers for their 2023 Major League Baseball season. Thanks to an exemplary application and a strong recommendation from CUAA MSAT Program Director and NATA Hall of Fame member, Timothy Neal, MS, AT, ATC, CCISM, Nick got the chance to work with the Detroit Tigers athletic training staff in caring for Tiger players from May through September 2023.
Painter is very grateful to the Detroit Tigers athletic training staff for the tremendous learning environment offered him during his summer internship. He expressed his appreciation to Head Athletic Trainer Ryne Eubanks and Assistant Athletic Trainers Matt Rankin and Chris McDonald for their mentorship. The opportunity helped him develop his skills and enhance his knowledge of care and prevention of Major League baseball players, said Painter.
A promising career outlook
"The timing of this opportunity was crazy," said Painter. "I had been talking with my parents just the day before this came around and I was sharing with them my discomfort with the unknowns of my future – what jobs and opportunities would actually be available to me. I can't express what it means to me to know that I have my professors' faith and trust."
As it turns out, Painter didn't need to worry about his career prospects. According to the U.S. Bureau of Labor and Statistics, employment of athletic trainers is projected to grow 14 percent from 2022 to 2032. This is much faster than the average for all occupations.
The Tigers internship certainly doesn't hurt his odds, however. Nor does the fact that he recently was announced as one of this year's awardees for the prestigious Professional Baseball Athletic Trainers' Society (PBATS) Dr. Clarence Livingood Scholarship Program.
The Concordia difference
Painter credits his Concordia experience for helping to prepare him for the big leagues. Along with Neal, Painter said Assistant Professor and MSAT program Clinical Education Coordinator Amber Melick, DAT AT, ATC, CAT(C) and Associate Professor Kristin Shuman, EdD, RSCC, CSCS, were a "driving force" in educating him.
"The accomplishments they've each had in their professional careers are so impressive," Painter said. "They have years upon years and numbers upon numbers of accolades. They've seen how things should be done at the highest level, so they know how to transfer that to students."
Painter also cautions that athletic training isn't for the faint of heart.
"Anyone who wants to go into the program should know, they're going to be pushed in a way they've never been pushed before," he said. "But they're going to grow tremendously because of it. I'm unbelievably appreciative for all that my professors have done for me."
That growth, combined with an incredible work ethic, played well for him this past MLB season. A Tigers fan since birth, Painter got to interact with some of the most elite players in the sport. He spent the summer helping with treatment and maintenance programs for injured athletes.
It's not the same as actually being the competitor, but the rewards are nevertheless sweet.
"Seeing the men and women that you interact with on a daily basis, seeing them succeeding and meeting their goals is the most rewarding part about athletic training," Painter said. "For some of these athletes, that's their entire livelihood. You're helping them live out their dreams."
---
Want in?
Athletic trainers play a vital role within a health care team as multi-skilled medical professionals. Often the first step in the care and prevention of injuries related to physical activity, they collaborate with other health care professionals to ensure patients have high-level care for the return to participation in physical activities.
---