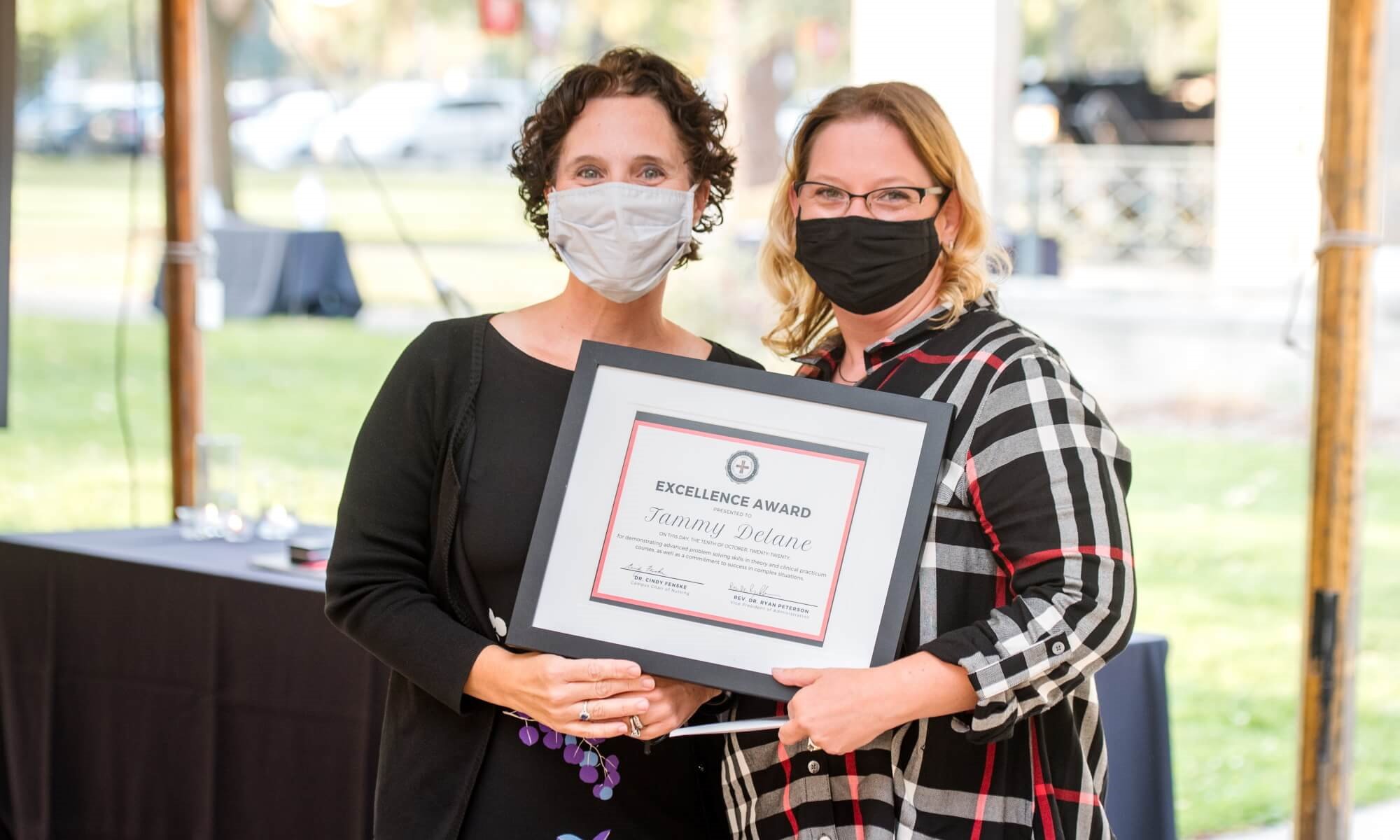 On Saturday, October 10, Concordia University Ann Arbor School of Nursing celebrated the Pinning Ceremony for the Omega Class, the fourth co-hort to graduate from CUAA's school of nursing.
---
Each semester, Concordia's nursing faculty and staff nominate students from the graduating cohort who best represent the core values of the nursing program: service, excellence, compassion, and integrity. An additional award, the Nightingale Award, was created as a tribute to Florence Nightingale who embodied nursing as her life's vocation. The recipient of this award exemplifies that same character and calling.
View all of the Omega class award winners.
Excellence Award: Tammy Delane ('20)
Presented by Renee Clemons
Excellence is characterized by demonstrating actions or behavior which convey merit or greatness above an expected level. Synonyms for excellence include top-notch, distinction, exemplary, unparalleled. This award is presented to a nursing student who has demonstrated advanced critical thinking skills in dynamic situations and problem-solving skills in both nursing theory and clinical practicum courses. This student has also revealed continued perseverance, dedication, hard work and preparedness during the nursing program.
I had the wonderful opportunity to have this student in our Medical-Surgical 1 class and again in Psychological Wellness. I also spoke with my fellow colleagues who reported nothing short of praise and respect for this individual. Throughout our program, instructors described this student as always being punctual, prepared, organized, and "on top of things". This student was not only an "Out of the box" thinker, she was never afraid to challenge instructors with "If this, than what, and Why" questions. A simple explanation was not really good enough. And, in terms of with excellence, it should not be.
This student also excelled academically, earning some the highest of marks in the program. Works submitted were always on time and usually early, and very thorough. This student left no stone unturned in her studies. We the faculty watched you succeed in a very rigorous nursing program balancing not just school, but work, your family and some challenging health issues during your journey here. You were juggling many, many responsibilities. This was not an easy task but you did it. You did it always wanting to do better. If I remember correctly, you may have emailed an instructor asking if it was possible to earn 100% on a Kaplan score as opposed to the 95. I like that! That is what excellence is, always striving for more. Why settle for the 95, when you can earn the 100!!
Going forward, I challenge you to transfer this same work ethic, dedication and excellence to the bedside. I have no doubt you will continue to persevere in all aspects of your nursing care with your patients, their families and when working with your co-workers.
It is my honor to present this year's Excellence Award to Tammy Delane.
Previous Excellence Awardees:
Ilona Rozina (Delta class, Fall 2019)
Courtney Deyarmond (Beta class, Spring 2019)
Desiree Reyes (Alpha class, Fall 2018)
Learn more about Concordia's School of Nursing.
— Rachel Thoms served on Concordia University's Strategic Communications team from 2015-2022. Any inquiries about this story can be sent to news@cuaa.edu.
If this story has inspired you, why not explore how you can help further Concordia's mission through giving.