---
The first-ever interprofessional education event gave students from seven CUAA health care and social services disciplines the opportunity to meet and collaborate over a case study to improve their communication, cooperation, and caregiving skills.
---
On Nov. 8, CUAA's North Building hosted an inaugural interprofessional education (IPE) event. IPE is one of the accreditation standards for the majority of health professions and many professional organizations, such as the World Health Organization, have endorsed it as a mechanism to improve the overall quality of health care.
The Nov. 8 event was not the first time CUAA students have participate in interprofessional education; however, it is the widest-reaching event the university has undertaken to date. A total of 159 students collaborated, converging to discuss a case study from diverse viewpoints across multiple disciplines.
The addition of CUAA's first Doctor of Physical Therapy cohort this past fall provided the motivation for the collective exercise. In addition to DPT, last week's event involved six other academic programs: occupational therapy, physician assistant, nursing, social work, athletic training, and child life.
The Case Study
Anita Simmons, a nursing instructor and IPE coordinator, collaborated with an IPE team consisting of faculty representatives from all seven programs. Their meticulous planning extended beyond this IPE event to future ones. They effectively coordinated 159 students, arranging them into three main groups and then further dividing them into 20 smaller groups of eight students each for insightful case study discussions. They ensured that every large and small group included representation from every discipline, although a few smaller groups were without certain disciplines due to smaller cohorts in specific programs.
The organizers intentionally composed smaller groups with a mix of first-year and fourth-year students, offering first-year students an opportunity to learn from their more experienced peers. Before delving into the case study, students delivered elevator speeches about their respective programs, enhancing mutual understanding among the diverse disciplines.
The case study revolved around a patient involved in a bus accident, covering the hospital stay, release information, and a one-month post-injury update. To guarantee a comprehensive approach, the case study incorporated all seven disciplines in the patient's recovery. After small group discussions, students reconvened in the larger group to further explore the case study. This allowed smaller groups without certain disciplines to ask questions and facilitated a broader exchange of ideas among all the disciplines in the larger group. Anita Simmons' approach aimed to create an inclusive and collaborative learning environment that mirrors the interdisciplinary nature of healthcare practice.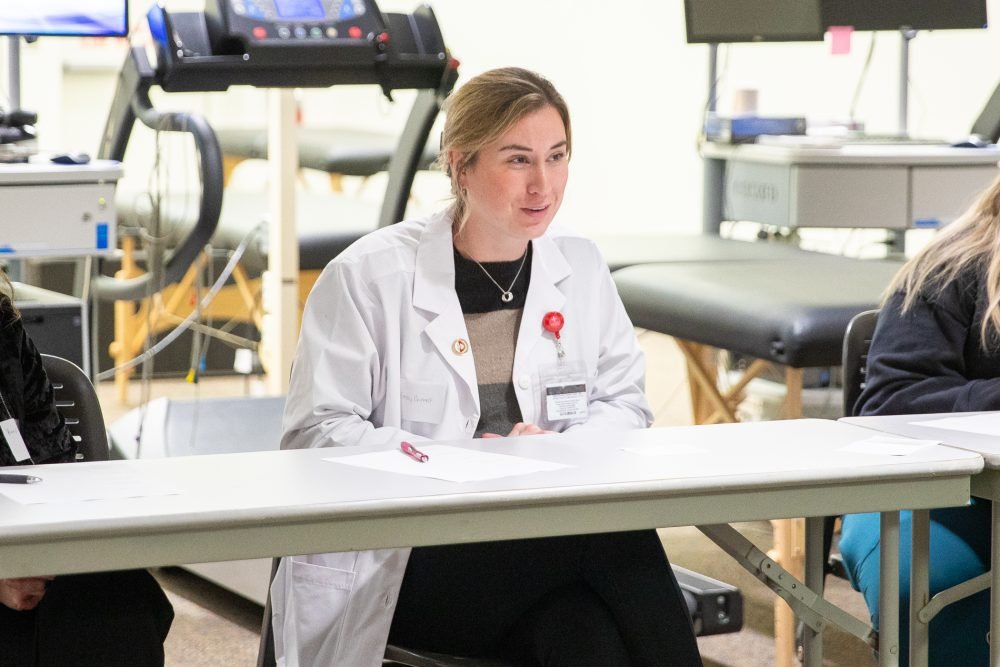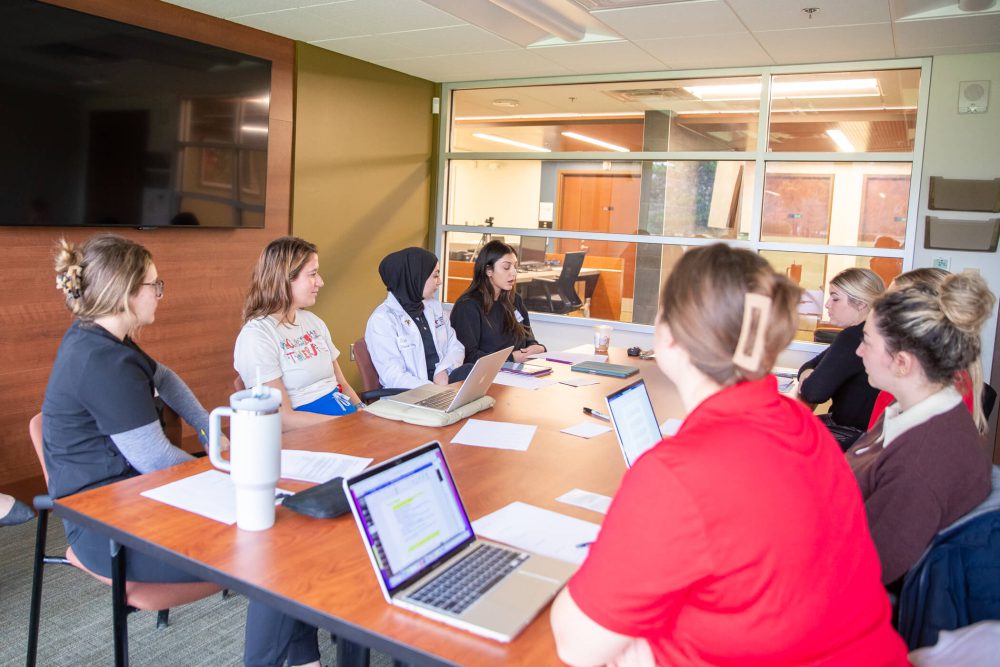 IPE Importance
Student's Perspectives
According to fifth-year Master of Science in Athletic Training student, Nick Painter, IPE is important for student's perspectives and it gives them the opportunity to ask questions to the other disciplines that they have not worked with or know what they do.
"The different perspectives everyone has – everyone's thought processes will be different so it is interesting just to be able to look at how people in different professions think," said Painter. "It allows you to put yourself in their shoes and look look at the different things that you might not have noticed before."
Team Collaboration
IPE really focuses on team collaboration, especially in the smaller groups. The students have to rely on each other for the correct information, whether it is a physician assistant prescribing medication or a physical therapist picking out the right exercises to improve mobility. With the emphasis placed on team collaboration, the students could make sure they practiced giving patient-centered care. This truly gives students real-life experience working with other disciplines.
"IPE is extremely helpful for students coming out of school, having that little bit of practice and knowing what these other disciplines do and already having the opportunity to work with them," said Simmons.
Advocate for Your Discipline
Second-year occupational therapy student Larissa Kilgore explained that one of the easiest parts of the event was advocating for her program and career. It is important for everyone participating in the IPE events to understand each other's professions and know what they do.
"Occupational Therapy is not well known and the people who do know it only know a part of it," explained Kilgore.
According to Josh Zegrean, a senior nursing student, it's not just essential to advocate for your discipline; it's equally crucial to speak up and find your voice. Despite his graduation coming up, he encourages future students to assert themselves and find their voices, emphasizing that doing so could be a matter of life or death, not just in IPE events, but in real life too.
"An example, last week I caught a medication error with an antibiotic, and if I did not say anything that medication would have done nothing," said Zegrean. "It is really important to find your voice in every profession."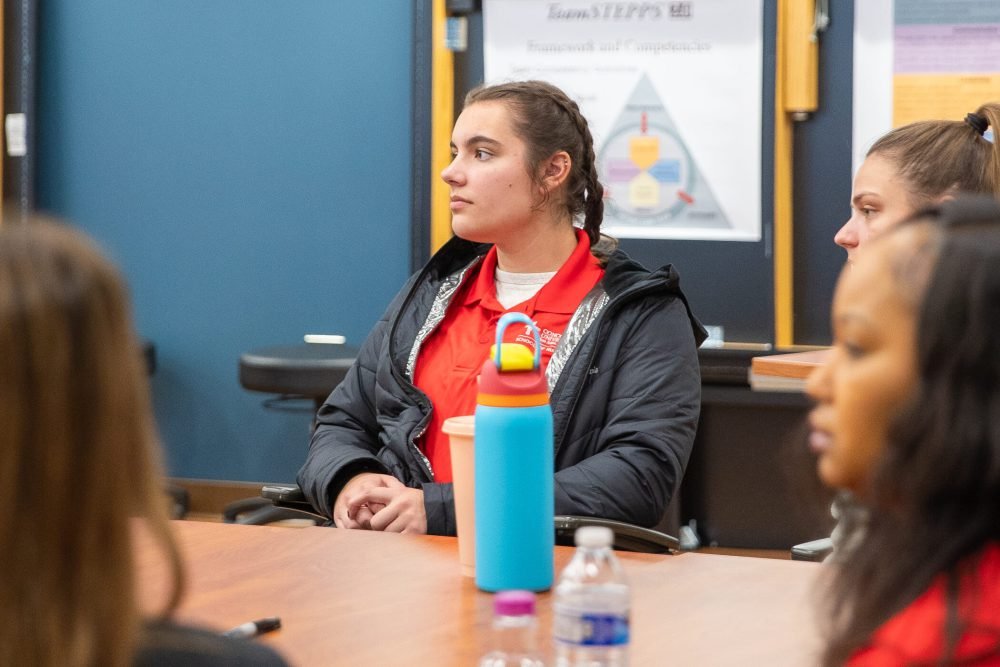 IPE is Unique at CUAA
Concordia University Ann Arbor truly provides a unique IPE experience because one building houses five of the seven disciplines participating in the event, a feature not commonly found on larger campuses.
"What a perfect opportunity that Concordia has all the programs in one building, and that was a big piece that helped logistically," said Simmons. "Having everyone in one building will make it easier when it comes time to making simulations for the events."
Having the majority of disciplines housed in one building facilitates regular face-to-face IPE events, a luxury not often afforded on larger campuses. This arrangement proves particularly advantageous for smaller groups, fostering an environment where students feel their voices are heard, and the exchange of ideas is more seamless. The opportunity to put faces to names across different programs is valuable, as it allows students to establish connections and envision who will be handling the next steps in their collaborative educational journey.
The Future of IPE
The future of the IPE events is bright. Simmons wants students to be able to experience and participate in at least four, or one per academic year, throughout the course of their tenure at CUAA. Each semester, the events will get more complex for the students so they can put all their skills to the test.
"We do want to grow this to the point where the students will be physically doing simulations side by side with the other professions," said Simmons.
Even the students express enthusiasm about collaborating once more with other programs and learning from each other. This opportunity not only enhances their understanding but also contributes to improving client care. The collaborative efforts create a more welcoming environment, fostering a sense of unity and shared knowledge among participants.
"I look forward to learning more about the other professions and what I can do to maximize my clients care by listening and collaborating with the other professions," said Kilgore. "It would be incredible to work with the students again and learning from them would be extremely beneficial in creating a better environment for our communities."
---
Want in?
The School of Health Professions is expanding, hosting four accredited undergraduate programs and one graduate program. Emphasizing community service and interprofessional collaboration in our curriculum, students engage with community members early in their educational journey. With degrees spanning from Bachelors to entry-level Doctorate, CUAA students receive a personalized educational experience, preparing them distinctly for careers marked by excellence, compassion, and service.
---
—This story is written by Keara Chaperon, Social Media Manager for Concordia University Ann Arbor and Concordia University Wisconsin. She may be reached at keara.chaperon@cuaa.edu.