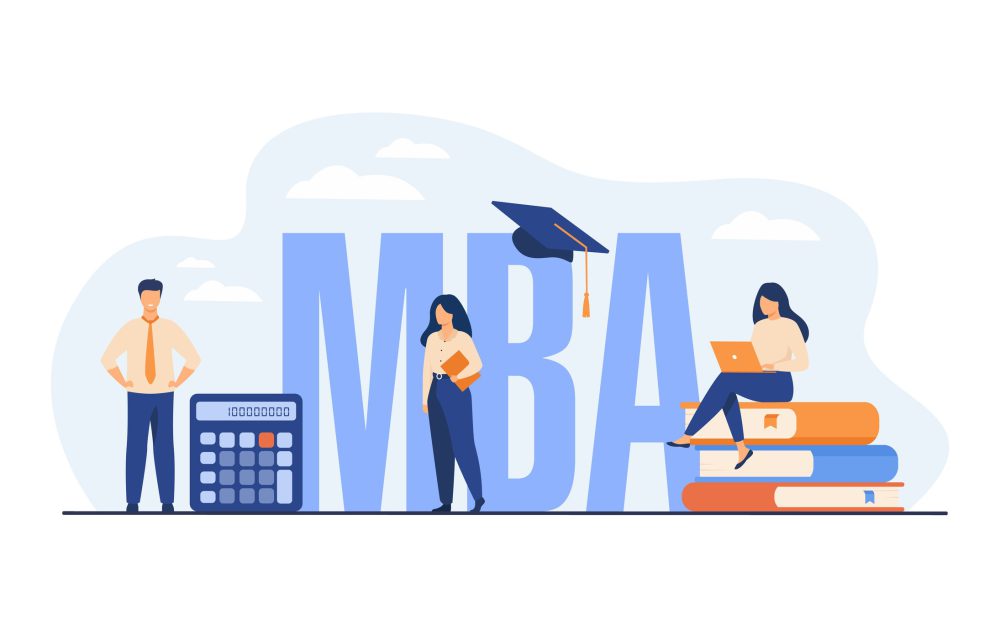 Are you looking to advance your education as a business professional? A Master of Business Administration (MBA) is a great route to advance your career. At Concordia University Wisconsin and Ann Arbor, MBA students are given the opportunity to specialize in an area of interest. As a result, you can focus on a topic that will give you the skills needed to reach your goals.
Not only do you have 13 concentrations to choose from, but our program also includes:
Can be done 100% online
Virtual and in-person options
Courses are 8 weeks
Taught by industry experts
Experiential learning is part of the program to help develop your employable skills
Check out our MBA career paths to choose from below.
Accounting
Accounting professionals work with financial transactions, including tax and financial planning. They also provide vital financial information in order for individuals or organizations to make informed decisions. Accountants can work in the government, for-profit or nonprofit organizations, schools, or firms. You can even become a CPA and work for yourself.
MBA students can expect to learn about intermediate accounting, advanced accounting, income taxes, and auditing. Your coursework will prepare you to sit for the national CPA exam and give you the skills you need to prepare for a career as a CPA.
Communications and Public Relations
Understanding how to convey thoughts and ideas in a compelling manner is an important skill in business. Communications and public relations professionals specialize in handling public communication for an individual, group, or organization. Those in the field can also find jobs in advertising, public image managers, consultants, and spokespeople.
MBA students will take courses in group dynamics, effective business writing, public relations, and public speaking. You will graduate will the skills to articulate and communicate your message.
Finance
If you have an interest in finance, our MBA in Finance is a great option. With an advanced education in finance, you have many opportunities for roles such as a finance manager, advisor, or analyst as well as an investment manager, or even a chief financial officer. You'll learn how to master real estate investment, risk management, and corporate and international finance, to name a few. By graduation, you'll have the knowledge and skills you need to be a powerful candidate in the field.
Healthcare Administration
Healthcare is one of the fastest-growing industries that need business-minded professionals to help run our facilities. A healthcare administrator has many responsibilities which can include developing work schedules, managing billing, and training staff members.
Having an MBA in Healthcare Administration, you will better understand management in healthcare. You'll also develop the skills you need to oversee budgeting, human resources, public policy, and risk management.
Human Resource Management
Human Resource professionals work with employees in an organization. Usually, their tasks include recruiting, hiring, onboarding, firing, and managing employees. Additionally, HR professionals keep benefits and compensation fair, make sure practices are ethical, and work to decrease workplace burnout.
Our MBA in Human Resource Management will allow you to dive into a variety of topics that will prepare you for a significant impact in the field. You'll have a deeper knowledge of labor and employment law, occupational fraud, unemployment, and disability.
Innovation and Entrepreneurship
Becoming an entrepreneur is both a pursuit and a mindset. It requires you to be a self-motivator and a determination to overcome challenges. Learning to think outside the box to turn your ideas into success is key.
Our innovation and entrepreneurship MBA will teach you how to pitch ideas, create successful startups, and manage a culture of innovation in your organization. Whatever your goals, we will help you start pursuing the ideas you're passionate about.
Leadership
If you're interested in developing your leadership skills and business knowledge, an MBA in Leadership may be a great path. You'll discover your leadership strengths and integrate your technical competencies to lead teams and organizations. This approach will make you a well-rounded asset to your organization. During the program, your curriculum will dive into problem-solving in creative ways and learning about ethical leadership that enables and inspires teams of all sizes.
Management
Every organization needs leaders who are able to manage large-scale projects and diverse groups of people. Knowledge in management can equip you to build and manage strong teams and handle challenges when they arise. During the program, you'll get hands-on experience in applying proven management techniques to bring into your role. Ultimately, you'll come out as a stronger leader, a better communicator, and a strategic thinker.
Management Information Systems (MIS)
Individuals who study MIS learn about the relationship between people and technology in order to improve practices. By having a degree in MIS, you can work in many different roles such as IT consultant, web developer, systems or business analyst, or information systems manager.
An MBA in Management Information Systems will provide you with in-depth knowledge of database modeling, design, and implementation. You'll gain experience implementing a database design by creating a physical database using the Oracle Application Express tool and SQL—and you'll be prepared to sit for the Oracle Database SQL Expert exam.
Nonprofit Management and Public Relations
If you have an interest in working in the nonprofit sector, it's essential to have the skills to motivate teams, implement new programs, and bring the mission of the organization to life. Working in nonprofit management requires knowledge of public relations, board governance, program evaluation, fundraising, and volunteer requirement. All of which our MBA program covers to make sure you are ready to take on your role.
Research for Business Applications
By choosing a concentration in research for business applications, you'll take four research courses (12 credits) in our DBA program. You'll learn the ins and outs of scholarly research, including statistics for research, quantitative research skills, and qualitative research skills.
While this program allows you to jumpstart your studies in the DBA program, it can also be used to improve your organization and your ability to sift through data driving the complex challenges your organization will face. As a result, it will also provide you with the skills necessary to perform solid academic research intended for peer-reviewed publications.
Strategic Marketing
According to Hubspot, strategic marketing involves research and establishing goals that will maximize the effectiveness and success of the overall marketing strategy. As a strategic marketer, you'll be responsible for understanding your organization and grabbing the attention of customers.
As a graduate of our MBA in Strategic Marketing, you'll understand the measurability and accountability of direct marketing and how it relates to your company's overall strategy. This concentration was designed to teach you the skills you need whether you already work in advertising or you're looking to break into the field.
Sustainability Management and Analytics
Corporations are discovering the value of social and environmental sustainability. Therefore, they need knowledgeable and well-rounded professionals to come to improve processes, reduce resource use and waste, and make better social and environmental decisions.
In our MBA in Sustainability Management and Analytics, you'll dive into topics like micro and macroeconomics, decision science, statistical analysis, environmental chemistry and toxicology, environmental law, social entrepreneurship, and industrial ecology. Not only will you have knowledge of the field, but you'll also have hands-on experience, certificates in sustainability methods, and exam prep if you decide to take the LEED Green Associate exam.
Interested?
We're ready to help explore your MBA career path with you. Feel free to find out more about our MBA program below.