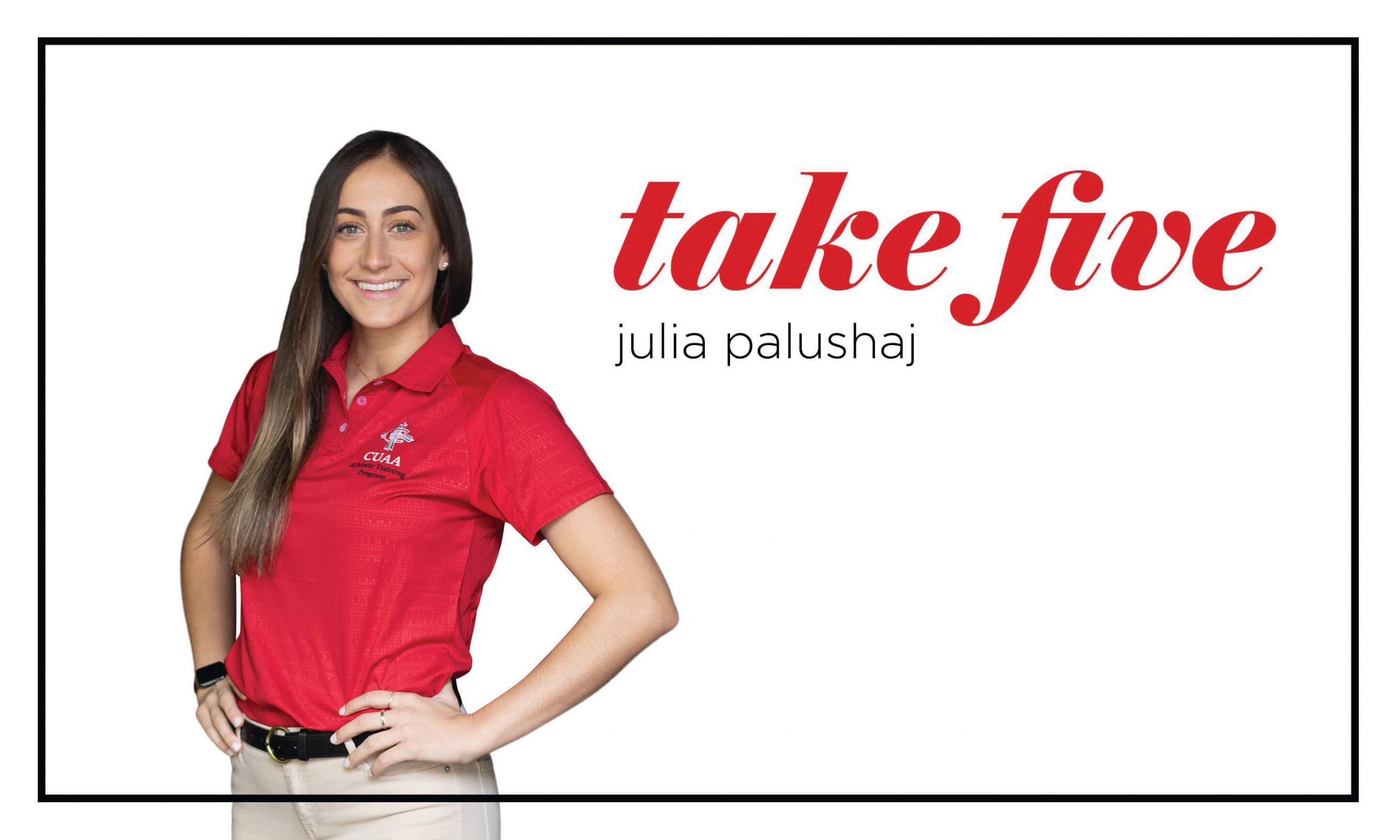 This story first appeared in the spring 2020 issue of the Arbor Light, the official magazine of Concordia University Ann Arbor.
---
Get to know one of our uncommon Concordians on campus, athletic training major Julia Palushaj ('20)
For Julia Palushaj ('20) the Concordia University Ann Arbor commencement ceremony on May 17, 2020 is a celebration of both firsts and lasts. Palushaj is the fifth and final member of this generation of her family to complete a degree at CUAA—following in the footsteps of her older sister, Monica ('13), and three of her cousins: Lora Palushaj ('17), Maria Lulgjuraj ('18), and Nina Palushaj ('19).
But she is the first—ever—to complete a Master of Science in Athletic Training from CUAA as a member of the first graduating cohort for the five-year dual degree program.
Learn about Palushaj's Concordia family legacy, some of the peaks and valleys of her collegiate experience, and the motivation behind her athletic training career choice.
What was it like to attend Concordia with so many family ties?
We're so close. They're like my best friends and my cousins all in one. We went to high school together, too, and then not only college together but also all playing on the soccer team. That was one of my favorite things: being on a team with my cousins and being a part of helping the soccer program to grow to what it is  now.
What led you to study athletic training?
Speaking of soccer, I was still a little unsure about what I wanted to major in, plus athletic training was a new program at the time. But then I tore my ACL during pre-season of my junior year, and that was really hard. My athletic trainers had a huge impact on my recovery not only physically but also mentally.
Then, only a year and four months later, I tore my ACL again. I was devastated. I was already in the athletic training program at the time, but it was through that really rough period that I got to experience the athlete side of injury and will be a better athletic trainer because of it.
Can you share more about your experience in the athletic training program?
Our facilities at the North Building are awesome, and we have so many tools to learn from. Our professors' knowledge is insane, and our program director is in the athletic training hall of fame. We have two more universities in town where we can go to get our clinical hours in addition to Concordia, which is a great advantage for us.
My favorite classes were probably palpatory anatomy, and orthopedic management and assessment.
What were some of your most memorable moments as a Concordia student?
Going on the Holy Land trip to Israel in January 2019 was life-changing. After that trip, I thought, "This is real." We saw things in the Bible where they happened, and it really opened by eyes and made my faith so much stronger. I read scripture now, which I never really did before; and I'm not afraid to pray in group settings, which I have no problem doing now. I had friends go that raved about it, and I thought that I probably wouldn't get a chance to do something like this again and really wanted to grow in my faith, too.
What should people who are unfamiliar with Concordia know about it?
People need to know that here it's such a close family place. Your professors' doors will always be open. You just walk in, and they say, "Have a seat, what do you need?" I think the caring aspect of everybody is huge. It's so easy to get the help that you need. Faith is first in everything, too, and that's really different from other places.
—The spring 2020 Arbor Light hit mailboxes the beginning of October. View a PDF version of the magazine here. If you are not on our mailing list, but are interested in receiving a free copy, email Jennifer.Hackmann@cuaa.edu.
— Rachel Thoms served on Concordia University's Strategic Communications team from 2015-2022. Any inquiries about this story can be sent to news@cuaa.edu.
If this story has inspired you, why not explore how you can help further Concordia's mission through giving.