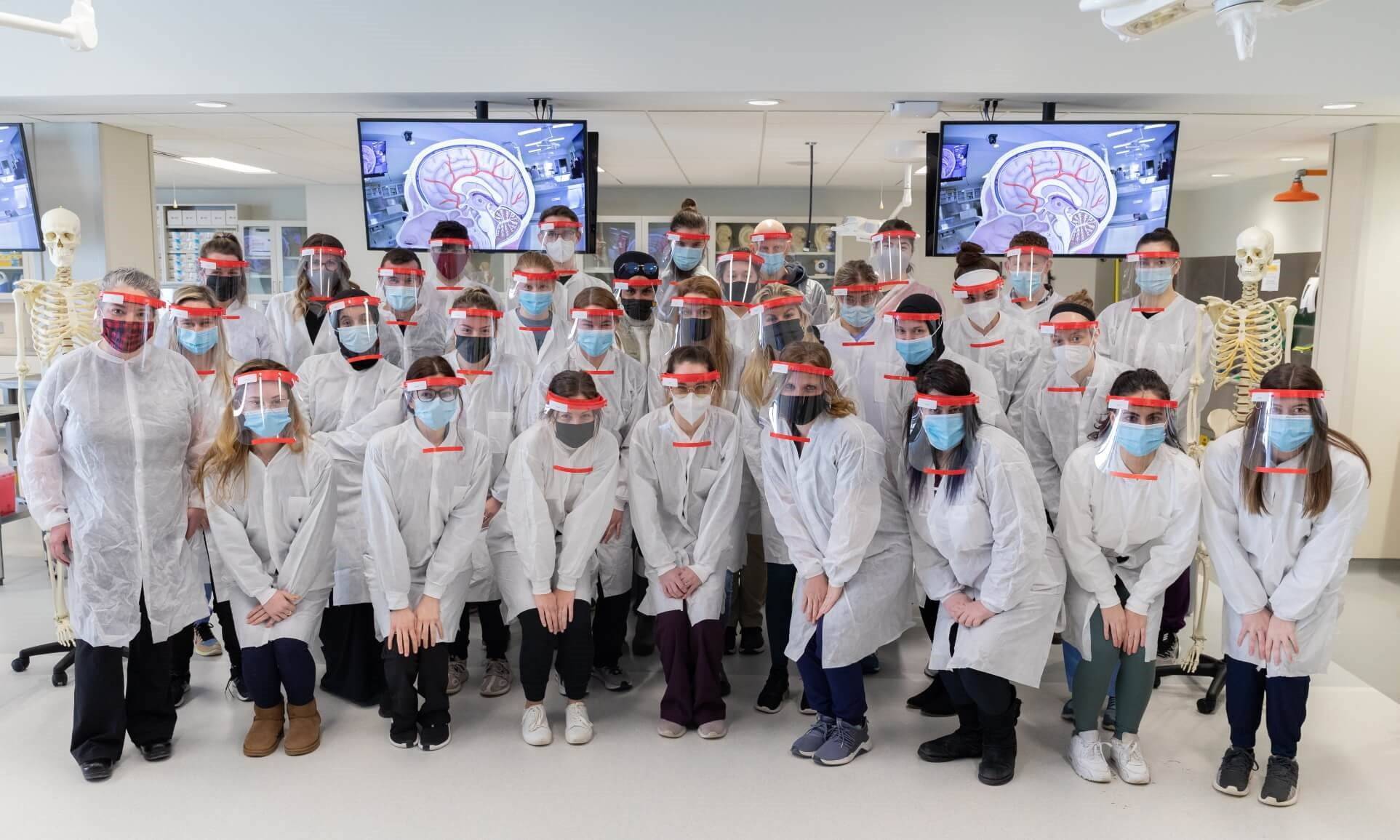 Thinking about becoming a nurse, athletic trainer, exercise scientist, physician assistant, occupational therapist, or physical therapist? CUAA's Health Professions Visit Day on Tuesday, November 9 is for YOU!
---
Health Professions Visit Day at Concordia University Ann Arbor
The office of admissions invites high school students or current college students considering transferring to CUAA to a health professions focused Visit Day experience on Tuesday, November 9 from 10 a.m. to 1 p.m.
(Psst… it only takes 2 minutes to register!)
Here's what you can expect at Concordia's Health Professions Visit Day:
More about health-focused programs at CUAA
Ronald and Marvel Jones School of Nursing
The Ronald and Marvel Jones School of Nursing launched its first cohort in fall 2016 and has since graduated a class of compassionate caretakers every semester since fall 2018. The state-of-the-art Center for Simulation and Innovation within the nursing wing includes five hospital rooms, eight clinic rooms, a 10-bed skills lab that acts as an emergency department, a three-room
apartment, and a courtroom. The rooms are used daily as the setting for a variety of inpatient and outpatient simulations.
NURSING HEADLINES
School of Arts and Sciences
Graduates of Concordia University Ann Arbor's master's in athletic training are taking the field as professionals for the first time, some scoring roles with Division 1 athletic programs right out of graduation. As a relatively new program at CUAA, two cohorts of graduates have completed the five-year program. The first group of students in May 2020 and again in May 2021. Many students considering pursuing careers in the medical field might opt to study exercise science, pharmaceutical science, biomedical sciences, or biology.
School of Arts and Sciences Headlines
School of Health Professions
CUAA school of health professions (SHP) recently celebrated the launch of its physician assistant program, welcoming the first class of students in January 2021 and a second class of PA students beginning in January 2022. Also included in CUAA's SHP are current undergraduate offerings in social work, diagnostic medical sonography, radiologic technology, and rehabilitation sciences.
CUAA continues its positive momentum and development toward an exciting future in preparing the next generation of health care professionals with an Occupational Therapy Doctorate (OTD) program beginning in 2022 and a Doctorate in Physical Therapy (DPT) program beginning in 2023, pending successful candidacy status with the respective accreditation bodies.
School of Health professions headlines
Architectural rendering demonstrates a new OT and PT skills lab being constructed in CUAA's North Building.
Can't make it Tuesday, November 9? Join us on a day that works for you!
Learn more about all of Concordia's visit experience options at cuaa.edu/visit. We're excited to meet you!
Questions about visiting Concordia University Ann Arbor?
Give us a call at (734) 995-7505 or email visitcuaa@cuaa.edu. 
— Rachel Thoms served on Concordia University's Strategic Communications team from 2015-2022. Any inquiries about this story can be sent to news@cuaa.edu.
If this story has inspired you, why not explore how you can help further Concordia's mission through giving.