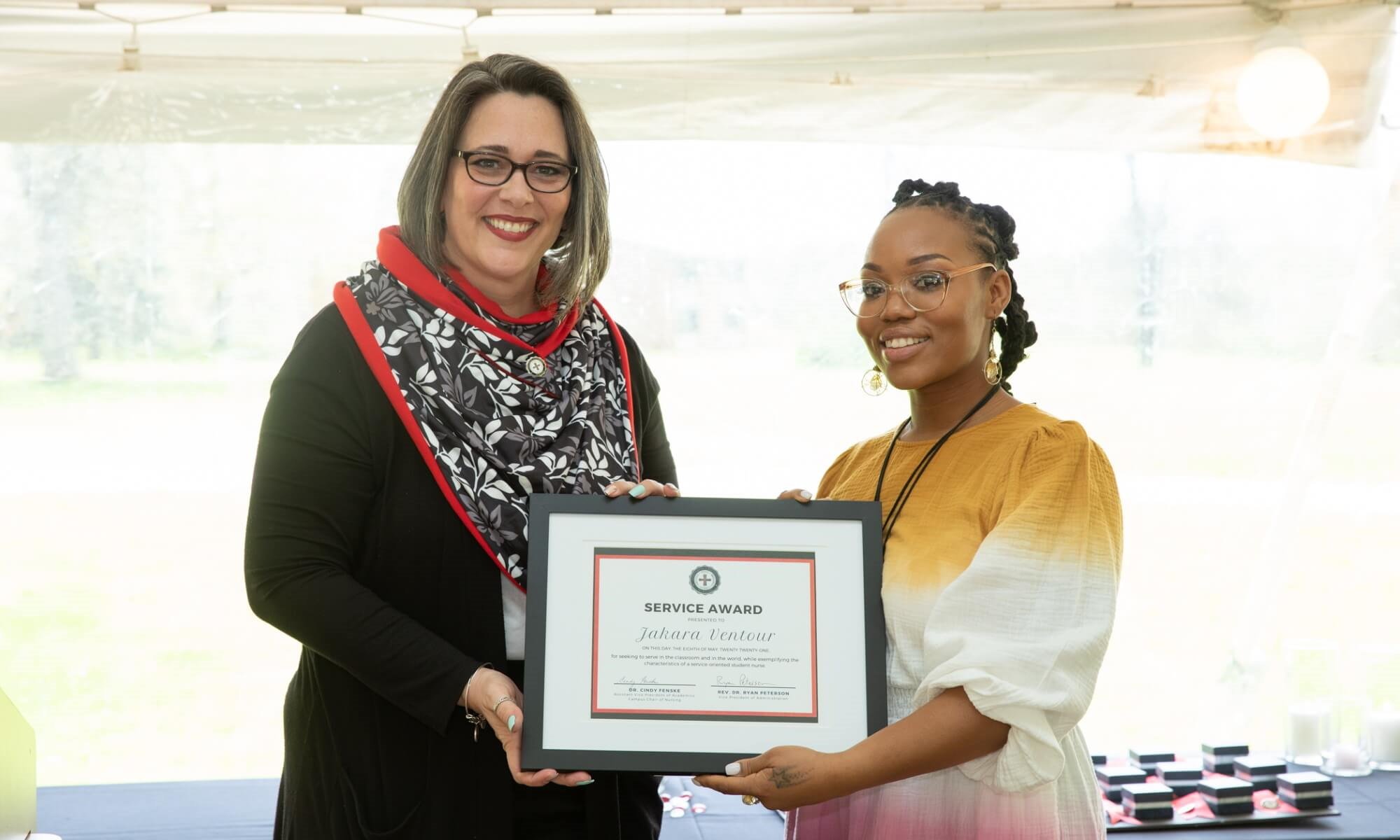 On Saturday, May 8, Concordia University Ann Arbor Ronald and Marvel Jones School of Nursing celebrated the Pinning Ceremony for the Gamma Class, the sixth cohort to graduate from CUAA's bachelor of science in nursing program.
---
The Gamma Class pinning ceremony was celebrated in the Earhart Manor Tent on the campus of Concordia University Ann Arbor. Nursing graduates sat in pods with their families around the outdoor tables.
In addition to the pinning ceremony, the Gamma class will celebrate the completion of their degree with an in-person commencement ceremony on Sunday, May 9 at either 1 p.m. ET or 4 p.m. ET.
Each semester, Concordia's nursing faculty and staff nominate students from the graduating cohort who best represent the core values of the nursing program: service, excellence, compassion, and integrity. An additional award, the Nightingale Award, was created as a tribute to Florence Nightingale who embodied nursing as her life's vocation. The recipient of this award exemplifies that same character and calling.
View all of the Gamma class award recipients.
Service Award: Jakara Ventour ('21)
Presented by Kathie Pereira
At Concordia, we encourage our students to volunteer; to serve the underserved and help those in need. Many of our students take advantage of these opportunities and earn Nurse Excellence points. These points are then cashed in for rewards in the form of gift cards. The student receiving the service aware this semester didn't earn any points. She didn't get any gift cards. Instead, she spent her time being a single mother to small children while being a nursing student. During the lockdown, her children attended virtual school from home while she successfully passed her nursing courses. That wasn't just in the Spring of 2000. Her cohort also had a packed summer of online nursing courses which she successfully completed as well.
Being a registered nurse will provide her family with a solid income, but it will provide her with something much more. This student went to nursing school to make a difference in her community. She has an ingrained sense of obligation to her community. During the pandemic, she came to me not to complain about her circumstances and the stress the pandemic was wreaking on her. Instead, she asked me, "How do I make people in my community understand this is real? How do I reach them, because they're not taking it seriously and I fear for their safety."
For her senior preceptorship she was placed in a setting where both medical and spiritual care was given to the homeless population of Detroit. Regarding that experience, she said, "I was proud to be a good representative for those who look like me. Proud to make them feel valued."
I am immensely proud to call this former student a fellow nurse and Concordia alumna. Ms. Jakara Ventour.
Previous Service Awardees:
Amy Kindred (Zeta class, Fall 2020)
Kalli Hunley (Omega class, Spring 2020)
Stanley Stinson (Delta class, Fall 2019)
Tim Felska (Beta class, Spring 2019)
Shalena Blocker (Alpha class, Fall 2018)
---
Learn more about Concordia University Ann Arbor's Ronald and Marvel Jones School of Nursing.
— Rachel Thoms served on Concordia University's Strategic Communications team from 2015-2022. Any inquiries about this story can be sent to news@cuaa.edu.
If this story has inspired you, why not explore how you can help further Concordia's mission through giving.