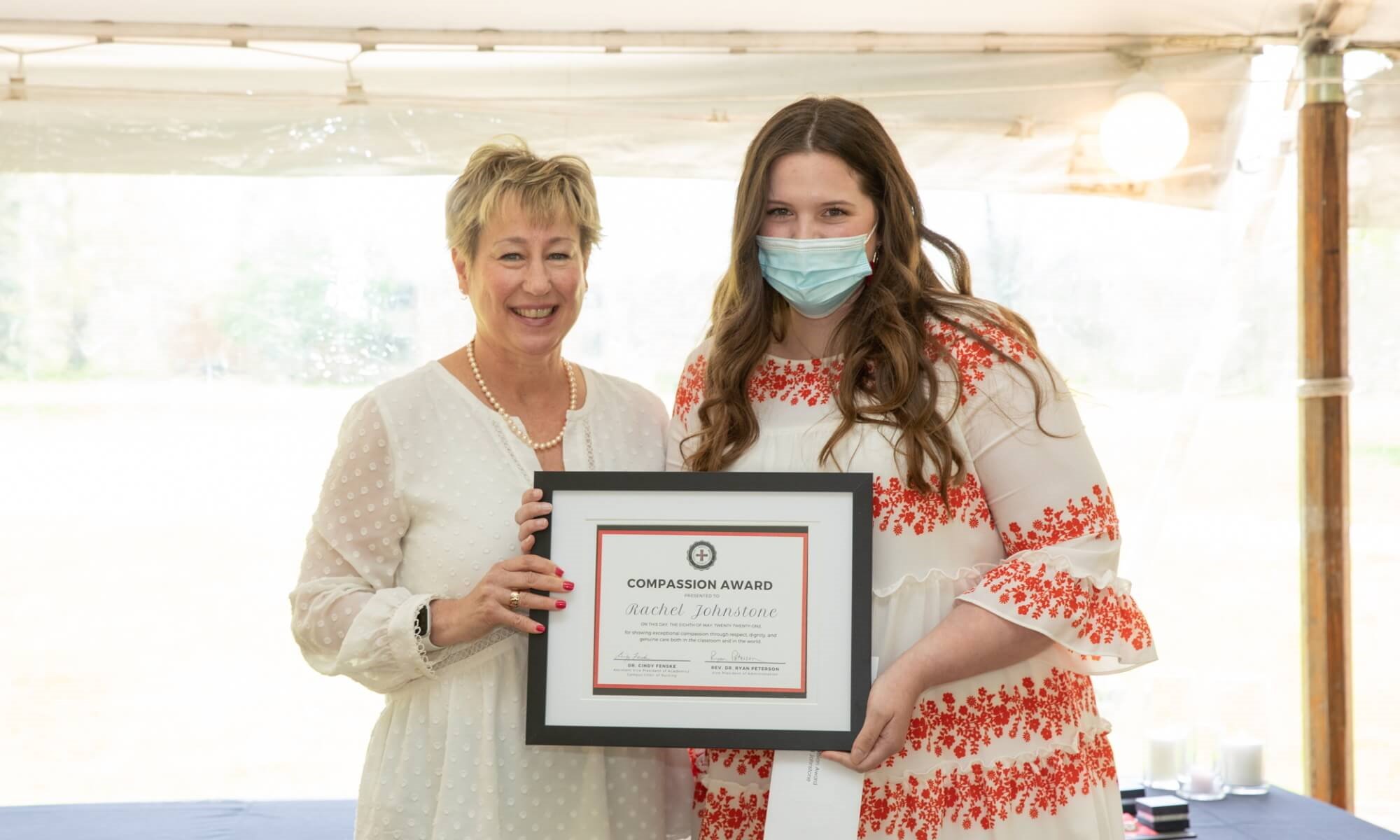 On Saturday, May 8, Concordia University Ann Arbor Ronald and Marvel Jones School of Nursing celebrated the Pinning Ceremony for the Gamma Class, the sixth cohort to graduate from CUAA's bachelor of science in nursing program.
---
The Gamma Class pinning ceremony was celebrated in the Earhart Manor Tent on the campus of Concordia University Ann Arbor. Nursing graduates sat in pods with their families around the outdoor tables.
In addition to the pinning ceremony, the Gamma class will celebrate the completion of their degree with an in-person commencement ceremony on Sunday, May 9 at either 1 p.m. ET or 4 p.m. ET.
Each semester, Concordia's nursing faculty and staff nominate students from the graduating cohort who best represent the core values of the nursing program: service, excellence, compassion, and integrity. An additional award, the Nightingale Award, was created as a tribute to Florence Nightingale who embodied nursing as her life's vocation. The recipient of this award exemplifies that same character and calling.
View all of the Gamma class award recipients.
Compassion Award: Rachel Johnstone ('21)
Presented by Betsy Cambridge
Compassion is one of our cornerstone virtues in our CUAA School of Nursing. Demonstrating compassion is an essential skill in nursing when coming alongside patients who might be having the best day of their lives or possibly the worst day of their lives.
One of the first skills we teach in nursing is wound care. We discuss preparing our hands with soap and water, cleaning the wound, and bandaging it…wrapping and securing the dressing with care for optimal healing. And so it is with our compassion. We follow a process to provide it. Instead of preparing our hands, we prepare our minds and hearts. We listen, observe, and empathize, knowing that when we are with patients, hospital rooms are holy ground.
The Bible gives us guidance on how to live out our faith. Colossians 3:12 says "Therefore, as God's chosen people, holy and dearly loved clothe yourselves with compassion, kindness, humility, gentleness and patience." Just as we dress our body in clothing, we are to dress ourselves daily in an attitude of compassion and kindness.
The student who will be honored today did not need a lot of teaching or coaching in this area. I believe that compassion is just part of who she is. This student has shown compassion in many different ways during her tenure at Concordia School of Nursing. We have seen her kindness toward other students, faculty and staff. I have even seen this student's compassion toward simulated patient manikins while caring for, treating and educating them in the simulation center!
For her senior immersion experience, this student was placed at Covenant Community Care, a not for profit agency caring for the marginalized population in Detroit. This particular placement can be a very challenging one for students who are experiencing for the first- time patient's dealing with homelessness, sex trafficking, and drug abuse. I had the pleasure of reading some of this student's reflections on her experiences at Covenant. In her first post clinical reflection she wrote "It involves being prepared for any situation and being open minded and nonjudgmental in order to provide the best care for everyone we come across regardless of their current living situation or lifestyle."
One of the primary areas of care for this organization is providing foot care for those who need it. Regarding foot care, this student said "While foot care is not my favorite thing to do, I would say that I have definitely improved in this skill as well. I still found joy in doing it because it was such a need for this population. Jesus washed feet and I was blessed to be able to take care of people's feet." She went on to say "Even if I do not end up in this area of nursing, I plan to continue to work with Covenant Community Care. I think they really show what it looks like to love and serve like Jesus did, I truly feel blessed to be a part of it."
I proudly recognize a very compassionate woman, Rachel Johnstone for this year's Compassion Award.
Previous Compassion Awardees:
Olivia Perry (Zeta class, Fall 2020)
Whitney Rivera (Omega class, Spring 2020)
Tommy Thompson (Delta class, Fall 2019)
Sherrie Anderson (Beta class, Spring 2019)
Maria Lulgjuraj (Alpha class, Fall 2018)
---
Learn more about Concordia University Ann Arbor's Ronald and Marvel Jones School of Nursing.
— Rachel Thoms served on Concordia University's Strategic Communications team from 2015-2022. Any inquiries about this story can be sent to news@cuaa.edu.
If this story has inspired you, why not explore how you can help further Concordia's mission through giving.